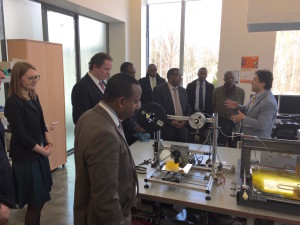 Hi-ranking Ethiopian Government officials, led by the Deputy Prime Minister of the Republic Demeke Mekonnen, visited Skoltech to get acquainted with
the work of the institute and assess the prospects for cooperation. Prior to its visit in Skoltech, the delegation visited at the Skolkovo foundation.
The  Ethiopian delegation included the Chairman of the National Council for Science, Technology and Innovation Schiefer Shigute, the Minister of Education Abijah Ahmed, the Minister of Science and Technology Grum Abay Teshome, Ethiopian Ambassador in Russia Getahun Mekuriya, Director General of the Ministry of Science and Technology Fysseha Yitagesu and CEO of the National Council for science, technology and innovation of Ethiopia, as well as staff of the diplomatic mission.
Alexei Sitnikov, Skoltech's Vice-President for Institutional and Resource Development, held a short presentation about the possible cooperation in the field of education and research programs, and also talked about plans for the development of material-technical base of Skoltech. Prof. Edward Crawley, Skoltech's founding president, told the guests about the principles of Skoltech and its educational programs.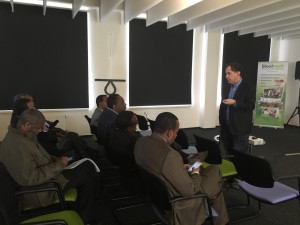 The visit took place within the framework of the Ethiopian National Council on the development of science, technology and innovation. It is an important part of the national development program for the period 2015-2020, the result of which should be to create conditions for the transformation of the country in 2025 to a better-developed society, with a higher level of income per capita. A special role in this lies with the development of education, the use of best foreign technologies, the results of scientific research in various sectors of the economy, primarily in the industrial and agricultural production – all of which, Skoltech can provide.