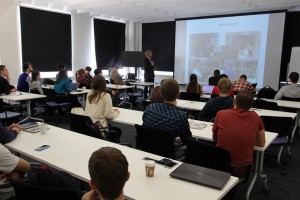 Ever dreamed of becoming a cosmonaut? Here's how – first, maintain very good health. Once your health is good you have two options: become a pilot and proceed from there, or study engineering and proceed from there. These are the two options, according to the renowned cosmonaut and rocket scientist Sergey Krikalev, as delivered to Skoltech students today.
Krikalev is a veteran of six space flights who spent in space a total of 803 days, 9 hours, and 39 minutes (holding for 10 years the world, or cosmic, record for the amount of time in space, until Gennady Padalka took the title in 2015). Since 2005 he has been working in the space industry, holding a succession of key positions at Russia's space industry enterprises. Currently he is First Deputy Director of the Central Research Institute of Mechanical Engineering, and a Professor of Practice at the Skoltech Space Center.
Today he came to give a lecture to the space students, under the title "living and working in space". During the lecture, Krikalev summed up the evolution of manned space programs, described what it's like to live and work in space, and focused on the following topics: The future of space programs, missions to Mars and to the Moon, space tourism and scientific research in space.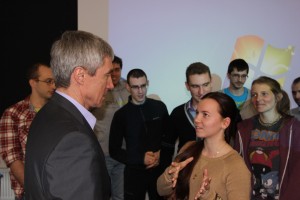 A special place in the lecture took the question of the missions to Mars, and the moon's role in them. According to Krikalev, the further exploration of the Earth's satellite and the building of a Moon base will create the conditions for a successful manned mission to Mars. During the construction of a lunar base, scientists and engineers will put into practice various technologies. For example, new types of robots and technology of construction on other planets with domestic materials such as a lunar soil and 3-D printers.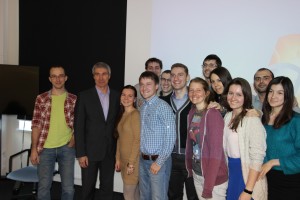 After the lecture, a Q & A session was held, and expanded the list of topics. Questions were raised about the future of the International Space Station, international cooperation in space exploration and the participation of private companies in it, the use of robots to replace human in the process of development of the Moon and Mars, feasibility of space tourism, handling radiation and of course about how to become an astronaut (the answer is at the top). At the end of it all, the eager students assembled around Krikalev in order to ask one more question, and of course to have a group photo.