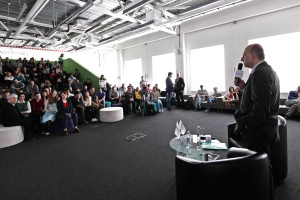 On April 21st, Skoltech started a new tradition of hosting successful businessmen for open talks. The first guest was the prominent entrepreneur and philanthropist, listed in Forbes Russia's ranking, David Yakobashvili. He talked about his path as a businessman and shared his thoughts about the qualities needed to succeed in business, his thoughts about the importance of remaining optimistic and craving for new knowledge and experience.
Responding to a question about why he had chosen a path of entrepreneurship, Yakobashvili said that he dreamed about this since childhood and thought about it even during the Soviet era, when the Soviet social system did not allow the slightest entrepreneurship. Today, he said, it is quite sad to see among young people how the dream about personal success in business replaced by a desire to become a "cog" in the state system, or a part of the staff of a large corporation. But even more disturbing, in his view, is the tendency of growth of the layer of extreme left oriented people, whose views are close to the social parasitism. Moreover, this trend is growing not only in Russia, but in the West, where private enterprise was one of the cornerstones of a prosperous and free society.
Responding to another question about the qualities necessary to become a successful man, Yakobashvili was categorical: "The main thing is to be persistent. You may not be the most talented, but you must be persistent in achieving this goal. Work and study can compensate the lack of talent, and even a talented scientist or businessman is not able to achieve success and maintain it without hard work. "
Talking about what prospects for our students and businessmen, our guest said that today neither in science nor in business, nothing for the Russians is not over yet. "You have a huge opportunity. In the near future Russia will be in demand of talents and persistence in many areas, for example – energy saving technologies, intensive forestry and timber processing technologies and a number of others. "Nothing is finished yet. The main thing is not to be afraid and do not be ashamed to be proactive! "
According to Alexei Sitnikov, Vice-President of Skoltech, told us about the new tradition: "The idea of these meetings is to ensure that while they are studying, our students can communicate not only with our excellent professors, but with other people who have achieved bright professional success. It's one thing when your professor says about the importance of action-oriented research and the importance of innovation. It's quite another thing when the man who is standing in front of you, talks about how he started with pig breeding, not disdaining ship them in a trailer by own hands or catch the runaway piglets in the city center, and now he is in Forbes' top 100 – is quite another. And you know – you, too, can start from his place and achieve great things. We are planning to make such meetings regular. And it will not just business people – we will invite any creative professionals, politicians and so on. Success can be achieved in any field of interest, it is contagious, and we want our students to become infected with thirst for success".