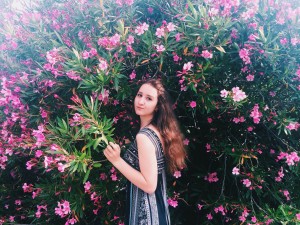 Ksenia Tsoktoeva – "I want to make a worthy contribution to the work at the Laboratory of Robotics team and improve my own level in Computer Science".
Among Bucknell's student Ksenia Tsoktoeva's interests, a special place belongs to programming and computer science. So when she thought about her internship, it became apparent that working under the guidance of prof. Dzmitry Tsetserukou at the Skoltech Laboratory of Robotics will be the best choice and the reason to cross the Atlantic again. Ksenia told us about her expectations from the internship and the work on the Reachbot project.
Please tell us about yourself first. Where are you from and how you became a student of the University in US?
- I grew up in Astana, the capital of Kazakhstan. When I was in 9th grade, I was at physical-mathematical school, and I filed an application to study in Canada. I had a long time desire to try to learn abroad, and my parents supported me in that. Everything went well and from the 10th grade I lived and studied in Vancouver.
Moving to the Canadian school was easy to get used to – in our school, there were many students from Russia, Kazakhstan, Spain, Germany, Mexico and other countries, and in the international collective you adapt quickly. The education system in Canada involves a number of mandatory classes and you also can choose what you like or need. I was good at math and took extra hours of math and physics.
In December 2013 I was able to get to the Top 25% in the Canadian Open Mathematics Challenge competition, which was conducted by the Canadian Mathematical Society. A year later with the same result, I participated in the Canadian Senior Mathematics Contest at the University of Waterloo and became the champion among schoolchildren.
You've been very successful in high school in Canada. Why didn't you choose a university in Vancouver for example?
- There are two factors – personal and financial. By the end of school, my family had moved to the United States and in America there's a much better developed system of scholarship grants. The choice fell on Bucknell University in Lewisburg not only because it is one of the best American universities, but also because, thanks to the success at the Olympics, I was able to get a grant that covers 2/3 of my tuition fees. The important thing was that Bucknell, although prestigious, is very small university and the average teacher or professor there has about nine students. This format and interaction of students and professors suited me more than studying at a large university, where one professor may have a few dozens or even a hundred or two hundred students, whose names he doesn't even remember.
What do you do at the University?
- Now I'm just trying to understand and decide for myself what areas I am most interested in. The largest number of hours I have now taken is in applied mathematics, statistics, programming, mathematical studies, linear algebra and philosophy.
How did the idea come to Skoltech?
- The idea to try an internship at Skoltech came when I realized that no one in America is waiting especially for a first-year student on serious internship. Spending time on carrying papers from the printer to the shredder is not for me. Four years is a very short time and I want to spend it with the maximum benefit. I never studied computer science and programming before the university. This opportunity presented itself in Bucknell. In the last semester I started studying Python, and in the next one I will begin learning Java and C++. I had programming in mind, and although I understand that as long as I have the level of a beginner programmer, I want to learn more about the development of software, and how it works from the inside. So when I got the answer from Skoltech, that they liked my resume and I was invited for an internship, there was no doubt.
What do you expect from an internship in Skoltech?
- I expect to learn a lot. Once I finish the semester in early May, I'm going to start preparing for the internship based on recommendations of prof. Tsetserukou. I would like to be good intern and make a proper contribution to the work of the team.
What will you do after the internship?
- I hope to continue my education. I will try to expand my field of knowledge. I will get a Ph.D. and, of course, an internship at Skoltech will be another important step towards this goal.
Dzmitry Tsetserukou, Skoltech professor, head of the Laboratory of Robotics:

– During her internship Kseniya will be working with the Reachbot team. This is a project dedicated to teaching a team of two robots with varying degrees of mobility (SLAM and NAO) to achieve goals and move objects together. The mobile robot SLAM should, scanning the area with help of 3D-scanner, to determine its location and nature of the terrain. Finding an obstacle in the form of steps, for example, which it cannot pass, SLAM will give the command to the NAO humanoid robot with 25 degrees of freedom, to climb the stairs, take the object and give it to the mobile robot.
Ksenia will join to the team and will be responsible for creating communication programs for the two robots. She will also be involved in the development of computer vision software for Reachbot's objects recognition.
I think that she would like her tasks. The project is complicated, but she is a good student and had promised to work hard.