Skoltech student Ivan Maslov won the Potanin Foundation scholarship for 2016. Maslov, who will get a monthly 15,000 stipend from the foundation, was declared and received the diploma in a ceremony held at Skoltech. The diploma was handed him by Yulia Lizicheva, Director of Vladimir Potanin Charity Foundation educational programs and Bram Caplan, Skoltech Director of Student Affairs.
The Vladimir Potanin Foundation runs long-term scholarship and grant programs for talented students and faculty at Russia's leading public and private higher educational institutions, as well as for museum staff, sports professionals, and experts in endowment creation and development. The Foundation is a member of the European Foundation Center and a founding member of Russia Donors Forum. The Foundation's programs in education aim to change the educational environment; focus on values, such as knowledge acquisition, professionalism, creativity and volunteerism; develop and disseminate new educational practices; and improve the quality of higher education.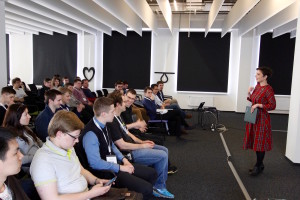 Ms. Lizicheva said in the event, that in the case of Skoltech, the students selection committee faced a very difficult task. On average Skoltech students showed higher results than their competitors from other universities, and to select a particular one was even more difficult. Virtually all Skoltech students who participated in the contest for the Potanin Foundation scholarship demonstrated high academic potential, commitment, adaptability and good teamwork skills. That, however, is not surprising – after all, these qualities are nurtured in the students by Skoltech professors and staff.
the winner – Ivan Maslov fully meets these criteria. In 2015, Ivan represented Skoltech at the SLUSH conference in Helsinki with his AGRO HD analytical platform for agriculture. This platform allows to obtain information by using drone and manage the processes of crop and livestock.