Skoltech continues the series of meetings with leading Russian businessmen. This time it was Alexey Ananiev, founder and co-owner of Technoserv, the largest Russian system integrator and Promsvyaz Bank, who told the students his success story and about the need to always look for new opportunities.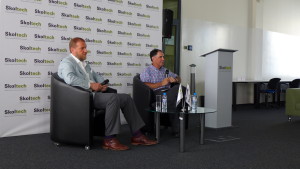 Ananiev, who in 2013 was ranked in 61th place on the list of Forbes Russia, is one of the brightest figures in the Russian business scene. He founded his first company in 1992 and became one of the first Russian businessmen to have begun actively develop business in the field of IT . Alexey Ananiev offered to talk about how to find a niche for today's students and founders of start-ups.
According to Ananiev, despite the novelty and popularity of the term "startup", the experience of previous generations of entrepreneurs can be a useful for modern novice traders, "All that I or my brother started in the business, can be considered as start-ups, because we started in areas where we almost did not have anything. When my brother and I started the business, I had the feeling that nothing new can be done – all niches are occupied, and business opportunities are limited. And at the same time I came across a book by Tom Watson, one of IBM executives, where there was such a phrase: "there is always place in the marketplace". It gave me the idea to look at large-mainframe computers, while the market experienced a boom of personal computers. While all asserted: "mainframe is dead", major Russian companies such as "Izhmash" needed computers capable of solving large amounts of tasks – from accounting estimates, to the jobs distribution. And we have gone against the market trend, started to engage in mainframes. Admission to the market was too expensive, so we turn our gaze to the western market for used mainframes – even after 10-15 years, they were reliable and worked faster then Soviet computers. A used mainframes market in Russia virtually non-existent that time. And it was the very free market niche. So, for the investment field is always there. "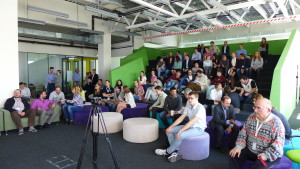 Interested students and Alexei Ananiev attitude to failure. "I had failures and I will have more. Do I like to talk about them? No, because the people who are with you in the business are always more comfortable to think that they are dealing with a successful man. But failures, of course, were. They only good thing about it is that you can draw conclusions, analyze results, and chain of actions that led to it. "
The best remedy against failure, according to the businessman, is to be fast, decisive and be aware that if you are successful today, it does not mean that you will be successful tomorrow: "The belief that success is eternal, was the start of the way to the grave for a large number of successful companies. Once you start to believe in the inevitability of continued success that has a certain "golden touch", you enter the path of self-confidence and, as a consequence, become prone to unreasonable risks. This leads to serious setbacks. "
As Ananiev is known for his commitment to orthodoxy, many listeners were interested in the role of religion in his personal business success, as well as whether there is a connection between the style of doing business, and religious affiliation, in particular, whether is possible to build business on the basis of religious standards and rules, in particular, whether is possible such things as Islamic banking? His answer surprised many. According to him, he, as a religious man, does not believe in the connection of entrepreneurial success and adherence to religious practices or in the possibility of the existence of such institutions as "Islamic banking": "There is no Orthodox, Islamic or Jewish business – a business success or fails. Every business aims to profit margin. My deep belief is that religion is an absolute personal matter. Believers should not mix it with any professional activity. In order to earn money, you have to be fast – in time to make decisions, and strong – that means to be wealthy and competent. It has nothing to do with religion. "
At the final issue of the meeting, Ananiev had advised Skoltech students to think about their own case: "If you want to be successful in business, you need to be successful as a salesman. Otherwise, you will not even be able to sell your unique qualities as a researcher to your client or employer.
Strive to think outside the box. Look at these examples like WhatsApp and MSQRD! In the case of the latter, I, like many traditionally-minded businessmen, would not even think that this thing is able to cost a billion! For what?! I would never have found this business opportunity. In the case of MSQRD you need to understand the mechanism – that is to whom and for what you will be selling. If its creators have made an application fee, their audience and revenue would be incomparably smaller. But they made an unusual move, knowing that sell MSQRD would not have the final consumer and the big corporations, which uses it as one of their services, as it did with Facebook. My way of thinking in this situation was old-fashioned. From this point of view, it is difficult to change the view of business opportunities. What seemed to be entertaining the boys out of college, in fact, turned out to be a business opportunity!
And most importantly – be competent in your field. No matter what you sell – toilet paper or icebreakers. Your customer first sees you and you sell him is yourself. When you sell, you have to sell yourself and use all your knowledge. By showing that you know more than the competition, you will achieve success. It is an excellent knowledge of your field that will help you see a window of opportunity".