On June 23, 2016 Skoltech has signed a cooperation agreement with the Moscow Institute of Physics and Technology, Landau Institute of Theoretical Physics Institute and the Institute of Chemical Physics Problems. The ceremony took place during a meeting of Skoltech's Board of Trustees.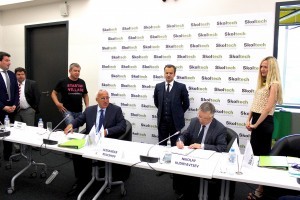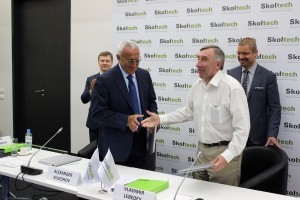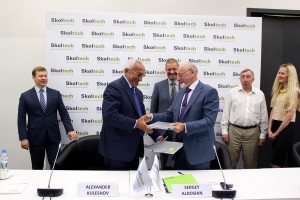 The ceremony of signing an agreement with the Moscow Institute of Physics and Technology (MIPT) was held in the presence of Deputy Prime Minister and Chairman of the Board of Trustees Arkady Dvorkovich and Deputy Finance Minister Andrey Ivanov.
Alexander Kuleshov, presidentof Skoltech, and Nikolai Kudryavtsev, president of MIPT, signed a cooperation agreement and an agreement on the implementation of joint educational programs. In addition, the agreements provide joint research and academic exchange. "This is a new stage of cooperation with one of our key partners. On September first, we will launch a joint educational program. Students will learn at the same time in Skoltech and in MIPT on an individual curriculum, which we have developed, combining the strengths of the two universities", said Alexander Safonov, Skoltech vice-president for academic relations.
During the meeting of the Board of Trustees in the presence of the Deputy Minister of Finance Andrey Ivanov and First Deputy Head of the Federal Agency for scientific organizations Alexey Medvedev an agreements were signed with the L.D. Landau Institute for Theoretical Physics. (ITP RAS) and the Institute of Problems of Chemical Physics (IPCP). President Kuleshov and director of ITF RAS Vladimir Lebedev have signed a memorandum of understanding on cooperation, as well as an agreement on the establishment of a department for teaching students in areas of "Theoretical Physics" and "Physics and technology of nanostructures." Under the agreement with IPCP, signed by president Kuleshov and academican Sergey Aldoshin, director of the Institute, a Joint Research Center of nanostructured materials for the conversion and energy storage will be created.
Earlier, an agreement was signed to establish a joint laboratory with The Kharkevich Institute for Information Transmission Problems (RAS IPPI). Alongside the establishment of the laboratory, four research projects will be launched in the field of Information Sciences, including the processing of medical images and data about the brain, find anomalies and predictive maintenance.
Signing of agreements with academic institutions was an important step in the implementation of the Cooperation Agreement concluded between Skoltech and FASO in February 2016 at the Krasnoyarsk Economic Forum. Among other things, it provides for promotion of joint research and educational projects, scientific research and experimental development and the establishment of joint research laboratories.