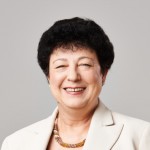 Skoltech Center for Data-Intensive Biomedicine and Biotechnology is pleased to invite you to the lecture "Targeting MicroRNA With Small Molecules", which will be held as part of the Systems Biology Program Fellows Reports.
Speaker: Dalia Cohen Ph.D., CSO & Head of Research at Beryllium
Abstract
In 2016, in the United States alone, it is estimated that 4,600 new cancer cases will be diagnosed each day and 1500 people a day will die from this disease. With this incident and mortality, a novel therapeutic paradigm is urgently needed. In cancer, both proteins and non-coding RNA are dysregulated and are major contributors to oncogenic pathways. Our focus is using small molecules to target members of a family of non-coding RNA, microRNA. Oncogenic microRNAs, "oncomiRs", are over- expressed in cancer and function by repressing tumor suppressing genes. Targeting oncomiRs with small molecules, represents a novel therapeutic modality for cancer patients.
Biography
As the Chief Scientific Officer and head of research and head of research at Beryllium, Dalia Cohen utilizes her expertise from her time in academia, big pharma, biotech startups and her own consulting firm to lay the groundwork for future drug discovery methods and breakthroughs. Before joining Beryllium, she founded ALN Associates, a life sciences consultancy. Dalia Cohen  previously served as the chief scientific officer at Asterand, a global supplier of human tissue and tissue-based research services, and also at Rosetta Genomics, a microRNA-based diagnostic company, where she developed three diagnostic tests based on microRNA. Before that, she worked for 15 years at Novartis and held several executive positions, including vice president and global head of functional genomics.