Skoltech has signed letters of intent to establish research partnerships with Oerlikon and the Technical University of Munich, Germany (TUM)  the field of additive manufacturing.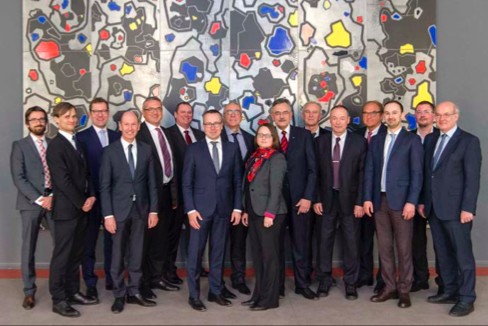 Additive manufacturing is a next-generation manufacturing technology that will drive the factories of the future. The metal-based additive manufacturing market will change how products will be designed, manufactured and distributed in industries. While additive manufacturing is being increasingly adopted for series production in industries, from aerospace, automotive and power generation to medical and tooling, challenges remain, before the technology is mature for mass production. The three parties in this partnership are well placed with their respective competencies to address these challenges. TUM has strong existing research capabilities along the additive manufacturing value chain and has established itself as a key academic institute in driving the industrialization of the entire process. Skoltech will bring its advanced manufacturing and simulation expertise into the cooperation, including dedicated materials for additive manufacturing.
Sealing the commitment, Prof. Dr. Alexander Kuleshov, President of the Skolkovo Institute of Science and Technology, Dr. Roland Fischer, CEO of Oerlikon, Prof. Dr. h.c. mult. Wolfgang Herrmann, Rector of the Technical University of Munich,  signed the agreement at the TUM campus. The venue of the signing ceremony was specifically selected, given the strong industrial and technological ecosystem in the Munich metropolitan region, where many of the innovators and early adopters of additive manufacturing are located.
Dr. Alexander Kuleshov, President of Skolkovo Institute of Science and Technology (Skoltech) said, "Indeed, Skoltech has the recognized international expertise in the field of predictive modeling of complex technical objects (without which the creation of the full process of additive manufacturing is simply impossible) and the excellent training in the sphere of material science. Modern science is international in its nature, and technological breakthroughs – those significant for the humanity – are usually committed by multinational teams. Our partnership, formalized today, can and should become such an international team, who will be able to achieve significant progress in the field of additive technology, that is equally important not only for the members of the consortium, but also for the global humanity."
Prof. Herrmann, President of TUM said, "In conducting research, it is integral for us to work hand-in- hand with technology companies to develop solutions for practical industrial challenges and applications. Partnering with Oerlikon exactly adds that perspective for us to drive forward our additive manufacturing research projects and opens up opportunities for exciting future research together."
Dr. Fischer, CEO of Oerlikon said: "Innovative technology is key to our growth strategy and a distinct advantage of Oerlikon. This partnership marks another important milestone in our efforts to take a leading position in additive manufacturing. Our goal is to deliver innovative products and services in surface coatings and advanced materials to meet customers' growing demand for advanced components that are lighter and with embedded functionalities. Additive manufacturing offers cost-effective production solutions coupled with increased design freedom for even highly complex geometries. With our leading expertise in advanced materials and surface technologies, we are ideally positioned to be a driver of this technology."
Prof. Dr. Michael Süss, Chairman of the Board of Directors of Oerlikon, added: "Our strategy is to become the global powerhouse in surface solutions and advanced materials. Such research collaborations are part of our overall technology strategy and underpin Oerlikon's long term commitment to become a technology leader in the promising field of additive manufacturing. We would like to thank the Bavarian State and its representative, the Deputy Minister President of Bavaria, Mrs. Ilse Aigner, for supporting the project. We will continue to further expand our global network of research partnerships in the future."
The research partnerships support Oerlikon's strategy to extend its leading position in surface solutions into additive manufacturing. In anticipation of the expected growth in demand for advanced component manufacturing by additive manufacturing, the collaborations will address some of the most pressing research and development challenges in the field.
On Skoltech side, the signing ceremony was attended by  Alexander P. Kuleshov, Skoltech President, Provost Rupert Gerzer, Alexander Safonov, Vice President for Academic Relations, Iskander Akhatov, Director of the Skoltech Center for Design Manufacturing and Materials, Grigory Kabatyansky, Advisor to the President for Science, Maxim Fedorov, Director of the Skoltech Center for Computational and Data-Intensive Science and Engineering.