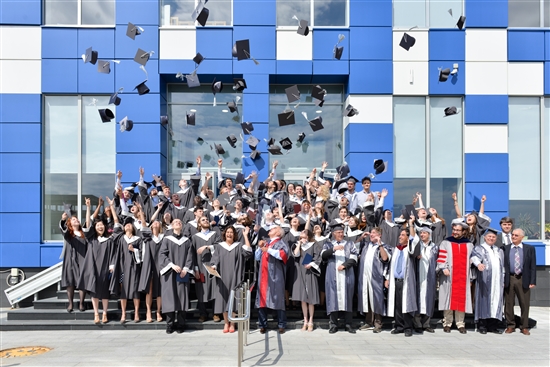 Graduation day is always bittersweet. On one hand, we are sorry to see our students go. On the other, we take comfort in knowing that they are moving toward bright and innovative futures in their chosen industries. We wish all of our graduates the very best, and look forward to watching them flourish in their careers!
For those of you who will be joining in today's festivities, here's all that you'll need to know:
The commencement ceremony will begin at 14:30 and will be held in the Atrium Hall of the Skolkovo Innovation Center's Technopark. 
Here's the detailed program:
14:30-15:10 Our honorary guests will deliver an opening speech, and our faculty and students will march in
14:30-14:40 Skoltech President Alexander Kulshov will deliver an address
14:40-15:00 Pekka Viljakainen, Advisor to Victor Vekselberg, the President of the Skolkovo Foundation, will deliver a keynote address
15:00-15:10 Our honorary guests will deliver a few congratulatory remarks
15:10-16:40 Our students will be awarded their degrees
16:40-16:55 Students will deliver speeches and special student awards will be handed out
16:55-17:10 Professor of the Year awards will be handed out
17:10-17:15 Closing remarks will be delivered
17:15-17:30 We will take a group photo
17:30 Our celebratory reception will begin!
The event's official hashtag is #skoltechcommencement2017
We look forward to seeing you all there!