Skoltech is not for the faint of heart. 
In the month that has passed since its largest-ever batch of students began their MSc programs, all 250 of them have transformed abstract ideas into marketable products and technologies, ranging from an app programmed to assess a user's psychological condition based on the sound of his or her voice, to a device that can instantly detect dental maladies.
All of these ideas were born and bred in the Innovation Workshop (IW), an event hosted each year by the Skoltech Center for Entrepreneurship and Innovation (CEI). The goal of IW is to cultivate the ability of incoming students to convert knowledge into bold initiatives that will change the world for the better.
"The Innovation Workshop is designed to be orthogonal to the entire tradition of Russian education. Unlike other courses, IW does not focus on teaching knowledge. Instead, it lets the students learn skills and develop attitude that are necessary to successfully practice innovation and, more importantly, to be successful and productive in their lives," said Professor Ilia Dubinsky, Director of CEI and the chief organizer of the IW since its inception in 2014. 
"The students learn the process of innovation and experience the pains and excitements of following this path, but they also learn how to work in a team, negotiate, lead and advocate, how to treat the world as a lab, build prototypes that convince and sell, and most importantly, how to take charge of their lives," he added.
The IW is truly an unrivaled experience. During a guest lecture toward the end of this year's event, Professor Edward Crawley, Skoltech's founding president who currently teaches Aeronautics and Astronautics at MIT, was asked about the differences between education in Russia and the United States.
"The difference between the American education process in good places – like MIT or Caltech or Stanford – and Skoltech is very small. Except I would say maybe Skoltech is a little more progressive. Skoltech was created in the past five years from zero, so we were able to build in the very beginning things like the Innovation Workshop. There's no university in the United States that I know of where every student goes to something like the Innovation Workshop before their first [program] classes. We invented that," Crawley said.
In addition to Professor Dubinsky, who served as lead instructor, the 2017 IW featured four other faculty advisors, including Professors Maxim Kiselev, Alexey Nikolaev, Dmitry Kulish and Pavel Dorozhkin.
A crash course in innovation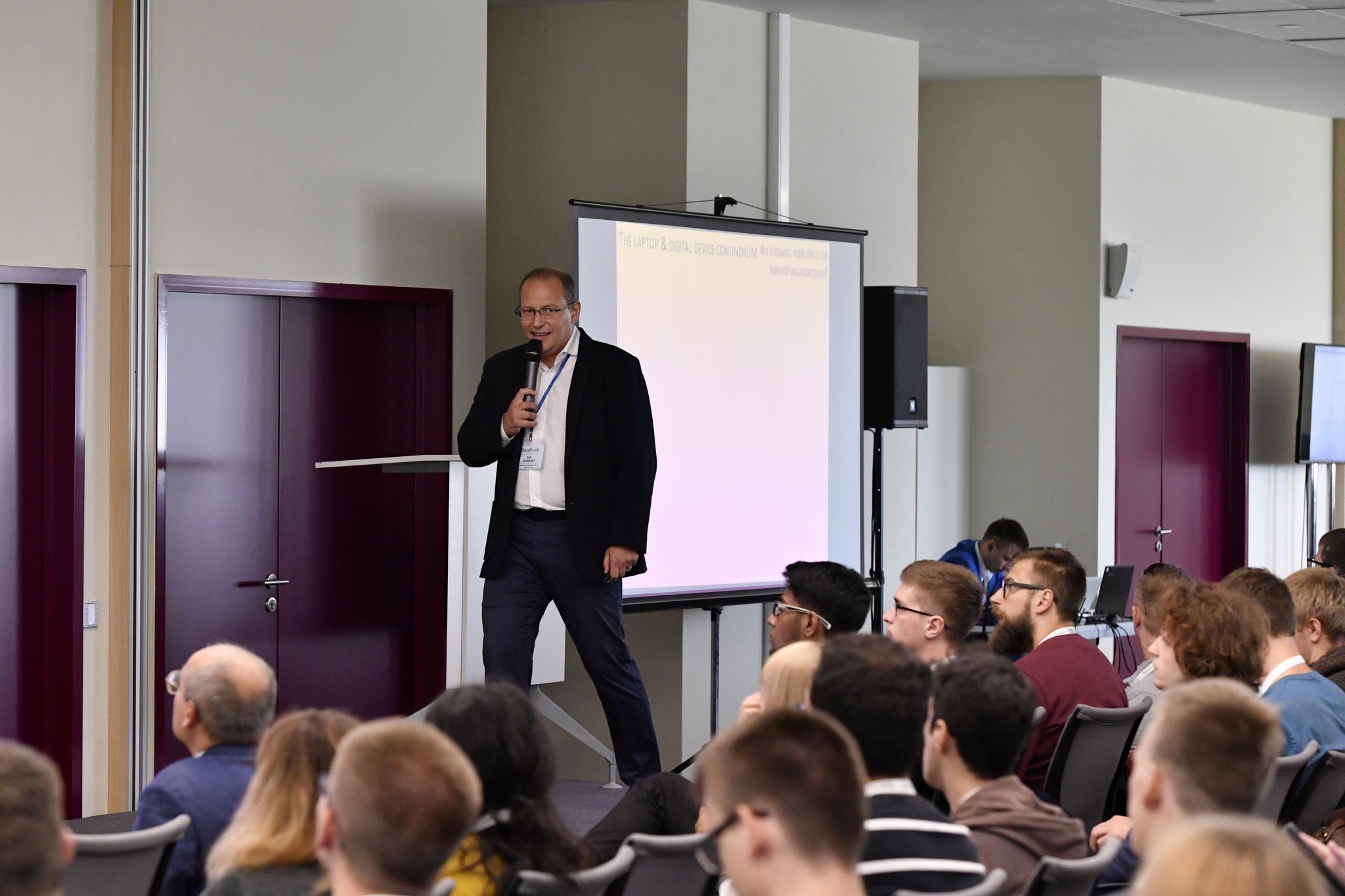 Immediately upon arriving at the Skolkovo Technopark for their first day of the IW, students were plunged into a web of unique classes and daunting expectations.
First, they took part in a series of so-called Quick Success classes, where each day they were mixed with a new set of students and assigned a complex, hands-on task in fields ranging from biotechnology to the Internet of Things. For the majority of participants, the tasks they were grappling with were totally new to them, and success depended on teamwork and combined knowledge. The students overwhelmingly enjoyed the experience, emphasizing in their reviews that it was especially inspiring to succeed at a task that they lacked any background in.
After Quick Successes, the students participated in Engineering Leadership classes, which aimed to teach students the importance of soft skills like communications, teamwork, creativity and emotional intelligence. 
According to Kiselev and Kulish, who led the classes, young scientists and budding engineers tend to challenge soft skill theories with scientific reasoning and probing. To surmount this obstacle, the professors relied on games rather than lectures. 
"The only way to succeed is to design class games and group exercises that reveal spontaneous miracles of leadership and teamwork. We then debriefed the students without focusing on theory, and jumped right into how to apply these skills," Kulish said. "It was music to our ears when a student shared that during the leadership game, he unexpectedly discovered himself to be a leader, while earlier the very same morning he had been sure he was incapable of leadership. Another student realized during the creativity session that her goal was to create innovation relevant not to global peace, but to the well-being of the domestic canine. A third student pinpointed that after the teamwork game, she realized she was finally able to start working with her team."
Teams race against the clock
Meanwhile, the organizers split the students into 48 teams.
They learned that they would have to devise and develop a convincing working prototype of a product or technology that could affect society for the better. To add to this already lofty task: they would more than likely be focusing intensively on a topic they had little to no previous experience with, and they would complete everything with a total budget of less than USD 20 per person.
Only three days after meeting their teammates, they had to present their initial project ideas in front of a group of mentors hailing from such industry giants as Microsoft, Intel and Rosatom, and from such academic strongholds as the Russian Academy of Sciences, Moscow State University and the Moscow Institute of Physics and Technology.
Early on, it was common for teams to ditch or substantially revise their initial ideas upon reaching insurmountable obstacles.
This is all part of the learning experience.
As explained by Dubinsky during his final IW lecture: "Failure is part of the game. It's not as bad or as scary as it sounds. It's actually very useful. You have to use failure; failure teaches you."
Crawley also addressed the value of failure during his lecture. "The most important thing when you aren't as successful as you hoped in a business endeavor is knowing when to move on. Failure is inevitable. In business, failure is the most common thing that happens," he said. "You have to be prepared to do something that is going to make a change in the status quo and a change in the current situation so you can put the failure or the lack of success behind you and move on."
The long hours the students spent plugging away at their projects were broken up with lectures from an illustrious roster of well-known scientists and entrepreneurs, such as Vartan Minasyan, head of Investments and Innovations at multinational cybersecurity giant Kaspersky Lab and Maxim Melnikov, CEO of CIAN, Russia's leading real estate portal.
Kiselev explained that each guest lecturer was selected with the aim of imparting a specific lesson that the organizers felt would enhance the students' academic and professional careers, such as networking skills and dealing with ethical dilemmas.
Topics ranged from The Hidden Side of Startups: Entrepreneurs and Their Experiences with Failure and Success to Trends in Industrial Design and Design Thinking and Retail. Other topics included Artificial Intelligence, eradicating cancer, and focuses on various industries, such as aerospace, retail and pharmaceuticals.
A carefully calculated challenge
The uninitiated may be wondering how it's possible for incoming MSc students to tackle such a diversity of demanding tasks in so little time. In fact, the course has been meticulously sculpted over the years to impart a very specific set of lessons, as explained by Kiselev and Dubinsky.
"We promised the students a big challenge, and in fact this is a challenge in all aspects," said Kiselev, one of the event's five faculty organizers. "On the one hand, we wanted to open their eyes to totally new concepts that they had not learned in any of their previous schools, such as how to meet people's needs with what they invent in their projects. Second, we wanted them to understand that their success truly depends on teamwork, including communications between team members and how they build relationships with the team leader. Third, for many of them, this is the first opportunity they'll have to connect their technological knowledge with something that can really be serving customer needs."
Dubinsky added: "This is a very unusual and uncomfortable course, and learning continues long after the course itself ended — I have had students coming to me months and even years afterwards with admissions that they 'only now understand why we did something and finally realize the usefulness.' The course design is very complex and intense by necessity; we need to squeeze all this into just one month. This year it was especially hard — this was the first time we had such a large class."
The final countdown
The course culminated in two days of team presentations.
On the penultimate day, the students voted on the 16 teams whose projects the students believed had the greatest potential and had been most articulately elaborated, which were then to present on the final day in front of a panel of jury members, potential investors and members of the greater Skoltech community.
Among this year's finalists were Mind Keeper – the aforementioned app that aims to diagnose mental health issues based on the tone of a user's voice; Flex Grid – a technology that would enable consumers to sell back their unused energy; Lactose Detector – a device that would enable users with allergies or intolerances to identify the presence of lactose in food and drinks; and Dear Speech – an app that would help foster communications between users with hearing impairments and those who don't understand sign language.
The audience members pulled no punches when it came to peppering the teams with questions about everything from ethical issues, to definitions of such fundamental concepts as "sanity," to what set each product apart from its competitors.
Meanwhile, the students didn't shy away from creativity as a means of connecting with potential investors.
This proved particularly true for the team behind Denta Light, the abovementioned technology that would help users identify dental problems from the comfort of their own homes, and message their findings to their dentists. As they closed their presentation, the group's CEO showered the audience with RUB 1,000 bills to emphasize how much money users could save by replacing routine dental checkups with remote diagnostics and consultations.
Glowing reviews
Among the jury members present for the final presentations was Nikolay Suetin, Skolkovo Foundation Vice President for Science and Technology. "The level of the projects was higher than in previous years," he said during a brief interview. "They did very good work in the time that passed between their initial presentations and their final presentations. They actually listened to what the mentors and lecturers taught them."
Suetin added his belief that with some hard work and perseverance, some of these groups have the potential to eventually become Skolkovo Resident startups.
The faculty advisors were equally impressed with the students' performances.
In the words of Dorozhkin: "The level of the students was very impressive – their knowledge, motivation, effectiveness, ability to work on difficult subjects under strong time limitations on teams with people whom they did not know before. The product and technology ideas they came out with during their 'Quick Success' prototyping classes and two-and-a-half-week practical projects were very often exciting and unexpected, even for their experienced professional mentors. We expect it will not take long until the students enjoy applying the skills and knowledge obtained during the IW in their Skoltech activities."
Dubinsky added: "We are pleased with the results of the class; most of the students worked hard and learned a lot."
Likewise, all of the students we talked to gave glowing reviews of their IW experiences.
"The Innovation Workshop was great. I've never seen anything like it in other universities," said incoming MSc student Yulia Kuzminova. "We met a lot of people who have created successful startups. They gave us wonderful advice and opened up our horizons. We saw how it was from the perspective of a founder and a company, and how they look at new ideas. The most important thing for me in this course is that the atmosphere was exciting. I'll miss this atmosphere, but I hope that the soul of the workshop will continue with us through our education and in the end I'll remember how I felt while completing this course, and repeat it."
Her classmate Tinashe Prince Maviza, who moved to Moscow from Zimbabwe to attend Skoltech, having arrived in the country just a day before the IW started, was similarly enthusiastic. "It's a rare asset to be in an atmosphere with great minds that allows one to connect and network with people who have a sole purpose of bringing change in our world. We are now in a techno-scientific era wherein all fields are converging into one, and if you fail to realize it, you might miss that moment of opportunity," he said.
Going forward, the students who participated in IW will have the opportunity to continue developing their ideas with the help of Skoltech's new Acceleration Program, Nikolaev explained.
"The Innovation Workshop has been successfully completed, but the students' projects and innovations will continue. We are offering our help and support within the framework of the Acceleration Program. The goal of the program is to equip student projects – those that originated in the Innovation Workshop as well as new ones – with systemic tools and processes in the area of new product and business designs, to help students to pursue effective, efficient and fast-paced innovation journeys – from idea, to prototype, first clients to deployment, and, finally to new high-tech venture creations," he said.
The event's success was made possible by the hard work of the CEI administrative team, including Anna Sorokina, Karina Gurgenova, and Asiya Timirova, who handled everything related to organizing and planning the workshop and communicating with the students.
"This year, the IW was much more complex in terms of organization and maintenance than in previous years: we had 250 students whom we mixed and remixed many times to make sure they got the most out of the course. We were in contact with the students 24/7," Sorokina said on behalf of the organizers, noting that the task was made all the more difficult by the fact that the team had to run operations from the Technopark, and that they were managing four sub-cohorts each day.
"We also had a relatively large team of professors and organizers, which brought novelty as well as challenges to the process. We have already started to review the strengths and weaknesses of this year's program to improve the IW for next time. Every year IW is very tough but energizing and inspirational. All in all, we are proud of our resourceful team and students, and very thankful to all partners, mentors and supporters," Sorokina said.
Scroll to enjoy some more photos from this year's IW: