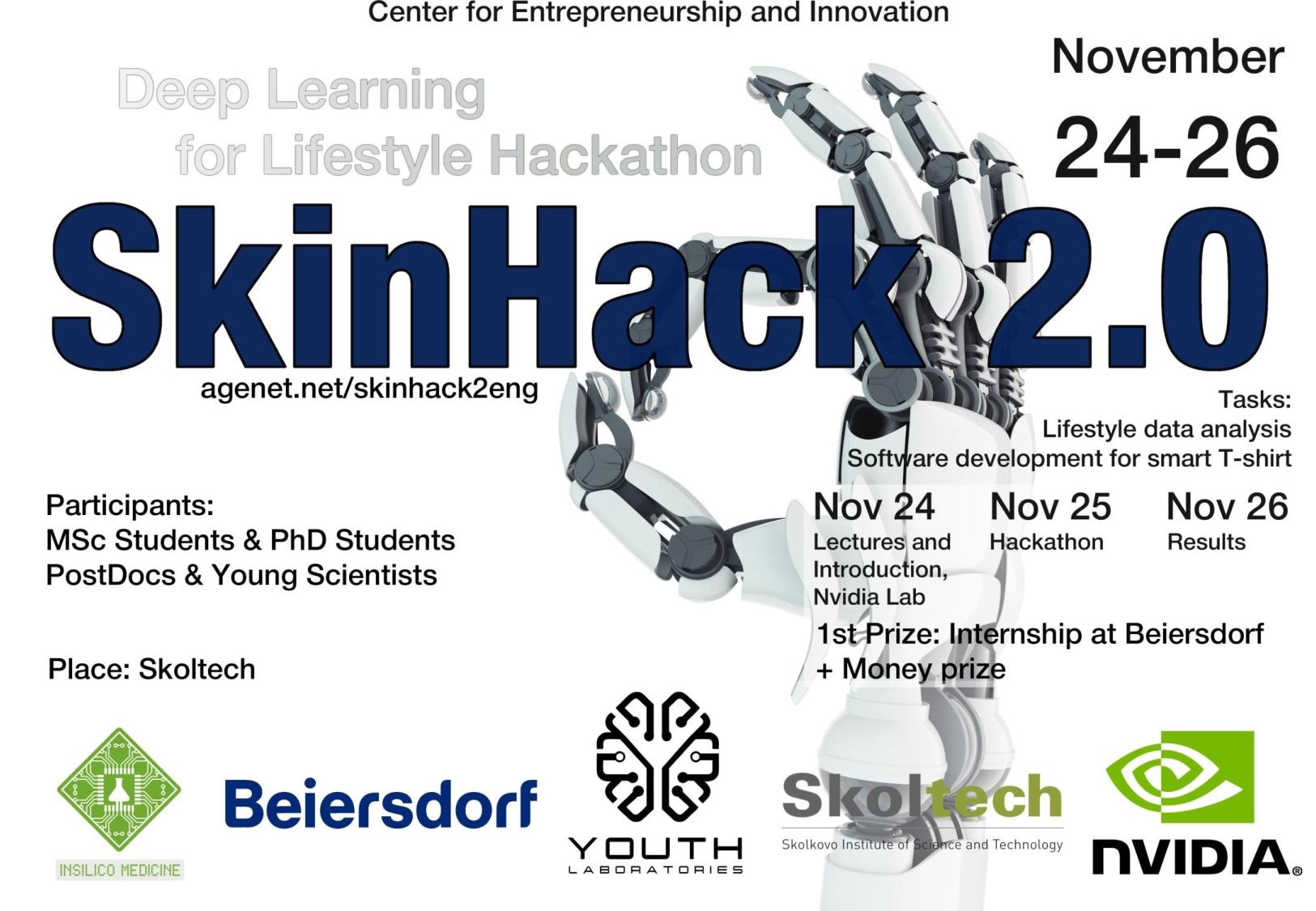 Dear Students,
Skoltech, together with YLabs, Beiersdorf, NVIDIA and Insilico Medicine, is pleased to invite you to participate in the SkinHack 2.0 hackathon on 24-26 November at Skoltech  for the application of Machine Learning and Deep Learning for Lifestyle data analysis coming from smart tshirts.
Data scientists, programmers, engineers and mobile app developers are welcome to participate!
SkinHack 2.0 Tasks:
- Data analysis of unique smart tshirt dataset: more than 6,500 hours of wear for more than 100 volunteers
- Programming with SDK (Software Development Kit – Android/iOS), interacting with smart tshirt sensors
Prizes:
- Salaried summer internship at Beiersdorf AG data science department (Hamburg)
- Money Prize
- Scientific publication on the results of SkinHack 2.0
Nvidia Lab
The NVIDIA Deep Learning Institute offers hands-on training for developers, data scientists, and researchers looking to solve the world's most challenging problems with deep learning.
SkinHack 2.0 participants can also participate in an Nvidia Lab event hosted by the Nvidia Deep Learning Institute on 24 November. The event will include a lecture and training session (for SkinHack 2.0 participants only, limited number of participants, please visit web-site for more information http://agenet.net/skinhack2eng).
 For more information on the event, click here.
Contacts
Web-site:         http://agenet.net/skinhack2eng
Register:          https://goo.gl/J6rqN4
Telegram:        https://t.me/skinhack2
FB:                   https://www.facebook.com/groups/skinhack/
Mail us:            , 
Skinhack 1.0    http://agenet.net/skinhack/eng