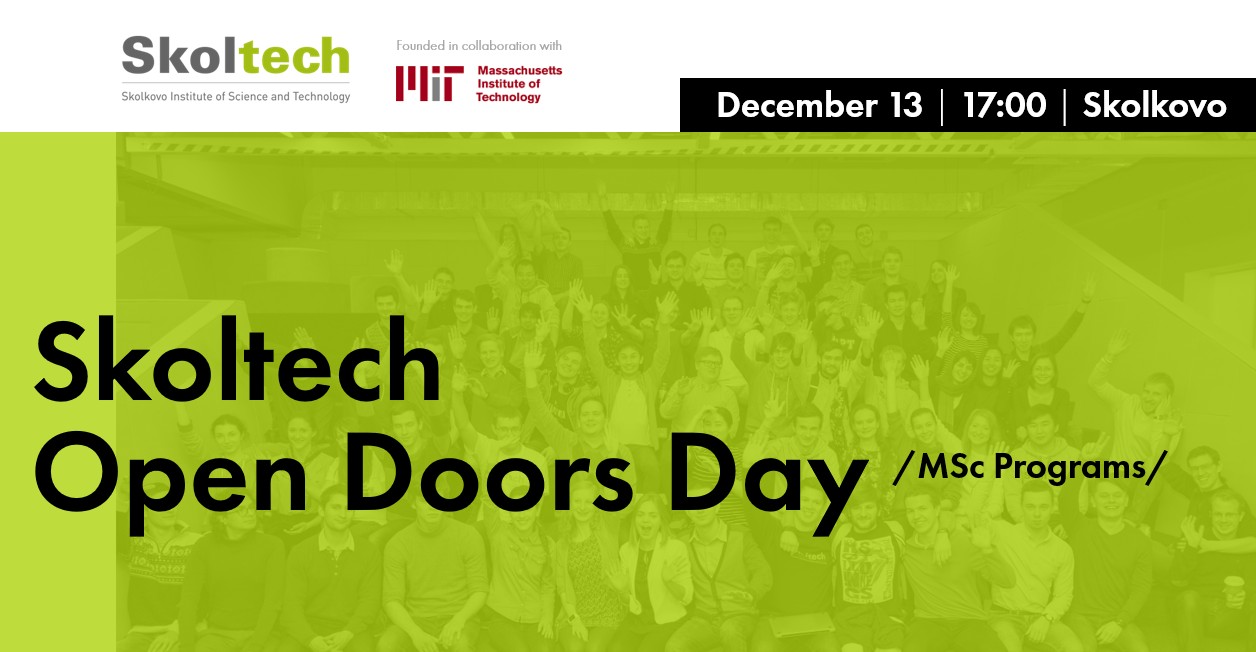 Skoltech Opens doors Day
When: 13 December 2017
Where: Skoltech, 3 Nobel Street, Moscow, Russia
Get to know the Skolkovo Institute of Science and Technology (Skoltech), as well as its MSc programs and research activities. Get first hand answers to your questions and find out everything about our selection process.
2018 MSc programs to be presented on at Open Doors Day:
Data Science
Computational Science and Engineering
Photonics and Quantum Materials
Mathematical and Theoretical Physics
Biotechnology
Space and Engineering Systems
Materials Science
Advanced and Digital Technologies
Petroleum Engineering
Energy Systems
Schedule
16:15                    Transfer from metro Park Pobedy
17:00 – 17:30      Welcome Presentation
17:30 – 18:30      Presentations of MSc program (Sessions runs in parallel)
18:30 – 19:30      Lab Tours
19:30 – 19:50      Q&A Session / Coffee break
19:50 – 20:15      Transfer to metro Park Pobedy
Learn more about the event and register as a participant here.
About Skoltech
Skoltech trains scientists, entrepreneurs and specialists in a broad array of high-tech disciplines based on the best practices of Russian and international education and research, with a particular emphasis on innovation.
We feature:
Internationally respected professors and researchers,
Individualized educational programs,
A unique campus and modern research facilities,
Academic mobility programs,
Interdisciplinary project-based training,
Special emphasis on innovation (a combination of science and business),
An English-language education.
All students who are offered admission will receive a full scholarship.
Read more about our programs and admissions process here.