On a historically snowy Saturday afternoon in early February, dozens of resident children and teens crowded into the auditorium of a Moscow Region orphanage with one thing on their minds: science.
Fueled by a desire to give back to the community that has become their home away from home, an international team of Skoltech students organized a science fair for the Mytishchi School of Musical Education.
By all indications, the event was a hit.
"Our children were fascinated. There was a lot of interesting content, and above all, it was very informative," said Galina Seregina, a teacher at the school.
She praised the Skoltech team for teaching lessons in a broad range of subject areas, and for engaging the kids immediately in a rousing game of bingo, which required them to race around the auditorium in search of people who satisfied various criteria, such as having met a famous person.
Between bingo and a series of visually riveting and interactive presentations, the Skoltech team transformed an initially timid group of kids into a cohort of unabashed science enthusiasts.
A lasting gift
The event was largely the brainchild of Laura Elidedt-Rodriguez, a second year MSc student from Mexico.
Previously, she had been invited to deliver a presentation on Mexican culture at the Mytishchi school, which was founded in 1937 as an orphanage and musical training academy that fed into Red Army military bands. Nearly a century later, music remains a core component of its educational offerings.
"When I arrived here and met all of these kids, I realized I would like to do something more for them," she said.
But rather than donating toys or clothing, she wanted to give them something that could last a lifetime – one that her fellow Skoltech students would be uniquely suited to provide: scientific knowledge.
"The skills and knowledge we have acquired at Skoltech will be more valuable to these kids than typical gifts," said Rodriguez. "They may get inspired by science, and it could have an impact on their lives."
Fossils, stars and Cryogenics
Rodriguez teamed up with MSc students from across Skoltech's research areas to create kid-friendly lessons in Physics, Biology, Space, Robotics and Geology.
They even made time for a bit of Cryogenics: At one point, Rodriguez and Data Science student Grecia Diaz, also from Mexico, used dry ice to flash freeze a rose, much to the excitement of the children, who could barely contain themselves while waiting for the opportunity to feel the frozen petals.
Shortly after, Rodriguez and Diaz mixed dry ice with juice, and then handed out the drinks – spilling over with heavy fog – to the very eager attendees.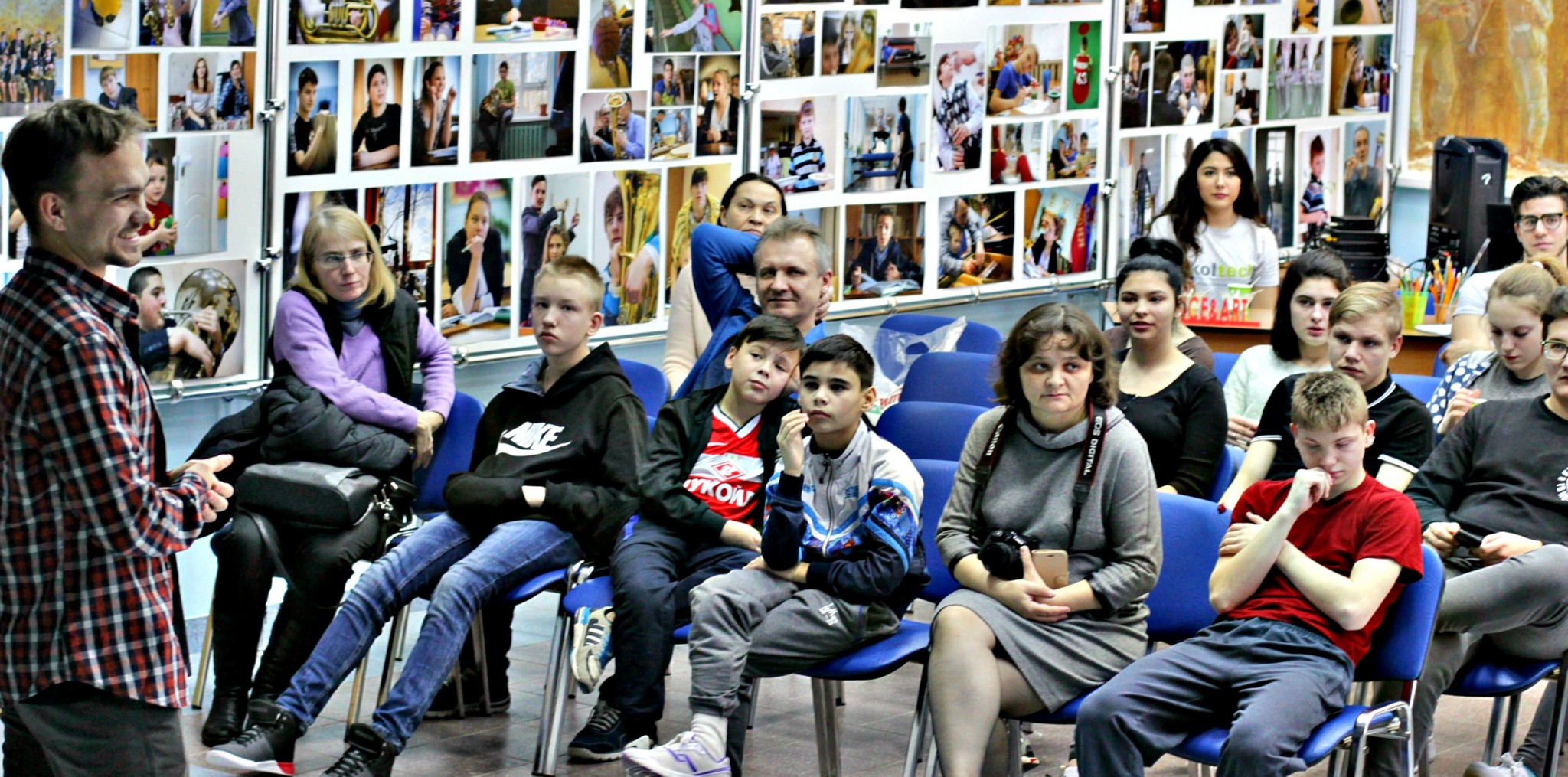 The kids also had the opportunity to learn about the legendary Elon Musk, and to find out how many containers of instant noodles you could buy for the cost of a small satellite (600 million packs of Russian-student favorite Doshirak).
They were able to learn the DNA structure of a banana, peer into the night sky of the Northern Hemisphere – complete with LED-lit constellations – and learn to fit a hardboiled egg through the narrow mouth of a glass bottle.
They had the opportunity to see how oil and gas reservoirs work, and – thanks to Hydrocarbon Recovery student Valentina Ekimova's willingness to share her private mineral collection – to hold a million-year-old fossil and other precious stones.
"I wanted to show that geology isn't just boring science; it's really interesting and visual," she explained.
//Spreading the joy of science
Similar to Ekimova, many of the Skoltech students said they were inspired to participate based on a desire to ignite in their young attendees a passion for science, and to do something meaningful beyond their coursework while in Russia.
According to Diaz, "I used to participate in different volunteer activities when I was in Mexico specially related to kids, so when Laura told me about the idea to organize something for these kids I didn't hesitate to say yes and do everything in my power to make it possible. It is a great opportunity to give back the community we now belong to, and what better way than to share our knowledge and motivate kids to get into science. I was glad to receive a positive response from my colleagues when we solicited volunteers to take part in this activity. I hope to have the opportunity to collaborate in more activities like these."
Charles Belina, an Advanced Materials student from the United States, was among her fellow students  who readily agreed. "I've been looking for an opportunity to give back to the community, and I was glad to find that Skoltech offered something like this," he said.
Oleg Sudakov, who manned the Physics table alongside Belina, agreed. "It's nice to do something good for the community and get people interested in science. I wanted to show the kids something that could be easily done at home if they wanted to repeat the experiments themselves. I also wanted to show them how science entangles our everyday life, and how it could be used in things that surround us," he said.
Shreya Santra, a second-year Space MSc student, echoed: "I'm always interested in science fairs and interacting with children, so this was a nice opportunity."
Expanding to the Skolkovo International Gymnasium
Having already prepared a series of kid-friendly lessons, the Skoltech team decided to bring their science fair the following week to the children of the Skolkovo International Gymnasium, a K-12 school within the Skolkovo ecosystem.   
The gymnasium program came with a couple of added attractions, including liquid-nitrogen ice cream and a tai chi-teaching robot – courtesy of Professor Dzmitry Tsetserukou, head of the Skoltech Intelligent Space Robotics Lab.
Ekimova was wowed by the intellectual voracity of the kids at both schools. "It was amazing that so many children were interested in science. During the space presentation, there were many, many questions. They came into it with hardly any knowledge about sputniks, but they were really enthusiastic."
Rodriguez added that she was inspired by the openness of the children at both the orphanage and the gymnasium. "In both spaces, the kids were very self-confident and very open, even with those of us who don't speak Russian. I think it was good to see the difference in the new generation, and how open they are to internationals," she said.
Skoltech Community Communication Manager Ido Nativ, who heads the Student Life Office, expressed gratitude for the MSc students' efforts to spread the joy of science. "Their contribution to strengthening ties within the Skolkovo ecosystem makes me very happy, as does the fact that they're taking time away from research to do something for the community," he said.
In total, 15 Skoltech students were involved in making the two science fairs a success: Space instructors Galya Chikunova, Andrey Chemikhin, Shreya Santra and Oksana Rusanova; Physics instructors Charles Belina and Oleg Sudakov; Biology instructors Laura Rodriguez, Maria Nazarova, Anna Zdanova and Grecia Diaz; Geology instructors Julia Vasina, Dmitriy Tikhomirov and Valentina Ekimova; and Robotics instructors Miguel Cabrera and Boris Voloskov. The Skolkovo-based science fair was organized in large part by Tamara Banjevic, a Skoltech graduate who currently works as a science teacher at the gymnasium.