Seven Skoltech scientists were among the recipients of this year's My First Grant award, which includes up to one million rubles in funding awarded over the course of two years by the Russian Foundation for Basic Research.
The competition, open to researchers aged up to 35 years old from across Russia, aims to attract young scientists from across the country who wish to conduct research in a broad range of fields, from natural sciences to the humanities.
Winners receive 500,000 rubles for their first year of research, and are then eligible to receive an additional 500,000 for a second year of research pending a review. 
This year's Skoltech winners and their projects include: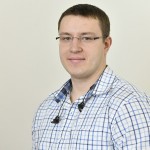 Winner: Anton Trofimov, a Research Scientist with the Center for Design, Manufacturing and Materials
Project: The development of composite materials with an integrated system for nondestructive self monitoring and their multiscale model
Trofimov says that the goal of the proposed scientific project is the development of composite materials with an integrated system for nondestructive self-monitoring and their multiscale model.
"The aim of the proposed research is to solve a fundamental problem in the field of new multifunctional composite materials design. We plan to develop theoretical models and basic scientific principles of  multiscale modeling of the electrical properties of polymer composite materials, based on preliminary conducted experiments. The composite material of the interest will be filled with fine carbon particles of various sizes and shapes that allow predicting the change in electrical properties of composites, depending on the type and magnitude of the applied strain. The results of experimental studies will form the basis for numerical multiscale modeling. Based on such a complex study, a theoretical model will be developed that interrelates the electrophysical characteristics of the material with the degree of its deformation, degradation and/or fracture, taking into account the spatial distribution of the filler particles in the polymer matrix for one or another composite production method, the shape of the filler particles and other parameters," he said.
He added: "It is a great honor for our team, consisting of PhD student Oleg Lebedev and Tikhon Kurkin, PhD,  to be awarded this grant. This support is a good indicator for us that we are on the right track and we will keep conducting top level research which is already a signature of Skoltech. Also, I would like to encourage all researchers to participate in such activity, since it helps you to set challenging goals! "​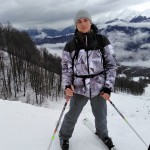 Winner: Dmitry Aksenov, a Research Scientist with the Center for Electrochemical Energy Storage
Project: Computer modelling and experimental study of surface segregation of alloying elements for sodium-containing oxides and polyanionic compounds of transition metals
Aksenov explained that his project will be carried out in collaboration with Stanislav Fedotov, another Research Scientist in his CREI.
"We are planning to improve Na-ion technology, which promises the creation of lower cost​ batteries compared to Li-ion counterparts. In particular, to extend the lifetime of Na-ion batteries we will modify the surface structure of cathode materials using the segregation of alloying elements. Surprisingly, the role of the surfaces, which are highly important in batteries, is still poorly understood. Therefore, we expect to find really new insights in this topic," he said.
He added that there's a great deal to be done, and he plans to expand his team to include more scientists in order to help him implement the project.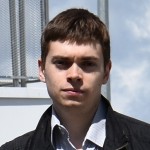 Winner: Artem Isaev, a PhD student with the Center for Data-Intensive Biomedicine and Biotechnology
Project: Study of the mechanisms of foreign DNA recognition by bacterial defense system BREX from Escherichia coli HS
Describing his project, Isaev said: "Bacteria exist under permanent threat of phage infection and, as a result of long co-evolution, they have developed a broad set of strategies to protect themselves against phages. BREX is a recently discovered anti-phage system which is widely spread among bacterial and archaeal genomes. Moreover, it has a set of proteins that are quite uncommon in the known protection systems, for example, proteins with predicted functions of protease, methyl transferase and alkaline phosphatase. Getting an insight into the working principles of this system that combines markedly different biochemical activities appears as an extremely interesting and important task. While we have determined that the BREX system discriminates between one's own and invading DNA based on its modification status, it is still unknown how BREX implements its protective action. The main goal of this project is to delineate the mechanism that allows the BREX components to recognize foreign DNA. This will bring us closer to understanding how the system operates."
He added that it was a great honor to receive the award. "I am very glad to receive a grant at such an early stage in my work on the [PhD] thesis. I would like to thank my colleagues who contributed to the project earlier. This grant will provide important support with respect to organizing our work on new challenging tasks".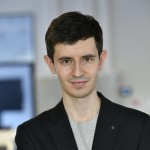 Winner: Maxim Panov, a Research Scientist with the Center for Computational and Data-Intensive Science and Engineering
Project: Machine learning methods for computationally efficient and statistically optimal estimation in the problems with collective data
Panov said of his work: "In this project, we focus on modelling the structure of the collective behavior of individuals. This could refer to human interactions on social networks, interaction between people and items in recommender systems or even predictions of the resistance of viruses to various drugs. The common part of all these scenarios is the existence of certain sparse and approximately low-rank matrix structure which can be efficiently extracted by modern machine learning methods. We aim to develop new efficient methods and contribute both to the solution of the applied problems and to the theoretical understanding of this area of machine learning."
He added that the grant will be instrumental to helping his team achieve its goals, "as it will allow us to attend some important scientific events and additionally it will support students working on the project."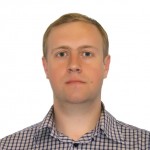 Winner: Aleksey Frolov, an Assistant Professor with the Center for Computational and Data-Intensive Science and Engineering
Project: Investigation of coding techniques for high-loaded distributed and cloud storage systems
"Distributed storage systems have reached such a massive scale that recovery from several disk failures is now a regular operation of the system, rather than an exception. To ensure reliable storage, error correcting codes are used. Note, that the most common scenario is a single disk failure, therefore constructing codes (in what follows Locally Recoverable Codes, LRC) that 'optimize' the recovery of a single disk becomes an important problem. The main requirement is to minimize the total number of disks accessed during the repair process. This topic immediately became popular due to obvious applications in distributed storage systems," Frolov explained.
He added that his team, which includes PhD student Stanislav Kruglik and MSc student Kamilla Nazirkhanova, will consider LRC generalizations that ensure load balancing in distributed storage systems. "We already derived bounds on the parameters of such codes, our main goal is to propose explicit constructions, that can be used in industry," he said.
As with all of the winners, Frolov was pleased to have been selected for the honor: "It is a pleasure for me to win this grant. It will afford my students an opportunity to visit top conferences and schools on Information Theory and motivate them to work on this new and hot topic."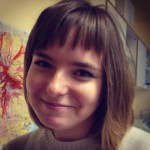 Winner: Olga Musharova, a Research Scientist with the Center for Data-Intensive Biomedicine and Biotechnology
Project: Relationship between interference and adaptation during the action of Type I-E CRISPR-CAS system of Escherichia coli
Musharova described her project as follows: "CRISPR-Cas systems of adaptive immunity in prokaryotes consist of CRISPR arrays – clusters of short repeated genomic DNA fragments separated by unique spacer sequences – and cas – CRISPR-associated – genes that provide cells with resistance against bacteriophages and plasmids containing protospacers, i.e. sequences complementary to CRISPR array spacers. CRISPR-Cas systems are responsible for two different cellular phenomena: CRISPR adaptation and CRISPR interference. CRISPR adaptation is cell genome modification by integration of new spacers that represents a unique case of Lamarckian inheritance. CRISPR interference involves specific recognition of protospacers in foreign DNA followed by the introduction of breaks into this DNA and its destruction. For Type I CRISPR-Cas system, a unique mood of CRISPR – an adaptation has been identified, in which the efficiency of new spacer acquisition is stimulated by the pre-existing spacer in the CRISPR array and interference machinery. This phenomenon is called 'primed adaptation.' Details of the mechanism of primed CRISPR adaptation are not yet fully understood. The proposed Project is aimed to study the relationship between interference and adaptation during the action of Type I-E CRISPR-Cas system of Escherichia coli."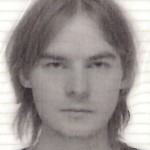 Winner: Sergey Shmakov, a Research Scientist with the Center for Data-Intensive Biomedicine and Biotechnology
Project: Computational approach for the discovery of new CRISPR-CAS associated proteins
Skoltech takes great pride in all seven of these projects, and wishes each winner and their teams the greatest success.