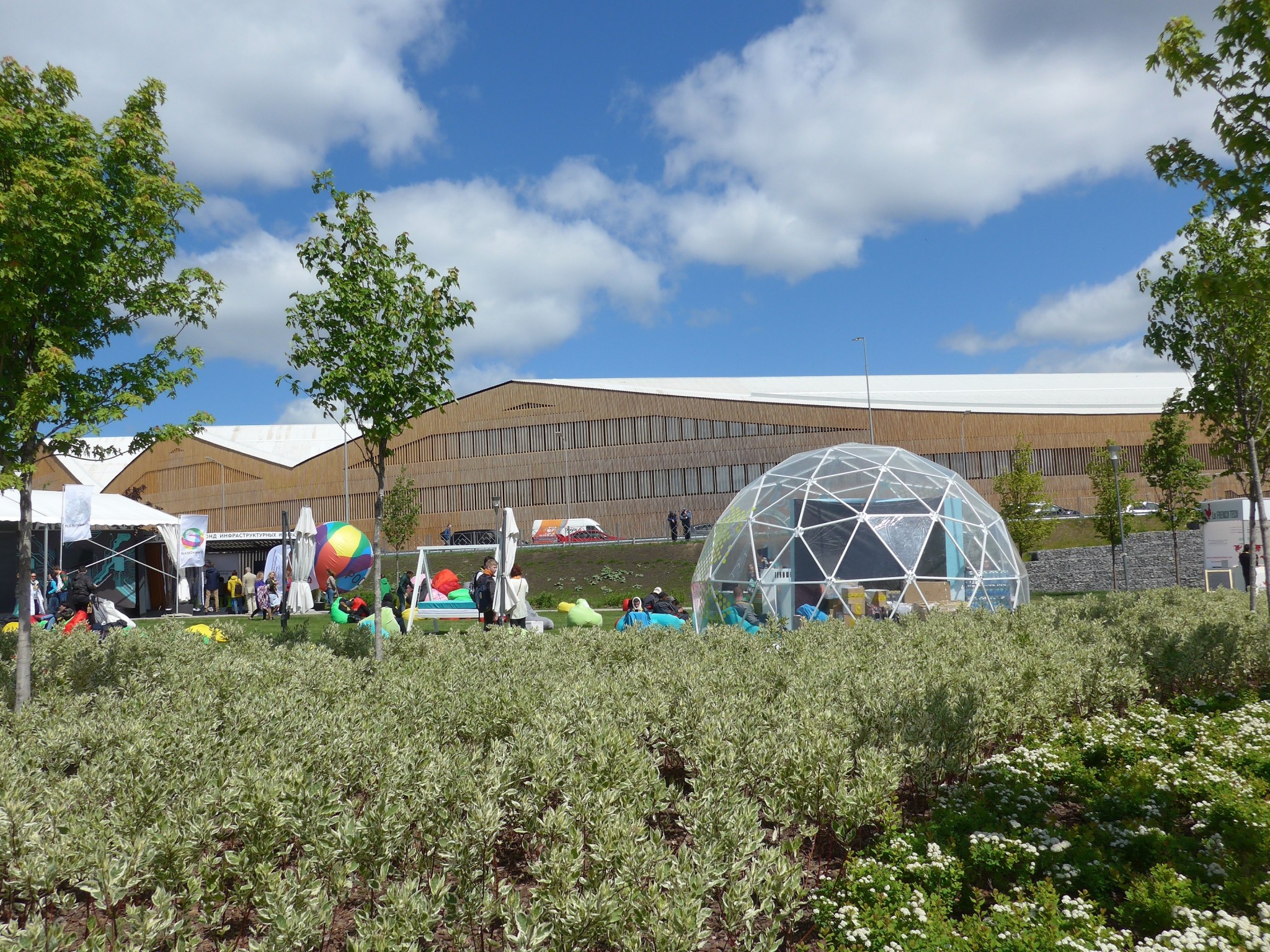 The new Skoltech campus was omnipresent during the two-day Skolkovo Startup Village event. Photo: Skoltech.
During the recent Skolkovo Startup Village event, Skoltech's new campus was omnipresent – located only meters away from where thousands of technology entrepreneurs, corporations, venture capitalists and educators came together for the annual international gathering.
The Skoltech campus provided a highly appropriate backdrop – and a true "wow factor" – for the Startup Village, with the building's graceful curved façade composed of concrete pillars and glazing finished by Siberian larch around the entire circumference of the building. Housed inside the circular structure will be Skoltech's laboratories – covering a broad spectrum of science and engineering disciplines from biomedicine and biotechnology to advanced manufacturing and quantum materials – along with interactive teaching and learning spaces, transformable auditoria and public gathering spaces, offices, cafés and restaurants.
Gary Wentworth, Skoltech's Vice President for Real Estate and Facilities, said the campus was designed by Herzog & de Meuron – a Swiss-based architectural firm known for its work on other innovative projects, including academic research labs.
"It's a beautiful concept," Wentworth said. "Intensive advanced planning in correctly designing the building from the beginning is now paying off. The resulting campus matches the original specs – our early vision was realized," he said proudly, adding that Skoltech's strategy was strongly oriented to the idea of maximum flexibility in the lab environment, which was designed to avoid major structural modifications to the building when a lab is refitted.
The new campus represents an investment of some $575 million, and despite its sprawling size, Wentworth described the facility as extremely well connected and navigable – representing the primary assignment given to the architect. Encompassing all 12 laboratory buildings with an outer ring (nearly a kilometer in overall length) and two bisecting inner rings, "you can easily get anywhere in this megastructure without ever leaving the building," he said.
Among the design's many striking elements are showcase windows around the interior of the ring that offer views into laboratory spaces. "The researchers can show their experiments or projects without crowding the lab with visitors," he said. "The view can also be closed off when needed."
With construction now substantially complete, the building is undergoing its interior outfitting and finishing. This will clear the way for the transfer of Skoltech's laboratory equipment, office furnishings and other hardware from the institute's interim location – situated several kilometers away on the grounds of the Skolkovo Innovation Center.
"When operational, the Skoltech campus will be one of world's most modern and high-tech venues for applied research, innovation and entrepreneurship," added Lawrence Stein, Skoltech's Vice President for International Business Development, and the Interim Director of its Center for Entrepreneurship and Innovation. "This will be an enduring location where the 'best and the brightest' faculty members, staff, students and our partners come together to shape the future."