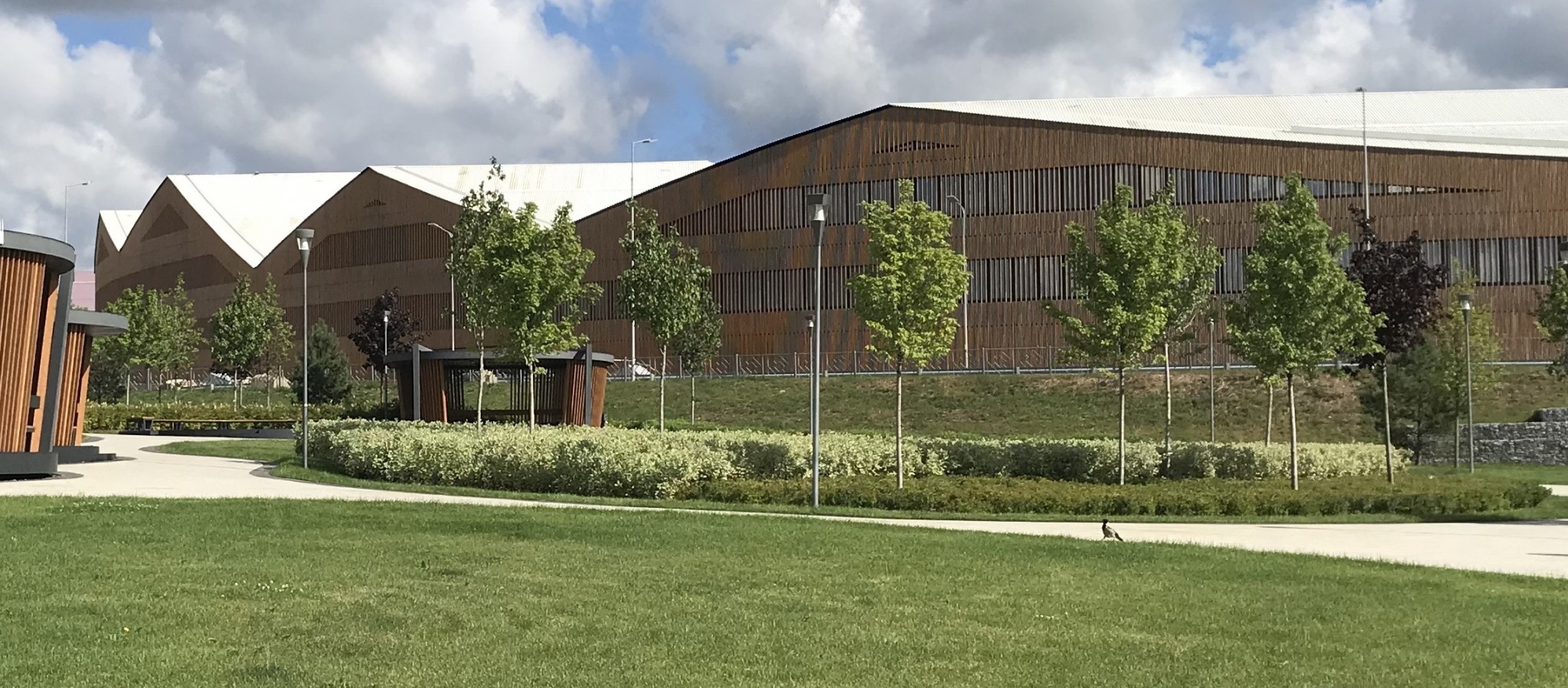 How can architectural design come together at a world-class science and technology institute to create a unique environment where students prepare their future as innovators, entrepreneurs and researchers?
This was Skoltech's challenge in developing the institute's new campus, and the result is a truly distinctive addition to the Skolkovo Innovation Center in Moscow.
A group of world-renowned international architects worked to create an impressive, highly functional building – purpose-built to Skoltech's requirements in accommodating its laboratories; research, teaching and learning facilities; along with the institute's administrative offices.
The building's September 1 inauguration ceremony – coinciding with Russia's annual Knowledge Day observance – attracted national and international attendees and provided Skoltech students with a first-hand view of their new "home," which will be progressively occupied in a transition from the institute's current building cluster on the Skolkovo Innovation Center's grounds.
"Our campus is setting new standards for world-class education and research," said Skoltech President Alexander Kuleshov. "With its free-flowing layout, our students and faculty have an exceptional facility that is adaptable to their needs throughout the learning experience."
The campus design was led by Herzog & de Meuron, a Swiss firm responsible for such projects as the Tate Modern museum in London and the Beijing National Stadium (known as the "Bird's Nest"). Also involved was Payette, a U.S. collective of designers tasked with the technology approach for Skoltech's laboratories.
Herzog & de Meuron developed the concept for a multi-story circular building constructed with concrete, Siberian larch and aluminum. It gives a flowing aspect to much of the structure, limiting the number of straight lines, while the rectangular laboratory buildings within the campus were designed with differences that reflect their specific purpose. 
The building's outermost ring, nearly a kilometer in length, offers access around the entire campus. This outer ring – with certain areas opening to soaring cathedral-type ceilings – create large spaces for study and discussion areas, individual and grouped workspaces, transformable lecture halls, enclosed meeting rooms as well as "work pods" with computers that are linked to the campus IT infrastructure.
Inner rings facilitate the cross-circulation of foot traffic within the building and to the laboratories. The campus' multiple-level layout will incorporate administrative offices and provide commercial areas for stores and cafés – some of them to be steps away from the campus' large central courtyard, which is landscaped with trees and grass. Skoltech's free-thinking approach to the use of space and surfaces has even inspired the idea of a rock-climbing wall within the building.
The campus' multi-story laboratories accommodate lab spaces, work and teaching areas, as well as the associated offices. In keeping with the campus' collaborative work environment, open-space study rooms are included in the laboratory layout. Visibility into the labs is provided by direct-view windows from the campus' inner rings; these windows can be covered when project discretion is required.
Underneath the campus is a massive basement that incorporates mechanical and shared facilities, as well as the largest vivarium in Europe.
We've succeeded in integrating research and education – moving away from the standard type of learning environment to a setting that is significantly more engaging and innovative," explained Marina Cherniuk, Skoltech's Institute Architect. "In addition to representing the excellence of the architects we brought together, the campus reflects the involvement of Skoltech's faculty and leaders – who are very passionate about what's happening here.
Contact information:
Skoltech Communications
+7 (495) 280 14 81