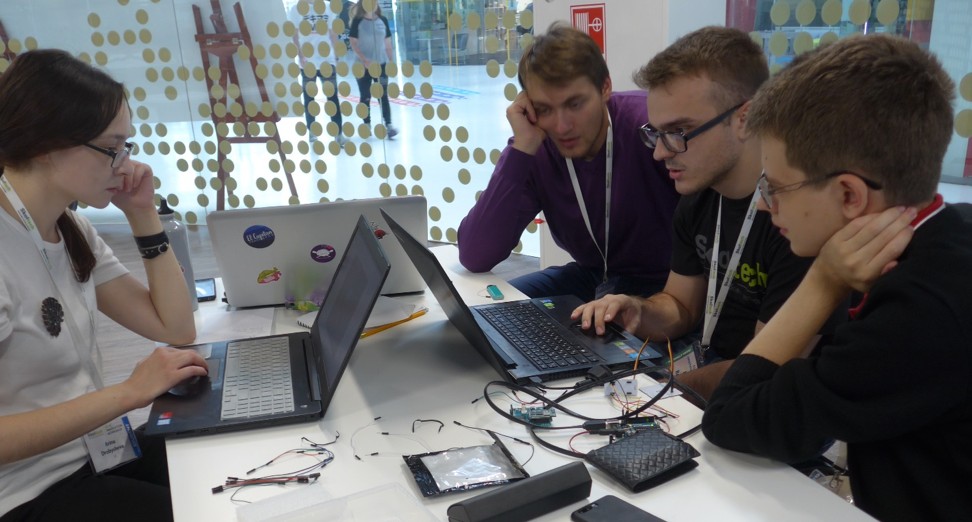 The Skoltech academic year is off to a fast start, with the latest class of incoming students immediately facing many types of challenges they will encounter during their professional lives in business, science and research.
This experience stems from the Skoltech Innovation Workshop – a month-long "boot camp" learning experience during which students are challenged to work with technological innovation in a collaborative environment.
The 350-plus incoming students are benefitting from the expertise of distinguished Skoltech professors, PhD students, specialists and mentors from around the world, working under their guidance to develop the knowledge and skills essential for the future in their prospective career fields.
As a result, students are gaining valuable experience by working in groups, participating in the technological innovation process by creating their own innovation projects. Far from an abstract idea, these projects are meant to tackle "real world" problems and prepare students for the spirit of innovation and entrepreneurship they will be immersed in throughout their time at Skoltech.
"This is key to Skoltech's mandate as an applied research institute with a strong emphasis on entrepreneurship and commercialization," explained Lawrence Stein, who heads Skoltech's Center for Entrepreneurship and Innovation, which organizes the Innovation Workshop. "In addition to our own faculty, who are supported by researchers and PhD students, this year's workshop brings in more than 20 international mentors – providing unique perspective on how to succeed in today's business environment."
The workshop traces its origins to collaboration with the Massachusetts Institute of Technology (MIT) – the renowned U.S. research university that helped build Skoltech's early capacity in education, research, and entrepreneurship programs. During the past five years, the Innovation Workshop has been fully organized and run by Skoltech.
A major focus of the 2018 workshop's initial days is a series of "Quick Success" exercises, where students have five hours to work on rapid-turnaround projects in areas that include the Internet of Things (IoT), medical biology technology, hardcore engineering, applied chemistry, applied physics, optical physics and consumer electronics engineering.
One of the "Quick Success" classes involves genomics, with students applying the PCR (polymerase chain reaction) technique to copy small segments of DNA in determining a child's paternity. For the Innovation Workshop genomics challenge, students work in the Skoltech Molecular Biology teaching lab, providing hands-on experience in what often is called "genomic fingerprinting."
The "Quick Success" exercise in IoT is a task to create a self-driving inventory robot that reads RFID tags on objects while moving along a given trajectory, sending collected data to the cloud. This challenge benefits from the expertise of Skoltech's own dedicated IoT center.
"The Innovation Workshop's Quick Success classes represent a major undertaking that gives students real-life, high-technology experience," explained Dmitry Kulish, the Skoltech professor who directs this year's Innovation Workshop. "Such experience provides real learning and can change lives – while hopefully providing some fun during a month of hard work."
Contact information:
Skoltech Communications
+7 (495) 280 14 81