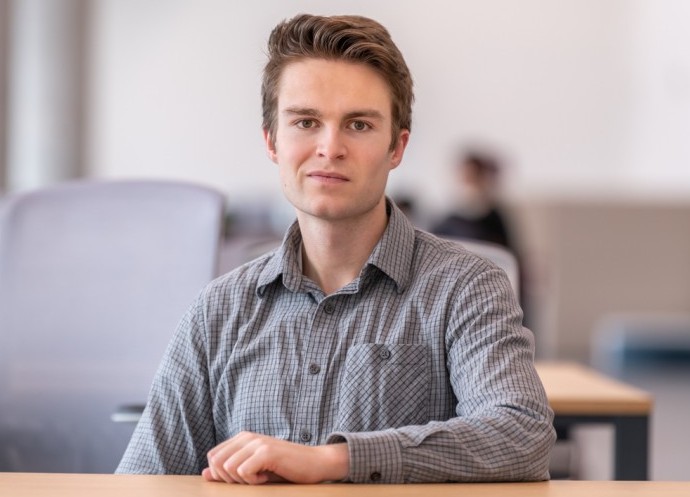 Robert Wagner, an undergraduate of Brigham Young University (BYU) of Provo, Utah, United States, has been studying under the new Skoltech program, Global Campus, for the last two months. As part of the Global Campus program, he has been working on two projects at CDISE (topological analysis and computer modelling), as well as taking part in the Machine Learning class that ended just over a week ago. A student of mathematics and economics, he is due to graduate from his home university next month.
Prior to coming to Skoltech, he took an introductory class in Machine Learning at BYU; this was among his areas of interest before deciding to join the Global Campus program and it equipped him with a foundation for what he describes as, "A far more in-depth course at Skoltech." Robert discovered Skoltech's Global Campus program while taking Russian literature classes at BYU, and it was through the course advisor that he decided to sign up. "I feel like I have learned a lot, even though at the beginning I felt like I was in over my head; but, in many ways, that is how I learn best. Also, my background in mathematics helped me," said Robert.
Robert did not hesitate to highlight his enjoyment of life in Moscow. He describes his fellow students as open and friendly, having met numerous people from different parts of the world as well as Russia. This sense of international community stands out for him, especially within the student dormitories. "I live with people that aren't Russians and aren't Americans, they're from all over. Being able to interact and talk with them has been cool. My roommate is from Italy, and there's another guy I've gotten to know who is from Tajikistan; I've also got a friend from Iran that lives on my floor. It's a nice variation and very different to what I see in the United States."
Asked about whether he would recommend the Skoltech Global Campus program to other students, he said, "I would definitely recommend this program to other students. If they speak some Russian, then that is an even bigger bonus. I don't think there is anything I would change about this program, although I wish that I had come here during the summer and after the transition to the new campus."
After graduation, Robert intends to pursue a PhD in economics at Princeton University, econometrics being the area he likes the most. He intends to enter academia, become a professor and teach economics at a university level.
Contact information:
Skoltech Communications
+7 (495) 280 14 81