Are you wondering what Digital Twins are, what they are used for and why they are crucial for technology to forge ahead?
Join the lecture by Skoltech Research Scientist Michail Gusev to travel through the 150-year history of technological innovation from the first engines and machines to the fourth industrial revolution powered by the Internet of Things, industrial robots, digital technologies, and cyber-physical systems. Nothing has changed in the way new technologies are created, starting form lab research to industrial design, whereas the implementation rate has increased exponentially thanks to the so called Digital Twins. A digital representation of a physical entity, whether a miniature product or an entire factory, Digital Twins help develop, manufacture and market a product at a minimum cost and in a record-short time.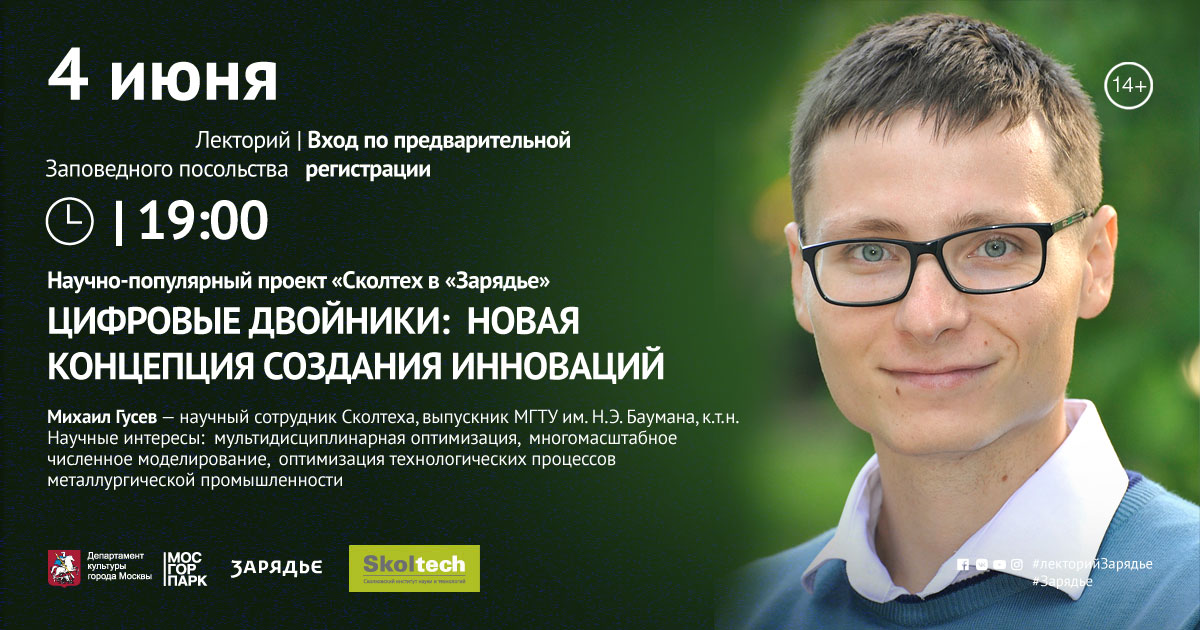 Immerse yourself in the world of digital technology and hear some useful tips on how to step into a new world, blaze your own trail and… perhaps become as great as Elon Musk!
Michail Gusev graduated from Bauman MSTU Mechanics of Materials Department in 2012 and earned a Candidate of Science degree in 2016 for his thesis on thermomechanics, strength and relaxation resistance of the atomic reactor's heat-releasing assemblies. In 2017, Gusev joined Skoltech as a Research Scientist. His research interest areas include multidisciplinary optimization, multiscale numerical modeling, optimization of processes in the metallurgical industry, etc.
Suitable for 14+
The lecture will be delivered in Russian at Zaryadye Nature Center on June 4, 2019 at 7 p.m.
Registration by link: https://www.zaryadyepark.ru/schedule/66831/
Link to the live broadcast: https://youtu.be/aVLsqH_8LWw
Contact information:
Skoltech Communications
+7 (495) 280 14 81