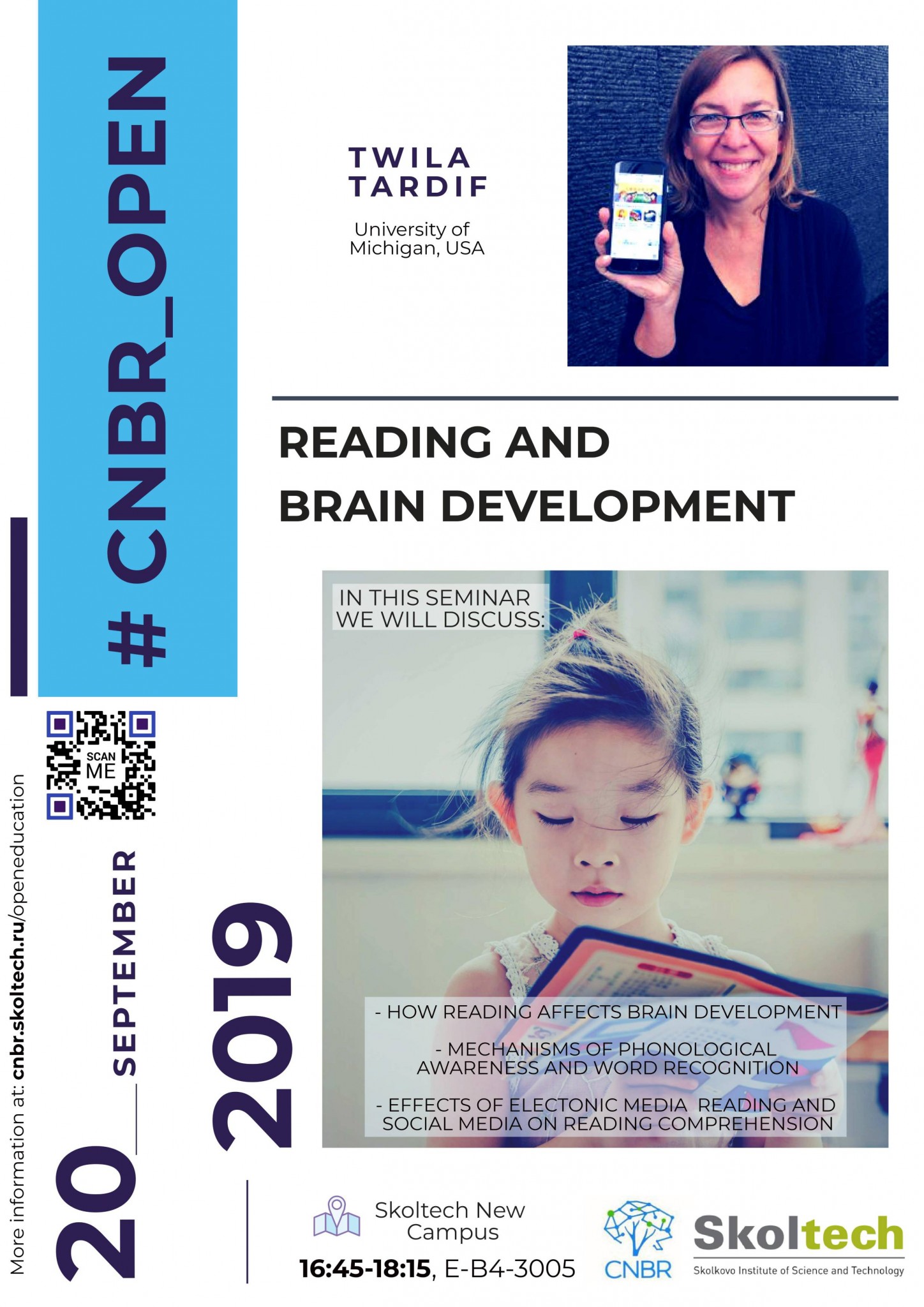 The Center for Neurobiology and Brain Restoration of the Skolkovo Institute of Science and Technology conducts scientific events for a wide audience interested in brain science under the CNBR_Open project.
On September 20, at 16:45, Skoltech campus will host the second event of the autumn period where, together with professor of psychology Twila Tardif of the University of Michigan, we will strive to understand the influence of reading on brain and language development, basic recognition and perception mechanisms, speech, and the impact of online media on the comprehension of information.
Lecture-seminar:
"The Importance of Spoken Language Development: Behavioral and Brain Imaging Studies of Children's Reading Development"
The event is free. Registration required.
The lecture will be conducted in English.
For more information and to register, please follow the link.
The CNBR_Open project of the Center for Neurobiology and Brain Restoration brings together people interested in neuroscience, representatives of neurotech companies, as well as young and leading scientists.
Previous event:
On September 3, 2019, Mikhail Lebediev, a specialist in the field of neuro computer interfaces and a senior research fellow at Duke University, conducted a seminar-lecture as part of the event.
Together with Mikhail, we understood the possibilities of expanding brain functions with the help of neural interfaces, the current state of research in this area, and current experiments conducted by research groups.
We would like to thank the participants in the discussion for their interesting and informative questions!
For those who missed the lecture, a video of this seminar is available on the event page.
Until the next seminar, Mikhail will answer any questions left on the event page as (as well as in the YouTube comments section).
If you are interested in neuroscience, are a young specialist, do business or research related to neuroscience, you can join our project activities on the website!