On September 30, the Chinese Friendship Award ceremony was held in the Great Hall of the National Assembly of China. The winners included Professor at the Skolkovo Institute of Science and Technology (Skoltech) and Professor of RAS, Artem Oganov, who received the prestigious award from Mr. Liu He, Member of the Central Politburo of the Communist Party of China and Vice Premier of the State Council of China. The ceremony was held in celebration of the 70th anniversary of the People's Republic of China.
Artem Oganov received this high award for his research achievements and contribution to international scientific collaboration. In 2019, the Chinese Friendship Award was presented to 42 foreign experts, including James J. Heckman, the 2000 Nobel Prize winner in Economics, and Bernard Bigot, Director-General of ITER (International Experimental Thermonuclear Reactor project.)
A founder and head of Kaspersky Lab, Evgeny Kaspersky, is one of the previous Russian winners of the Award. This year, the only Russian winners are Professor at Skoltech and Professor of RAS, Artem Oganov, and Full Member of RAS, Vladimir Pavlyushin (St. Petersburg.)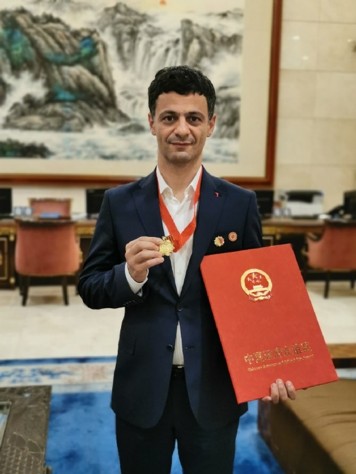 "Chinese science and technology is progressing at a blistering pace. I believe its development should be oriented towards global competition and future cooperation, as the advancement of the global science and technology is inconceivable without China's input," Artem Oganov noted in his acceptance speech.
The ceremony was followed by a meeting with Premier of the State Council of China Li Keqiang and a gala dinner with the attendance of President of China Xi Jinping.
Professor Oganov was invited to participate in the drafting and implementation of China's "National Medium and Long-Term Science and Technology Development Plan till 2035".
For reference
Artem Oganov is a professor and Head of the Computational Materials Design Laboratory at Skoltech and Professor of RAS, a winner of the megagrant of the Government of the Russian Federation, and a 1000-Talents Professor (China). 
The Skolkovo Institute of Science and Technology (Skoltech) is a private international university based at the Skolkovo Innovation Center. Established in 2011 in collaboration with the Massachusetts Institute of Technology (MIT), Skoltech cultivates a new generation of science, technology and business leaders, engages in ground-breaking research and fosters innovative technology to address critical scientific, engineering and social issues facing Russia and the world. Skoltech focuses on six target domains: Data Science & Artificial Intelligence, Life Sciences and Biomedicine, Cutting-edge Engineering & Advanced Materials, Energy Efficiency, Quantum Technology, and Advanced Studies. Skoltech directs its efforts at strengthening Russia's technology excellence in the target domains.