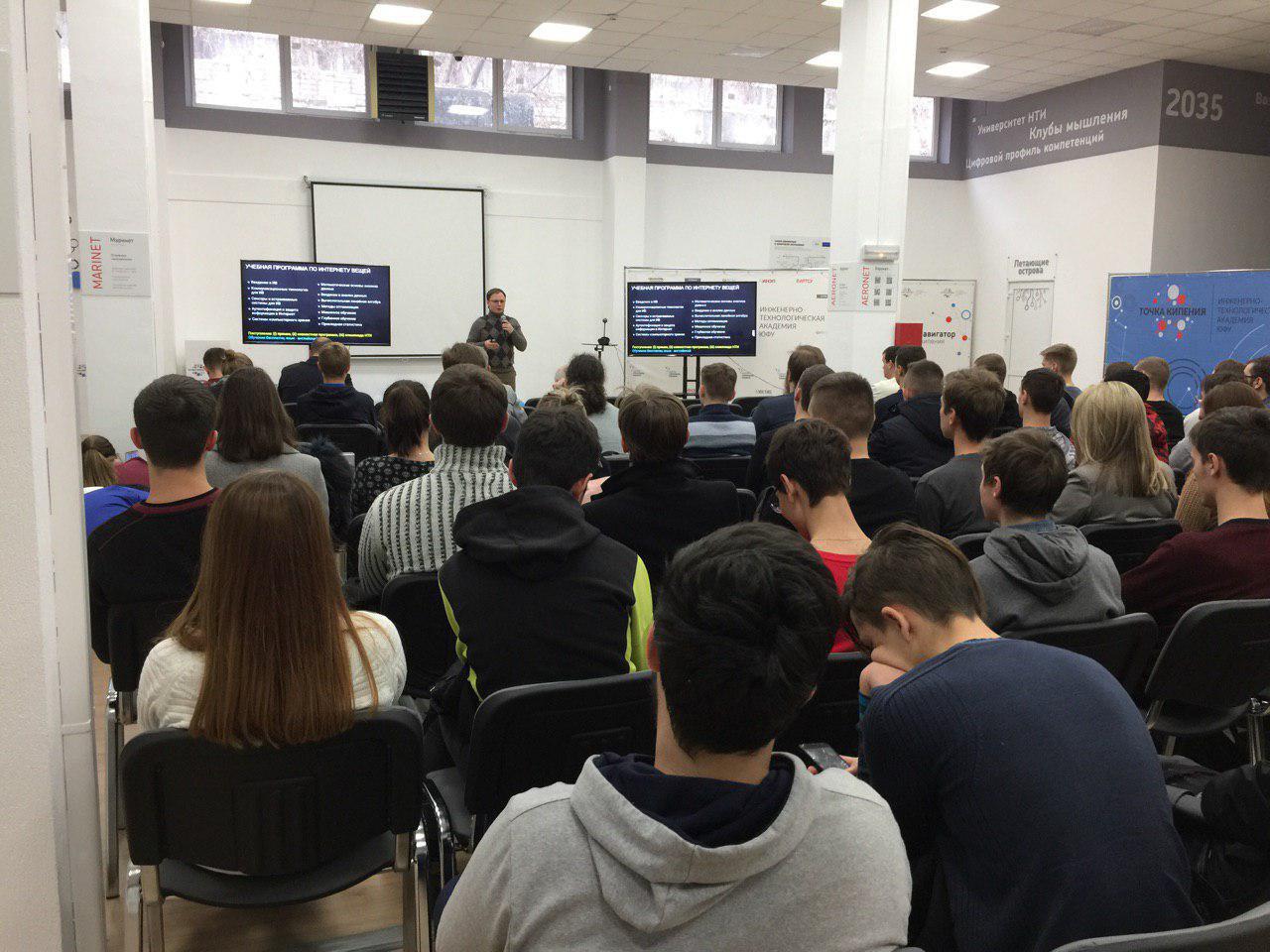 While the calendar year is drawing to an end, the academic year at Skoltech is in full swing. The NTI Center of Excellence (CoE) in WT and IoT Technologies at Skoltech is running its educational programs to train high technology professionals.
The Skolkovo Institute of Science and Technology (Skoltech) is a new generation institution that connects education to basic and applied research, while maintaining close links with the industry and businesses to facilitate ground-breaking research and bring innovations to the economy.
In the scope of proactive collaborations with the partner universities in the Russian regions, Skoltech researchers and faculty regularly travel to other Russian cities to deliver lectures and seminars on topics at the forefront of science. In November 2019, Deputy Director of the CoE in WT and IoT Technologies and Assistant Professor at Skoltech, Andrey Somov, delivered a series of open lectures,  "The Internet of Things and its current and future applications: research, education and innovations at Skoltech," in St. Petersburg, Tomsk, and Taganrog.
Andrey's lecture highlighting Skoltech's evolution and IoT research activities attracted an audience of 120 people, primarily students from partner universities, such as the St. Petersburg State University of Aerospace Instrumentation (SUAI) and Tomsk State University of Control Systems and Radioelectronics (TUSUR). Many of these students plan to enroll in both conventional and networked learning MSc programs in 2020.
A novel form of education, networked learning helps students focus on an-depth study of theory during the first year at the "home" university and acquire hands-on skills and competencies during the second year at Skoltech. Skoltech's MSc students:
work on research projects;
take classes in entrepreneurship and commercialization of innovations;
take an 8-week internship with the industry's leading companies to hone their hands-on skills.
Getting enrolled in a Skoltech MSc program is an arduous process that includes tests, face-to-face interviews and, importantly, an English exam, making sure that the applicant is proficient enough to follow Skoltech's training courses which are taught in English. The applicants who get selected study for free. All this underscores Skoltech's commitment to cultivating technology leaders capable of dealing with the biggest challenges in all areas of high technology.
Contact information:
Skoltech Communications
+7 (495) 280 14 81