Skoltech students and IEEE Student Branch Members, Ivan Kazakov and Jonathan Andres Tirado Rosero got selected as IEEE region-8 Entrepreneurship Initiative Ambassadors of Russia. Ivan is the Program Committee Officer and Jonathan is the Membership Committee Officer at Skoltech branch.
The IEEE Region 8 Entrepreneurship Initiative is an initiative started in 2018 and led by the IEEE Region 8 Young Professionals team to segment existing and potential members that habit the Entrepreneurship ecosystem. The end-goal of this Initiative is three-folded: to strengthen the knowledge of our young entrepreneurs by providing them mentorship, boosting their network by putting them in contact with the relevant stakeholders, and getting them global exposure by sponsoring their participation in Summits and other Entrepreneurship events of the kind.
 What are the responsibilities of ambassadors
The "Global Entrepreneurship Week is a collection of tens of thousands of events, activities and competitions each November that inspire millions to explore their potential as an entrepreneur while fostering connections and increasing collaboration within their ecosystems. In total, it is estimated to gather 10 million people, 35,000 events in 170+ countries."
The main responsibility of Ambassadors is to organize a free-form event of the entrepreneurship spirit that also incorporates pitching competition for the teams with innovations, startups and capable teams with creative intentions in general. Ambassador needs to work with IEEE Student Branches, Young Professional Affinity Groups or parts of the section such as Professional Activities, society chapters or more. After the event, they need to submit the contacts and recorded videos of two winners from your pitching competition so be able to join the regional level of the competition. Also, the report on the event with photos and videos will be evaluated for the best organizational prize of up to 500$ (depending on the number of how many are distinguished in the whole pool).
IEEE aims to hold those events during the annual Global Entrepreneurship Week, which will be held in 2020 during November 16-22.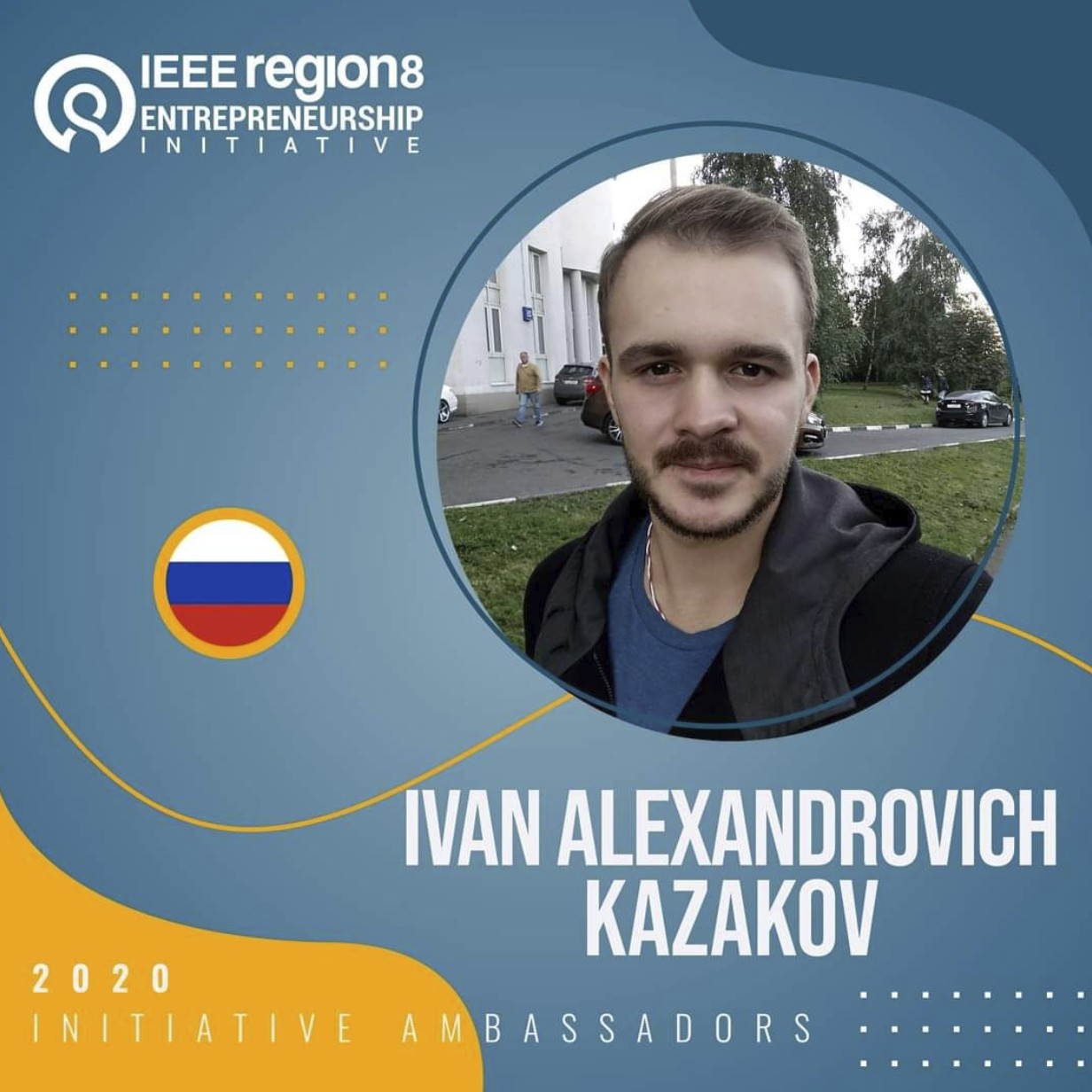 Ivan Kazakov, Program Committee Officer, Skoltech IEEE student branch:

I am extremely glad to get the position of IEEE ambassador. We made a lot of work to get it, and such news gives us more motivation to move further. When I say we I mean all our Student Branch, which helped us in preparing the ambassadors proposal. Specially I want to thank our Branch's chair Behnoosh Meskoob for her contribution. This was a big step, and we are ready to take more steps towards the "IEEE Entrepreneurship Initiative at Skoltech" event.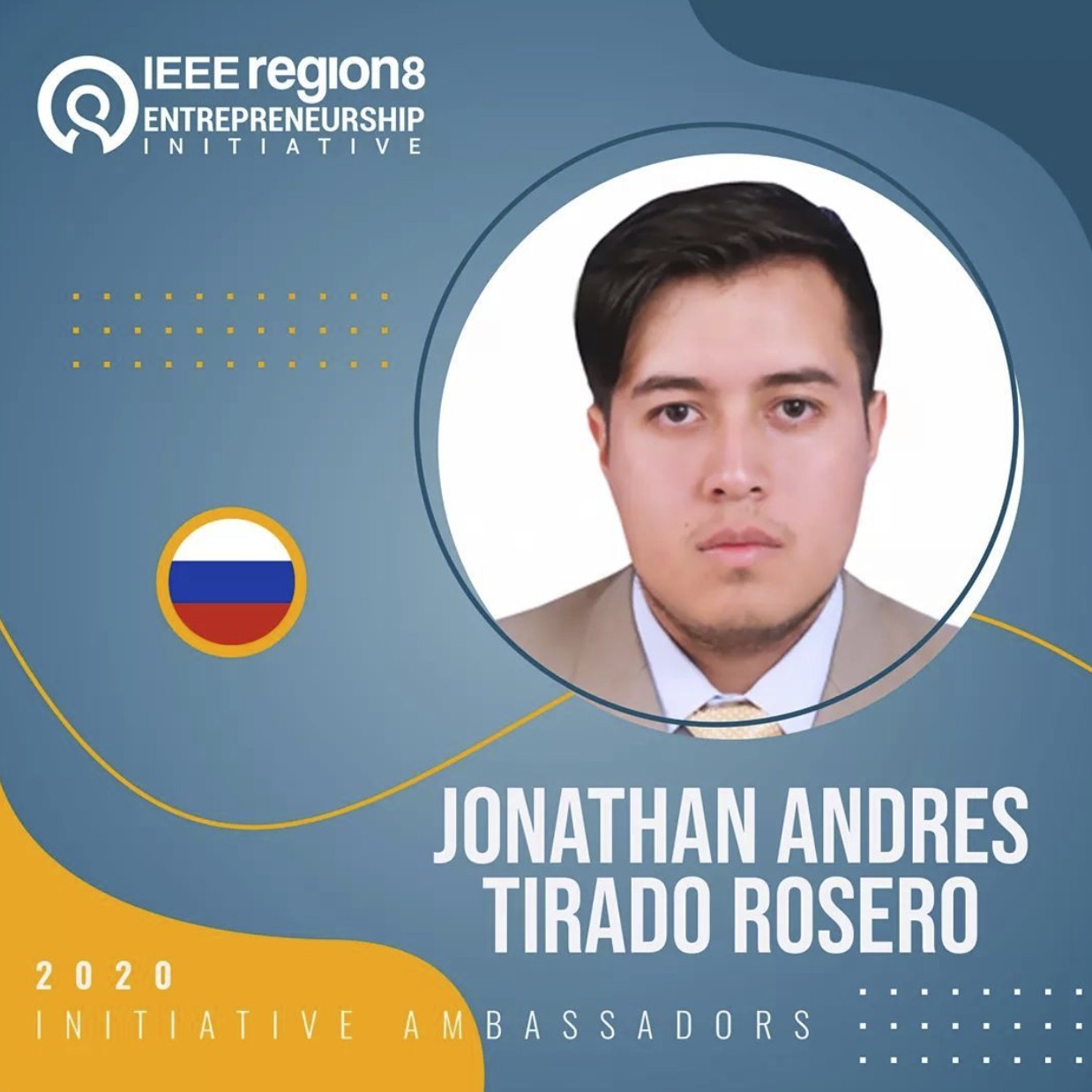 Jonathan Tirado, Membership Committee Officer, Skoltech IEEE student branch:

It is an honor for me to have the opportunity to represent Skoltech as an IEEE ambassador. I would like to say that this achievement would not have been possible without the support of all our colleagues in the IEEE Student Branch. I think this is a great opportunity to generate new projects and strengthen relationships with scientific institutions that contribute to position Skoltech as one of the most recognized Institutes of Science and Technology worldwide.
Skoltech IEEE Entrepreneurship event in Skoltech
Skoltech IEEE student branch is planning to hold this event in Skoltech, to provide international exposure to Skoltech entrepreneurs and innovators. Students and young professionals in Skoltech can form their team of 3-5 members to register and participate in this entrepreneurship competition. The event will include sharing success stories of Skoltech entrepreneurs, talks, and panel discussion. Then participating teams will pitch their ideas in front of a jury. The jury is composed of Skoltech professors from the Center of Entrepreneurship and Innovation, as well as the Business Development department. Best two teams will be selected to participate in the regional level (region 8), receive professional international mentorship and receive potential funding. Local supporters and partners are also welcomed to join this event. The topic of the entrepreneurship event is "Advance Technology for Humanity: Sustainable Engineering". Contact: .
Contact information:
Skoltech Communications
+7 (495) 280 14 81