Scientists from the Skoltech Center for Energy Science and Technology (CEST) have been granted a patent for a method of creating a high-efficiency conductive coating for metal-ion battery electrodes by carbonizing polyacrylonitrile (PAN). The coating's unique characteristics, such as a high degree of graphitization, uniformity, and nanoscale thickness (less than 5 nm), provide a dramatic increase in electronic conductivity and stability of electrode materials at long-term cycling, especially at high charge/discharge rates.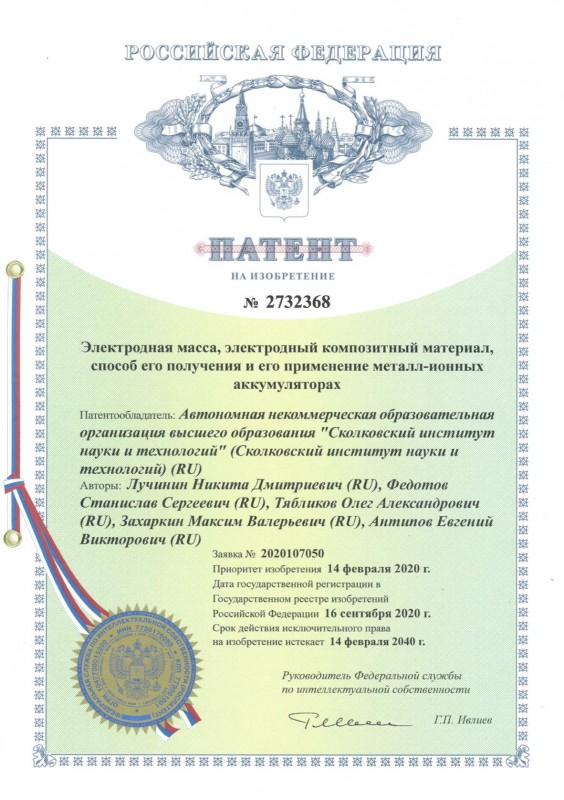 Lithium iron phosphate, LiFePO4, has become quite a trend in electrode materials for lithium-ion batteries used in electric vehicles thanks to its low production cost, availability, safety, and reliability. Yet, materials such as this one have low electronic conductivity, a major drawback that strongly affects its electrochemical properties and operational performance at high charge/discharge current densities.
Higher electronic conductivity is typically provided by covering powder particles with an electrically conductive layer. A carbon coating, which is the most common type, is usually obtained through pyrolysis of a carbon-containing organic compound in an inert atmosphere. However, ensuring that the source material, i.e. the carbon-containing compound, is applied in uniform manner and controlling the coating thickness are two major hurdles inherent in this approach.
The new invention helps create an affordable uniform conductive carbon coating with controllable thickness on the surface of electrode material particles. The new technology enabled a qualitative enhancement in the functional properties of many electrode materials, including those developed by the RUSTOR startup, while paving the way for their use in high-power and high-energy metal-ion batteries.
"A salient advantage of the method is easy implementation along with broad availability and low cost of all the chemicals used, which means it could be quickly adapted for large-scale production of electrode materials," says Stanislav Fedotov, a professor at CEST.
Dear partners, if you are interested in any of Skoltech's technologies, our Knowledge Transfer Office will be glad to consult you on licensing and technology transfer opportunities for your business. Here is Skoltech's Portfolio of intellectual property (Rus). For further details, please feel free to contact the .
Contact information:
Skoltech Communications
+7 (495) 280 14 81