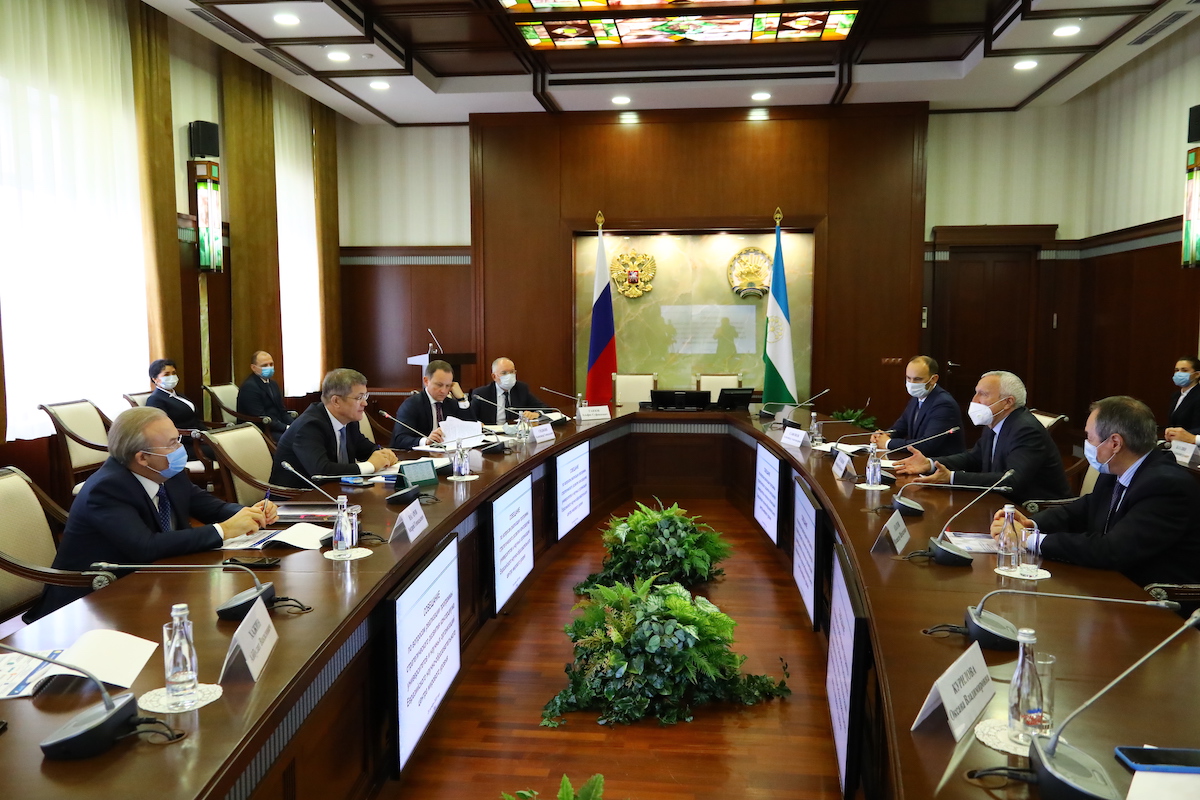 On October 26, the Head of the Republic of Bashkortostan (Russia) Radiy Khabirov met with President of the Skolkovo Institute of Science and Technology (Skoltech) Alexander Kuleshov and heads of the Republic's leading universities at the Republic House in Ufa to discuss the creation of a Eurasian World-class Science and Education Center (WSEC) in Bashkortostan.
At the meeting, Radiy Khabirov and Alexander Kuleshov signed an agreement between the Government of the Republic of Bashkortostan, Skoltech and educational organizations of Bashkortostan on establishing a Consortium of Universities to form the Eurasian WSEC.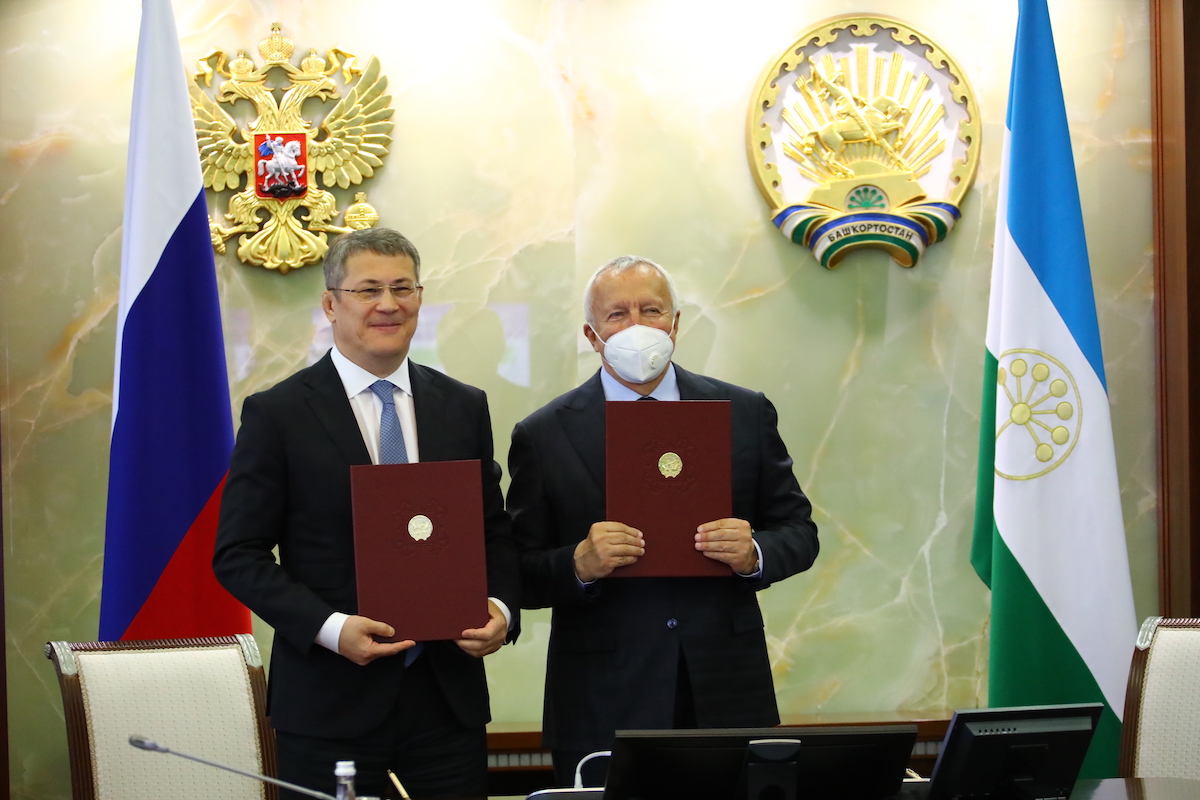 Joining the Consortium are Bashkir State University, Bashkir State Medical University, Ufa State Aviation Technical University, Ufa State Petroleum Technological University, and Ufa Federal Research Center of RAS.
The Consortium aims to consolidate human and infrastructural resources and join efforts in creating and bringing advanced technologies to the real sector of the economy.
The Government of Bashkortostan and Skoltech also signed an agreement on continuing cooperation spanning a broad range of joint activities.
Khabirov thanked the Skoltech team for supporting his Republic's initiatives, including the creation of the Eurasian WSEC.
"Driven by our strong willingness towards cooperation, we did our utmost to join and win the WSEC competition. By collaborating with Skoltech, we can access its unique competencies and, most importantly, attract the crème de la crème of the science and technology world," said Khabirov.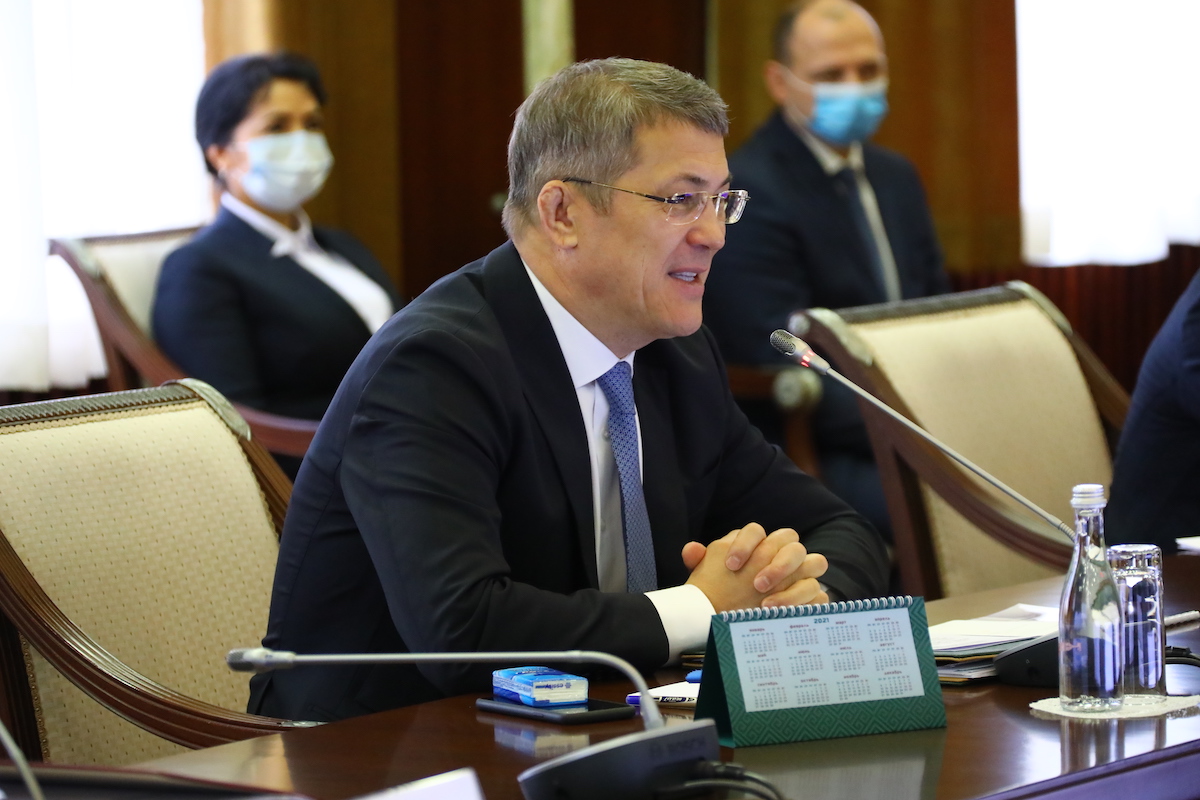 Khabirov added that the synergy of science, production and business is one of the pillars of WSEC, as evidenced by the fact that several large Russian industrial companies, such as Rostec, Inter RAO Group and Gazprom, have already confirmed their participation in the project.
According to Kuleshov, the Consortium agreement is truly exclusive, since the WSEC project is the only one of its kind at Skoltech.
"Sharing competencies is one of Skoltech's roles. We are aware of the great potential held by collaborations with scientific and educational institutions in Russian republics. Committed to bringing its achievements to the industry, Skoltech engages in active collaboration with leading Russian and international companies, focusing primarily on partnerships in conventional engineering. I believe that by joining our efforts and leveraging Skoltech's frontier research and technology, we will cope with the challenges facing Bashkortostan's economy," said Kuleshov.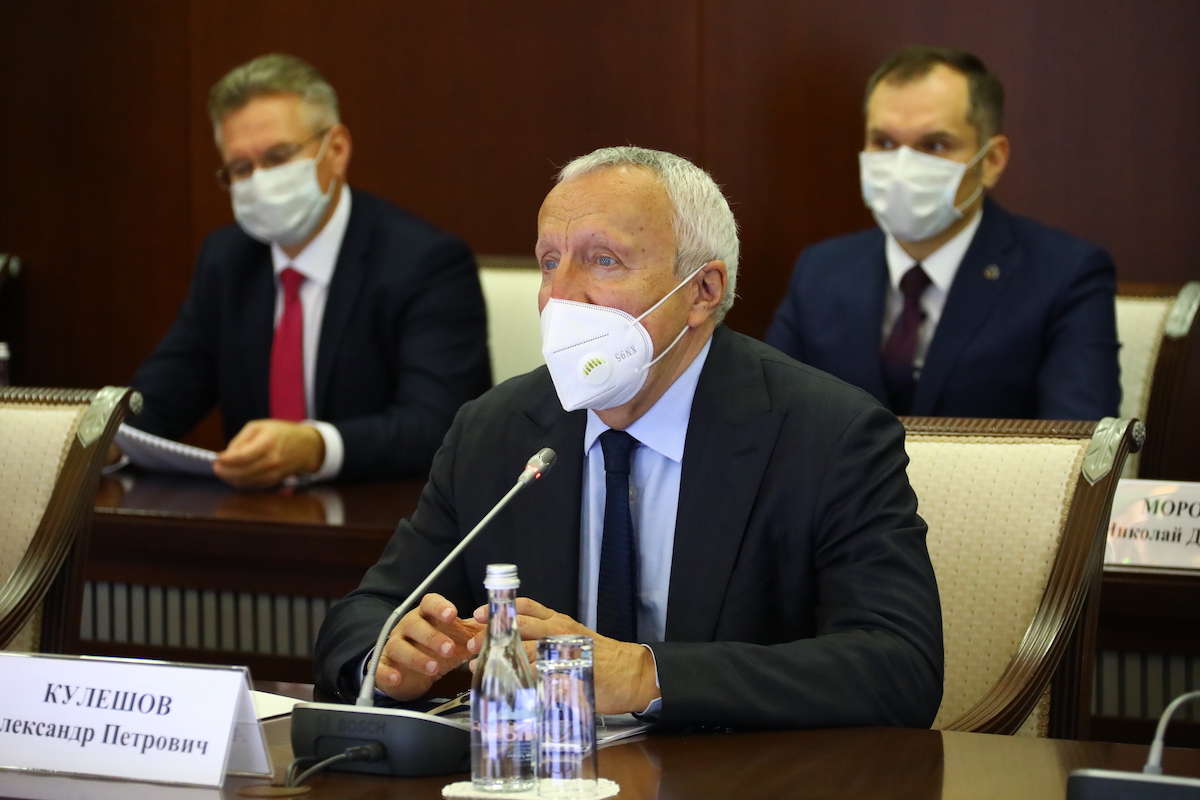 He suggested looking at the possibility of using innovative technologies of Skoltech's Center for Hydrocarbon Recovery (CHR) to boost oil well productivity in Bashkortostan. Khabirov instructed his Administration to analyze the prospects for the project in the Republic.
Khabirov's Chief of Staff Alexander Sidyakin pointed out that the WSEC project will involve building an ecosystem to support young talent in science and education and carrying out multifaceted programs jointly with the real sector.
The WSEC will focus on four priority areas: Digital and Green Chemistry and Energy, Biomedicine and Genetics, Advanced Manufacturing Technologies and Engineering, and New Living Environment.
WSEC's core infrastructure element will be an interuniversity campus in Ufa, accommodating 5,000 people and comprising student dormitories, housing for faculty and young scientists, a research center, a testing facility, a sports complex and a medical center. It is also planned to build a cable car line between the campus and the viewpoint near the monument to Salavat Yulaev, a national hero of the Bashkir people.
"Having the recognized science brand of Skolkovo in Bashkortostan marks a new milestone for us. Skoltech is a leading industrial university famous for its advanced practices and top-notch scientists whom we wish to see among our faculty in Bashkortostan. I believe this would create a powerful cumulative effect for our science, education, and economy," summarized Khabirov.
The Head of the Republic of Bashkortostan awarded Skoltech President Alexander Kuleshov and Director of the Skoltech Center for Design, Manufacturing and Materials (CDMM) Iskander Akhatov with Salavat Yulaev Orders for their remarkable contribution to the development of cooperation with the Republic of Bashkortostan.
Press office of the Head of the Republic of Bashkortostan
Contact information:
Skoltech Communications
+7 (495) 280 14 81