Two projects of the Skoltech-based NTI Center of Excellence (CoE), the 5G pilot zone and the 6G ultra-high-frequency electro-optic modulator, have been honored with the "Technological Breakthrough 2020" award which is bestowed for NTI's achievements of high impact for the country's technological development. Special Representative of the President of the Russian Federation on Digital and Technological Development Dmitry Peskov delivered the award to Head of NTI CoE Dmitry Lakontsev.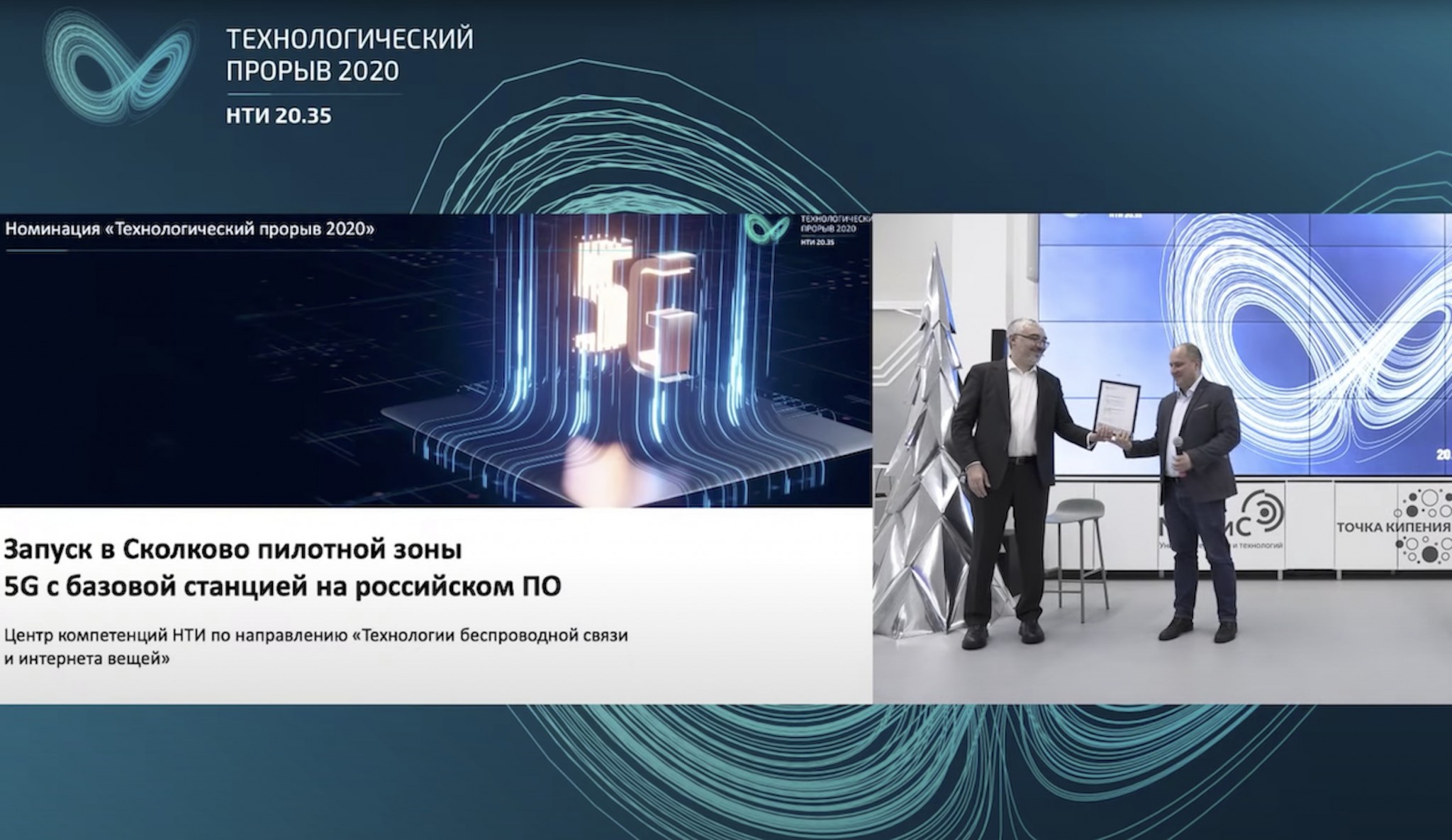 Skoltech and its project partners, MTS and the Skolkovo Foundation, launched their 5G pilot zone at the Skolkovo Innovation Center on October 20, 2020.
The project purports to create an environment for pilot-testing Russian 5G network hardware and software, as well as 5G-enhanced applications.
Skoltech and its partners have created Russia's first 5G pilot network with a base station using Russian software developed by Skoltech and supporting the international 3GPP and OpenRAN standards. The 5G base station is integrated with a real operator network, allowing MTS users to connect to the 5G network via their 5G smartphones.
The 6G ultra-high-frequency electro-optic modulator project paves the way toward creating Russian 6G mobile network components, such as THz-to-optical converters.
In his speech at the award ceremony, Dmitry Peskov underscored the importance of the link between imports phase-out (5G hardware manufacturing in Russia) and preemptive import substitution (6G research).
 Dmitry Lakontsev, Head of NTI CoE:

"The award is a marvelous New Year gift and another proof that we are on the right track.
The 5G pilot zone is the first step in developing Russian solutions for the telecom infrastructure. We will use our pilot facility to check how Russian 5G hardware and software 'gets along' with operator systems and subscriber devices. Also, we are looking to launch various industrial cases using 5G capabilities.
We are confident that domestic telecom solutions comparable in quality to international vendors' best offers constitute a significant asset in Russia's bid for technological independence. At the same time, for Russian manufacturers, open standards are a gateway to the global market.
Only a forward-thinker can be a true leader. And our long-term strategy regarding wireless technology competencies has yielded successful results in 6G research."
Technological Breakthrough 2020
The Technological Breakthrough award was founded by the National Technology Initiative (NTI) Platform as an incentive for the NTI ecosystem members. The award is conferred in four categories: Technological Breakthrough, Best Boiling Point, Education and Development, and Breakthrough Legislation.
Contact information:
Skoltech Communications
+7 (495) 280 14 81