Skoltech, the Artificial Intelligence Research Institute (AIRI), and the State Historical Museum in Moscow have announced that their joint team launched a new project to create digital 3D copies of the most remarkable art objects in St. Basil's Cathedral. The director of Skoltech Applied AI, Professor Evgeny Burnaev; the head of the Pokrovsky Cathedral branch of the State Historical Museum, Professor Tatiana Saracheva; and Skoltech Research Engineer Saveliy Galochkin presented the first project results and future plans at AI Journey 2022.
3D reconstruction and computer vision can be helpful in preserving historical and cultural heritage, a major challenge of our time.
UNESCO has 1,154 properties in 167 countries on its World Heritage List, including 52 endangered sites. 3D reconstruction can help preserve cultural heritage by making a digital copy for future generations. Digital twins will make historical and cultural sites accessible to people who cannot visit them physically, paving the way for new educational practices.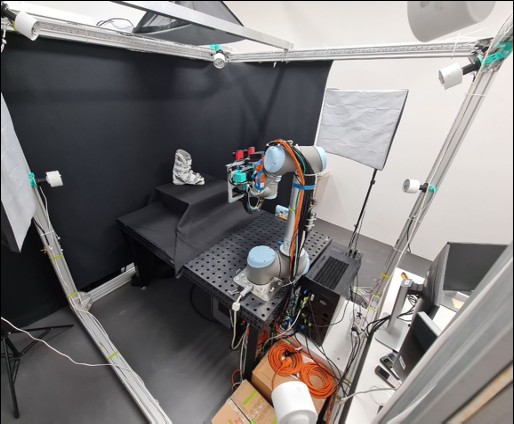 Cultural heritage ranges from small-size museum exhibits and interiors of historical buildings to tall structures and churches. In addition to the existing hand-held structured-light scanner used to create images of smaller items, the Skoltech team has built a setup with various types of cameras for highly accurate and detailed imaging of small objects. Interiors are handled using a laser scanner and a special camera because of textured surfaces and poor lighting which cannot be made brighter without harming the exhibit. The scanner helps capture the geometry and the camera enables more detailed reconstruction and texture overlay.
Since tall buildings can hardly be imaged with a single scan, the team plans to use drones equipped with sensors for church domes and other similar structures.
"Combining standard technologies and AI algorithms helps us deal with multiple challenges, such as dim lighting, intricate architecture, and the amount of fine detail. We process point clouds and photos from scanners using specially designed algorithms in order to build an accurate and complete 3D model with a beautiful realistic texture," Burnaev said.
Pokrovsky Cathedral, also known as St. Basil's Cathedral, was built in 1555-1561 and has been on UNESCO's World Heritage List since 1990. The building underwent restoration more than once, leading to changes in its appearance. In the 1920s and '30s, attempts to uncover the church's original look resulted in an irretrievable loss of many architectural and pictorial elements. 3D reconstruction will help not only record the current appearance of its interiors, but also create valuable digital material for virtual tours and other museum projects, such as classes, games, and quests.
"The cathedral is widely popular among people from across the world and should be made available online. Since the second floor is virtually inaccessible for visitors with reduced mobility, we believe the museum website should offer a complete 3D model to anyone who wishes to learn more about its rich history. In the future, models of interiors can be used to create tactile copies of architectural details or axonometric projections of individual rooms," Saracheva concluded.
* * * 
The Artificial Intelligence Research Institute is an autonomous nonprofit engaged in basic and applied research in the field of AI. Currently, over 90 AIRI researchers are involved in the institute's research projects in collaboration with the global developer community, academia, and industry.
Skoltech is a private international university focusing on six domains: artificial intelligence and telecommunications, life sciences and health, cutting-edge engineering and advanced materials, energy efficiency and ESG, photonics, and advanced studies. In 2019, Skoltech became the only Russian university to be listed among the top 100 schools in the Nature Index Young Universities ranking. 
The State Historical Museum, which marks its 150th anniversary this year, is one of the largest museums in Russia, housing a collection of priceless specimens of archeology, numismatics, ancient literature, weapons and works of fine and decorative arts, totaling more than 5 million items. The museum also incorporates Pokrovsky Cathedral and the statue of Minin and Pozharsky in the Red Square, the Chambers of the Romanov boyars on Varvarka Street, the Royal Izmailovo Estate, the Museum of the Patriotic War of 1812, and the open-air Artillery Exhibit, all of them classified as highly valuable cultural heritage sites. Over 1.5 million people visit the museum and its branches annually.
Contact information:
Skoltech Communications
+7 (495) 280 14 81