A team headed by Associate Professor of the Practice Dmitrii Titov from the Skoltech Center for Energy Science and Technology has developed an autonomous light marking control system for overhead transmission power lines. Devised for the Yekaterinburg Electric Grid Company, the technology has been deployed as a trial operation to ensure aviation flight safety near the Koltsovo Airport in Yekaterinburg.
The existing systems require annual maintenance and regular monitoring of their technical condition. The advantage of the system developed at Skoltech is the possibility of remote control, which allows the operator to assess the technical state of the system, manage and configure it without going to the installation site. For example, the operator can remotely de-ice light sensors by turning on the heating or adjust battery charging parameters.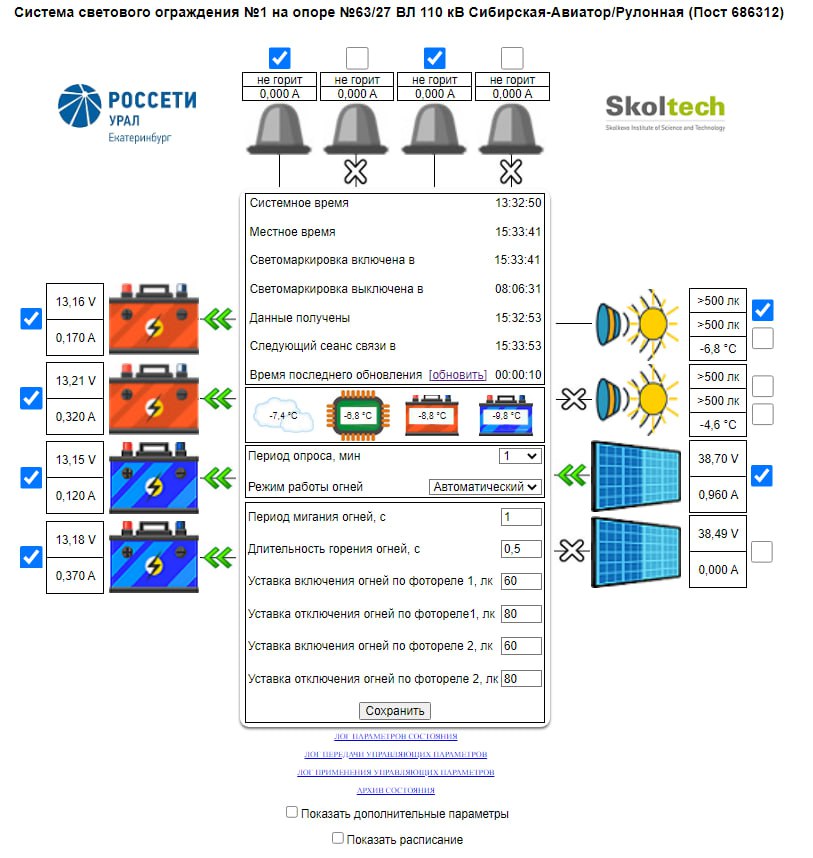 The system is a software and hardware complex with a wide range of scenarios for controlling warning lights and power supply circuit components. In particular, the following control modes have been implemented:
 Based on natural lighting level

 Based on a daily schedule

Manual
Monitoring the system's operating state parameters for its various modules makes it possible to preclude emergency situations. In particular, the battery level is automatically monitored, overcharging is avoided, and the limiting currents of light sources are controlled, significantly increasing their service life. All status and management parameters are archived and available for analytics.
Contact information:
Skoltech Communications
+7 (495) 280 14 81