A group of technology transfer experts sporting blazers and light-blue button down shirts is probably not the first image that comes to mind when discussing one-on-one athletic activities.
Yet when Skoltech professor Ilia Dubinsky moderated a panel on the journey from lab to market at Startup Village, a conference connecting investors with researchers and entrepreneurs, he was greeted with unanimous agreement when declaring that "innovation is a full contact sport".
"It is true", said Prof James Callaghan of Newcastle University, the UK, "in my experience there is no substitute to personal connections. Inventors need to go out there and meet those potential investors and build a network."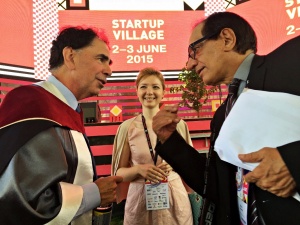 This focus on effective social skills was echoed by Igor Seleznev, of Skoltech's Center for Entrepreneurship and Innovation. "As a startup university we introduce an element of competition to our programs. We know that it helps people learn from one another."
And so a consensus was achieved. With all due respect to ingenious technologies, when it comes to the race to commercialization nothing beats networking and personal connections. That, in a nutshell, is the underlying premise of Startup Village, the biggest event of its kind in Eastern Europe.
The pictures curated here feature Skoltech researchers pitching to investors, building bridges with fellow academics and celebrating – along with Russia's Prime Minister Dmitry Medvedev – the graduation of the university's first group of 53 master's students (in IT, Space, Energy and Advanced Manufacturing). The photos, aptly enough, seem to reiterate the same point: it is all about the people.
Text and photos: Ilan Goren