The first group of Skoltech students celebrated the end of their studies in a ceremony with Russian Prime Minister Dmitry Medvedev at Startup Village.
Text: Ilan Goren
Accompanied by cheers of "Viva Skoltech" and thunderous applause from the 2,000 the 53 master's students threw their Graduation Caps – and posed for a selfie with the top politician.
Earlier, Medvedev congratulated the graduating students and awarded the first diplomas to students Dmitry Smirnov and Anna Dubovik. "I remember flying above this area west of Moscow a few years ago", said the Russian PM, "I was being told that things will be built and happen here. Now the promises have turned into reality."
The graduates, completed the innovation university's programs in Information Technology, Energy, Space and Advanced Manufacturing after enrolling in 2012-13, the institute's first year of operations in collaboration with MIT (the Massachusetts Institute of technology).
"You took a huge risk by joining us", said the university's president, Prof Ed Crawley, "at the time we barely had more than a website. Now we are a thriving community of researchers, innovators and entrepreneurs, working with Russian and international universities. And almost half of you have established your own startup companies or projects. I'm proud of you."
All graduates are scheduled to attend a ceremony in the Russian traditional "last bell" style on June 17 at the Skolkovo Innovation Center.
"We are proud to show off our graduates to the Skolkovo community, to participants and guests of the Startup Village, and to investors," said the innovation university's vice president Alexei Sitnikov.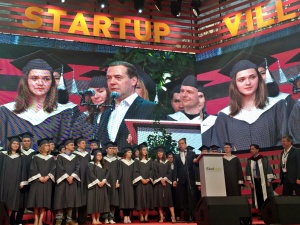 Every year, Skoltech takes an active part at Startup Village, the biggest conference of its kind in Eastern Europe. This year's presentations by leading researchers, included Prof Dzmitry Tsetserukou (head of the Space Robotics Lab), and Prof Alessandro Golkar, Director of the Strategic Innovation Research Group (SIRG). The event also featured a working session of IPOCA – International Proof of Concept Centers Association.
Skoltech is a core ingredient of the Skolkovo ecosystem, supplying the brain power to create innovations that will be commercialized further down the road. More than half of the university's current intake already have innovations that are either on the market or soon to be available.
"The most important thing for us as producers of talent inside the innovation center, is that many of the guys already have their own companies and startups, and intend to develop them further after graduating from Skoltech," Sitnikov said.
The official "last bell" graduation ceremony will take place on June 17 at Skoltech.