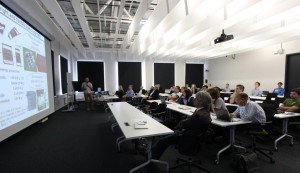 On July 18-19 Skoltech hosted the second Annual Workshop "Electrochemical Energy Storage: Current Progress and Future Opportunities". The workshop was arranged by the Center for Electrochemical Energy Storage (CEE), which is a collaboration between Skoltech, MIT and Moscow State University (MSU). Yesteryear the workshop was held in MSU, and this is the first time that Skoltech hosts it.
The workshop featured scientists and researchers from these universities and institutes, which discussed key issues that hinder advances in advanced energy storage technologies. Several different perspectives were presented from experts covering areas including the development of new approaches to synthesis of materials, computational materials design, characterization of materials (including innovations in in situ characterization of electrochemical processes), and device prototyping.
Prof. Keith Stevenson, CEE Director, commented about the workshop and its importance: "The first day was more of an open set of talks, that we were describing the progress and the research frontiers that we've made, and there are quite many, in the area of new cathode materials, that haven't been discovered before. We also reflected on a different type of energy storage mechanism that is unique, that could create new technology as we continue to advance.
"It was good to inform our partners, both Russian and non-Russian, as to the growth of Skoltech, because partners are unable to visit to Skoltech on a frequent basis. They are doing work elsewhere, in support of Skoltech, but due to our rapid growth they really hadn't seen all of the activities, and I think their eyes were opened considerably. They had visited last year, but Skoltech was still a skeleton of a building and we weren't done moving. Now they realize, that this is quite an amazing growth, especially in the last year. I think we're even ahead of schedule in terms of what our center wanted to establish, which is to be the best center in energy storage internationally, and to train new students in this new model incorporating both new materials and new science.
"The resolutions of the workshop were that we need to collaborate more intimately, we need to focus more on the game-changing ideas and materials that really could bring potential impact. My main focus this year was to highlight the new people we hired, professors Pavel Troshin and Artem Abakumov, because they started in the November-December time frame, and they rapidly started to extend their programs to Skoltech, and integrated with the other partners, especially with MSU and The Institute of Problems of Chemical Physics. We identified some of the rising stars and recruited them to Skoltech, so I'm all proud at that. In addition, MIT director, prof. Carl Thompson said that he was impressed by the level of presentations, not only by the faculty, but by our own students. "I'm proud to get that kind of feedback."