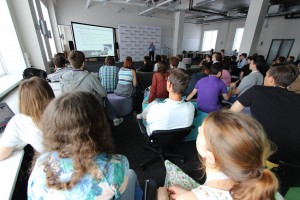 135 graduate students came to Skoltech on Tuesday, and 12 more joined them from afar on Skype, in order to prove that they have what it takes to become Skoltech students. These applicants, who came from all across Russia, have already passed previous selection stages. These three recruitment Days were the last barrier they had to cross.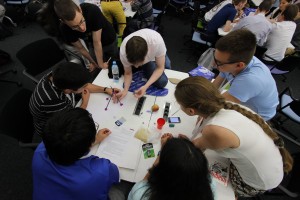 During these three rigorous selection days, the applicants had to pass a TOEFL exam, a Math exam, an individual interview made by Skoltech faculty members according to the applicants' field of interest, and cope with two challenges that involve science, engineering, design, entrepreneurship, leadership, and creativity. In between the chores, the applicants got presentations about Skoltech, and met students who told them about their studies, and showed them their projects.
One of the major aspects of the challenge activities, is to check the applicants' ability to work in a team, especially in a team of people with no prior acquaintance. The first challenge they faced was to build a timer out of a limited variety of components, such as disposable cups, straws, an apple and a bottle of water. On the second day, the challenge was building a durable bridge out of popsicle sticks, straws and glue. The durability was tested at the end with heavy weights, all the way to the breaking point. No bridge was left intact.
Anton Leonov is a graduate of the Higher School of Economics. Over there he studied computer science, but he applied to study in the Center for Data-Intensive Biomedicine and Biotechnology. "It seems more interesting to me", he says, "There is a great program and great faculty there, and their projects are very interesting." His overall impression was good: "I liked the challenges we had, but mostly the one with the bridge. Our bridge held 53-54 kilos, that's cool! I also liked the idea to talk to the faculty about the paper I was given, but I think I screw up a little bit in the interview. Even though it wasn't very successful for me, I still think it's a great chance to talk to the clever guys. These were very nice admission days, because usually you make a test and go home, and here it's more about the interaction, it's cool. It seems that Skoltech doesn't want just the smartest, but the ones that can interact with each other."
All the participants will get notified about whether or not they are admitted within the next two weeks.