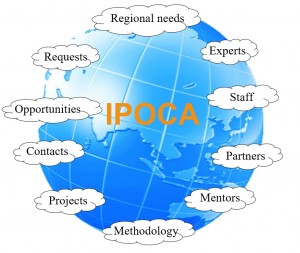 Skoltech is involved in many collaborative programs, but apart from them, Skoltech has initiated the creation of an International Proof of Concept Centers Association (IPOCA) – an informal organization that facilitates translation of knowledge into useful products, services, and processes. IPOCA's mission is to connect community of universities' proof of concept centers with entrepreneurs, industry, investors, government agencies and researchers, whose common mission is to accelerate innovation through national and international cooperation that uses state-of-the-art networking and data-sharing techniques.
IPOCA was founded by CEI Director of Research, Igor Seleznev. Skoltech Innovation Program Specialist Rustam Kagirov is the coordinator of IPOCA universities network. We asked both of them about this initiative.
 Igor – you are the founder of IPOCA – what made you think about its creation?
In the most general view, the IPOCA is an instrument to attract additional resources to innovation projects and to stimulate their development at universities. IPOCA members from different regions represent local industrial, scientific and entrepreneurial opportunities and demands. I believe that there is a critical gap between university research results and industrial demands in Russia. An obvious need for establishing an instrument that will allow at least partially close that gap has become a corner stone for the initiation of IPOCA. Eventually, IPOCA helps to match demands and opportunities at a national or even international level.
Rustam, what is Proof of Concept Center stated in IPOCA abbreviation? 
Technology transfer from universities to the marketplace faces a well-known gap of technology and market uncertainty at the early stages of development. However, these uncertainties, or risks, may be significantly reduced with an approach known as Proof of Concept (PoC). PoC aims to demonstrate that scientific development or technology has the potential to be more than just an idea. In most cases, PoC starts with experimental results or early prototypes, and ends up with the development customized according to the needs of the market, and intellectual property in the form of patent application or know-how. PoC centers are the internal structures within universities or scientific institutions responsible for these activities. PoC centers prove their high efficiency in a number of US universities. Such centers exist at MIT, Harvard, University of California, University of Maryland, Boston University, etc. PoC exist as a national program in France in the form of 12 specially organized SATT centers. In some Russian universities, similar concepts are appearing. For example, Skoltech has its own Translational Research and Innovation Program supporting our faculty to help establish proof of concept and provide assistance with advancing their technology towards commercialization, including pre-startup identification of high potential market opportunities, intellectual property management, and, if appropriate, team development.

Igor, what is a present state of the association?
IPOCA started in 2013 by signing a memorandum between its first founding members – Russian and international universities. From the very first days, we agreed that there is no need to hurry with establishment of a legal entity, while there should be a clear focus on bringing value to all participants and expanding our network. Thus, presently IPOCA exists as an informal body, it is easy to enter and it has zero operation expenses for its members.
What is the value for Skoltech from this initiative?
By creating IPOCA, we are building cross-regional network. This allows us to attract additional resources to our projects at Skoltech. Industrial expertise, mentors and investors, financing within new joint programs, unique equipment from technology centers are significantly important for our further development. By the way, within the events we organize regularly with IPOCA members, Skoltech becomes one of the main communication platform in Russia with an international component in the area of technology transfer and technological entrepreneurship.
Rustam, who are the current members of IPOCA and who else can join?
Currently, there are about 15 organizations within our network, including 12 Russian universities and 3 foreign universities. Among Russian universities, besides Skoltech and our neighbor in methodology Innopolis University, there are 4 federal universities (Kazan Federal University, Ural Federal University, North-Eastern Federal University and Northern (Arctic) Federal University) and 6 national universities (Higher School of Economics, ITMO University, Lobachevsky University, Perm National Research Polytechnic University, Tomsk Polytechnic University and Samara University). The MIT Deshpande Center for Technological Innovation was one of the first who supported the creation of this initiative among foreign universities, then Masdar Institute of Science and Technology (UAE) and Tel Aviv University followed MIT. The network is constantly growing – a number of Russian universities are interested in joining IPOCA and participate in its activities. By the way, we welcome venture, industrial and entrepreneurial communities to join. For example, the Russian Venture Capital Association was the first who supported IPOCA. It is a great opportunity to gain access to cutting edge projects of member universities as well as to give feedback to scientific groups about current challenges in real-life business sectors. In general, we are open to organizations who share our objectives and challenges, aim to bring an additional value and gain synergies.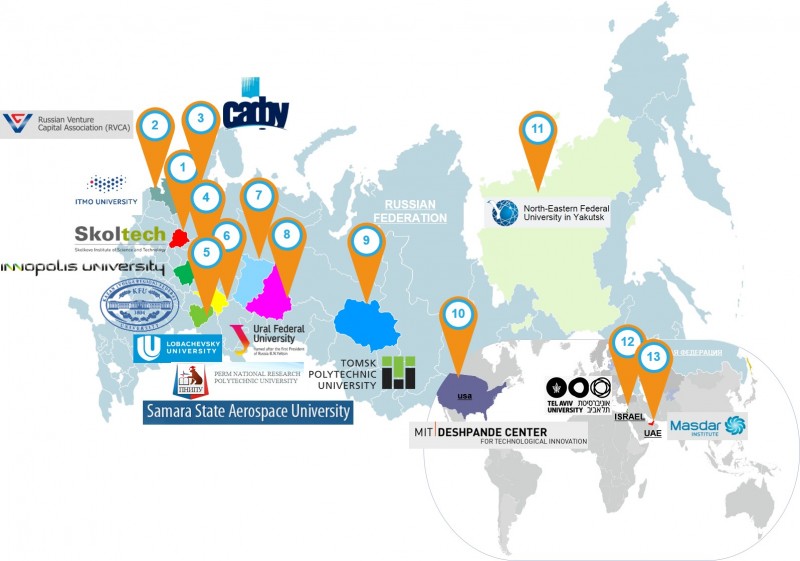 What are your plans for the future?
Recently, together with the Fund for Assistance to Small Innovative Enterprises (FASIE) and Skolkovo Foundation, we have launched a new joint Program called "Start in Skolkovo". Its purpose is to support PoC projects of IPOCA universities aimed at commercialization of research results. Selected projects will get financial support from FASIE as well as access to selected mentors of Skolkovo Foundation. It is worth mentioning that after completion of the first year, the best projects nominated by the experts of Skolkovo Foundation at the final event, will get a chance to become a Skolkovo resident.