As part of the Science Consulting Board of the Skolkovo Foundation, the new supercomputer for advanced scientific research and development in the field of artificial intelligence was presented at the new campus (Skolkovo Institute of Science and Technology). Skoltech Center engineers and researchers developed this supercomputer with scientific and computer engineering technology for tasks, headed by Maksim Fyodorov, involving large data sets.
Professor Maksim Fyodorov, Director of the Skoltech Center for Scientific and Computer Engineering Technology (CDISE) for tasks with large data sets:
Our center solves a broad range of interdisciplinary problems at a juncture of machine learning, artificial intelligence data science and mathematical modeling. The idea to create a powerful, energy-efficient supercomputer with a hybrid architecture specially for machine learning and simulation based on data was conceptualized in 2017 as an answer to modern challenges in these fields (for example, the recognition of multi-faceted objects, toxicological prediction of new molecules and others).

We hope that our creation of a modern computing infrastructure will help develop cooperation between Skoltech and a whole range of high-technology companies that are Skolkovo residents.

The quicker the information delivery system between different nodes of the supercomputer, the more effective it is for calculating and processing large data sets. To deliver data between nodes, our supercomputer uses fiber-optic channels and solid-state lasers that are based on solid-state heterostructures, the discovery for which Zhores Ivanovich Alferov was awarded the Nobel Prize. It is for this reason that we decided to name our supercomputer "Zhores."
Skoltech professor, Sergei Rykovanov, the science head of the Supercomputer Computing group at the Skoltech CDISE Center:
"Zhores" is the first petascale energy-efficient supercomputer specially earmarked for solving machine learning problems and simulations based on data. This modern computing system will help Skoltech researchers and its academic individual partners to make breakthroughs in a whole range of fields: digital medicine, Internet of Things, precision farming, image processing, processing new medications, smart cities, predictive technical maintenance, photonics, and the search for sources of X-rays and Gamma rays.

We are devoting huge attention to preparing highly qualified specialists in the field of supercomputing and the processing of large data sets. At Skoltech, because of our center, Masters and PhD programs are developing successfully in the corresponding directions, and we recently got several specialized Masters and PhD courses underway in highly-productive computing. We are also actively engaging in advancing the qualifications of Skoltech partner companies' employees within the framework of our Center's professional education programs.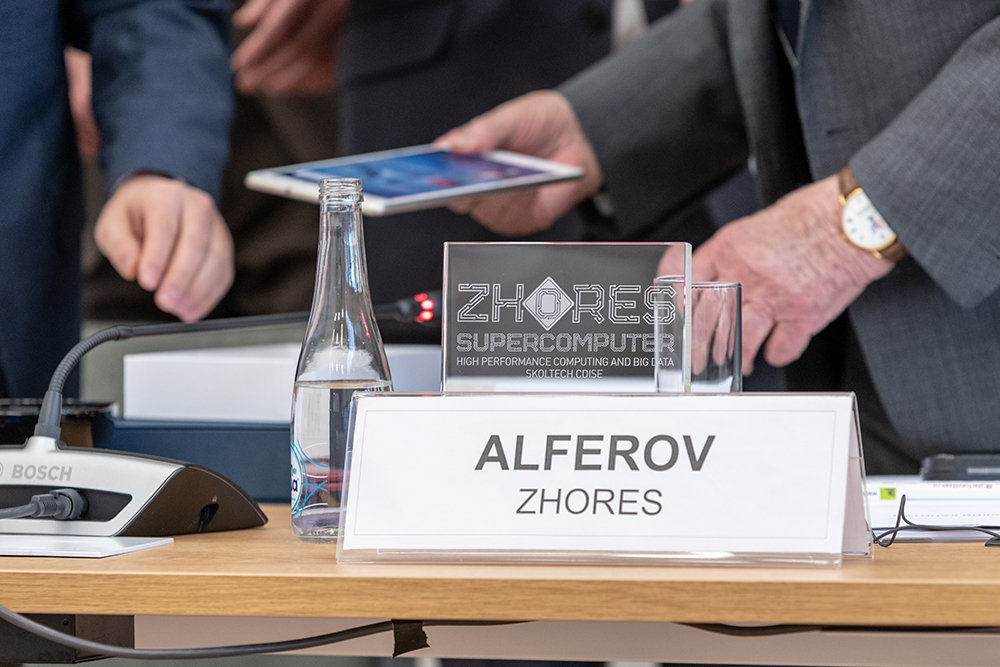 Oleg Panarin, Manager for Information Services and Data Processing (ISDP)and Technical Head at the Skoltech CDISE Center:
While solving the design problem, as well as the integration and settings for the powerful, energy-efficient supercomputer, "Zhores," which became the sixth most powerful in Russia and CIS with a productivity of 1 petaflop per second, a highly professional technical team of engineers, architects and system administrators has been assembled. Without it [the team], the subsequent development and operation of the computing complex would not be possible. As part of the supercomputer, there are now 74 computing nodes and 26 nodes with powerful graphic accelerators with tensor nuclei for deep machine learning; each of these has four NVidia Tesla V100 with NVLink and GPUDirect RDMA, and a data storage system with a parallel file system of 0.5 Petabites. The supercomputer's electricity consumption does not exceed 90 kilowatts.
Landmark development of the "Zhores" supercomputer:
Autumn 2017 to winter 2018 – design proposal and equipment purchase.
June 2018 – equipment is delivered to DPC [Data Processing Center] Dataline;
June-August, 2018 – commissioning work;
August 2018 – measurement of productivity, adaption;
September-November 2018 – user tests, "Warm-up" (Hackathon)
30 November – official launch.
Future development plans:
Computational capacity reaches 2-3 Petabites/sec.;
It will be applied in fields such as research and technology consulting, in areas related to machine learning and simulation based on data;
It will be used to train highly qualified specialists;
it is expected to enter the world stage in the top-500 most powerful supercomputers in the world.
On the day of the presentation, the co-chair of the board and Nobel laureate, Zhores Alferov, received the symbolic key to the supercomputer during a session with the Advisory Scientific Council of Skolkovo.
Background information
Skolkovo Institute of Science and Technology (Skoltech) – private scientific educational institution. Founded in 2011 in cooperation with the Massachusetts Institute of Technology (MIT), the institute is preparing a new generation of researchers and entrepreneurs, is developing scientific knowledge and is assisting technological innovations with the goal of solving important problems facing Russia and the world in the new millennium. Skoltech is carrying out its work relying on the experience of the best Russian and international educational/research institutions. Having said that, there is a special emphasis on the teaching of entrepreneurial skills and innovative activity. Website: https://www.skoltech.ru
Skolkovo Foundation – a non-commercial organization, founded at the initiative of the President of the Russian Federation in September 2010. Foundation Goal: the creation of an ecosystem that is favorable to the development of entrepreneurship and research in the following areas: energy-efficiency and energy saving, nuclear, space, biomedical, and strategic computer technologies and software. The Foundation is responsible for the management of the Skolkovo Innovation Center, whose activities are regulated by a special law, providing special economic conditions for startups that have undergone specific external technical examination (there are now more than 1800). In 2017, aid for Skolkovo companies/participants amounted to 79 billion rubles, while joint aid over 8 years of the project's existence reached 250 billion rubles. About 30 thousand people work at startups and of these more than 5 thousand work onsite at Skolkovo. More than 1300 developments and technological solutions have been patented. An important part of the Skolkovo ecosystem is the research institute – Skolkovo Institute of Science and Technology (Skoltech), founded and operating with the support of Massachusetts Institute of Technology. Skolkovo Innovation Center infrastructure – funded by the federal budget – that is now complete: Technopark, University, university prep school, road and engineering infrastructure. About 500 thousand square meters have come into operation. Over the next 3 years, that number will double. Website: www.sk.ru
Contact information:
Skoltech Communications
+7 (495) 280 14 81