The Skolkovo Institute of Science and Technology (Skoltech) is the first among Russian universities to gain prestigious international accreditation for a PhD Life Sciences program in accordance with European Standards and Guidelines (ESG).
The accreditation commission of the High Council for the Evaluation of Research and Higher Education (HCÉRES) made the decision on the accreditation of the Skoltech Life Sciences PhD program for a duration of 5 years with no conditions.
A HCÉRES delegation to Skoltech in October 2018 preceded the accreditation. HCÉRES representatives conducted a number of meetings with students and teachers from the Center of Life Sciences and with the Skoltech leadership, visited institute laboratories, and were acquainted with Skoltech teaching standards, methods, and research practices.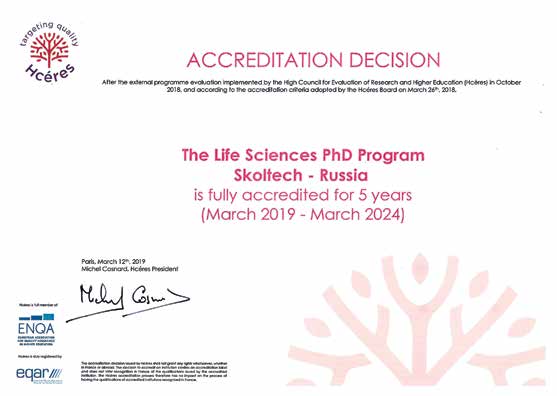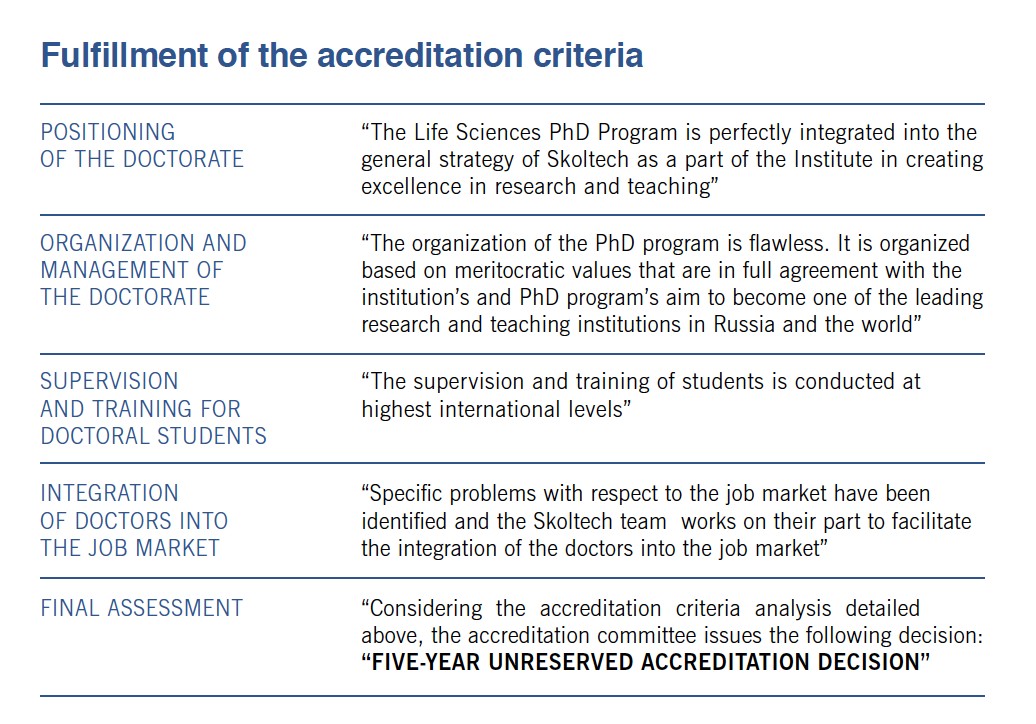 "HCÉRES is the highest accreditation commission in France and actively works with leading universities in Europe and further abroad. Accreditation means that Skoltech Life Sciences doctorate degree is recognized worldwide. This is due to its structure and management, and the quality of students' research and education are in line with the highest international standards," stated Professor Konstantin Severinov, representative of the Skoltech Center of Life Sciences.
The PhD Life Sciences program is the first of its kind in Russia with accreditation in accordance with European standards; therefore, Skoltech's experience could be useful to other Russian universities.
The HCÉRES international accreditation commission visiting Skoltech included Professor Martin Teichmann of Bordeaux University (FR), Professor Francoise Moneger of Lyon University (FR), Ms Lilandra Boulais, a PhD student at the University of Technology of Compiegne (FR), and Professor Igor Efimov of George Washington University (US).
Contact information:
Skoltech Communications
+7 (495) 280 14 81