Could the popular TV series characters Sheldon Cooper from The Big Bang Theory and Shaun Murphy from The Good Doctor suffering from autism and Asperger's syndrome have fit in the world more easily? Associate Professor and Head of the Intelligent Space Robotics Lab at Skoltech Dzmitry Tsetserukou is convinced that they could if specially designed robots were there to help them.
The number of children with autism spectrum disorders (ASD) has doubled over the past 15 years. Autistic children have difficulty interacting with their peers and parents alike, but readily communicate with robots. Yale University and MIT teams who pioneered the use of home robots to help establish social feedback proved that robots can provide effective liaison between autistic children and other people.
The psychiatrist Maxim Piskunov will talk about autism, its symptoms and the role of high technology in helping autistic children. The lecture will include a demo of human-like robots and a game-based learning system that motivates children to learn and communicate with others.
Suitable for 16+
The lecture will be given in Russian at Zaryadye Nature Center on April 23, 2019 at 7 p.m.
Registration: https://www.zaryadyepark.ru/schedule/63620/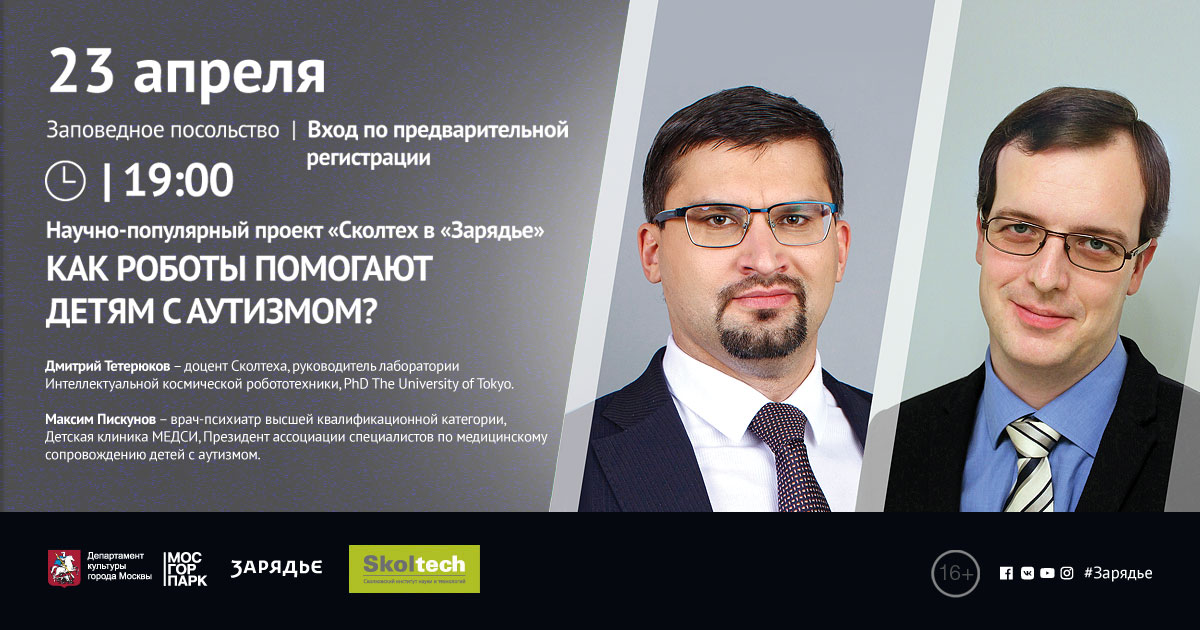 Speakers
Dzmitry Tsetserukou, PhD (University of Tokyo), Associate Professor and Head of Intelligent Space Robotics Laboratory at Skoltech.
Maxim Piskunov, psychiatrist of the highest qualification category, MEDSI Children's Clinic, President of the Association for Medical Support to Children with Autistic Disorders.
Live broadcast link: https://www.youtube.com/watch?v=6uKZIWzCLDA
Contact information:
Skoltech Communications
+7 (495) 280 14 81