On August 25, the Center for Creative Industries "Fabrica" hosted the Cheapcherrybooks market, a unique event where visitors could buy bestselling books for a low price. This year the event also included lectures and discussions with authors of the most popular books of the year. One of the discussions was centered around the popularization of science using comic books.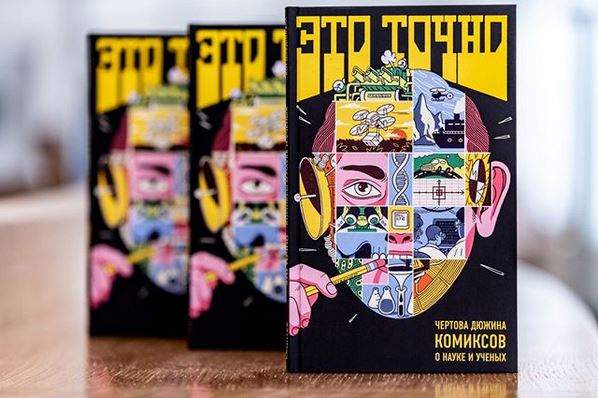 The discussion was led by a team from Skoltech and "Schrodinger's Cat" magazine, who together published a collection of comic stories about real scientific research called "That's true".
Denis Stolyarov, project producer and head Skoltech's Student Department, told the audience about how the project originated, what it was like to collaborate with researchers, how the team challenged skepticism, as well as the creation of the book itself. Lina Aleksunaite, author of one of the comic strips, described the process of creating a fascinating story out of a scientific article. One of the project's illustrators, Nikolai Ogarkov, shared his experience of turning raw scientific data into eye-catching art. The discussion was moderated by Danil Petrushin, the project's art director.
During the discussion, Denis Stolyarov hinted at the project's sequel, but did not share any details. He added that the first edition is already translated into English. At the end of the session, the team answered questions from the audience and awarded three copies of the book to authors of the best questions in three categories: the strangest, most difficult, and most skeptical.
Contact information:
Skoltech Communications
+7 (495) 280 14 81