Kenneth Wayne Smith Jr was a structural dynamics engineer at NASA Langley Research Center when he landed on the Forbes' 2017 30 Under 30 for Science list. At Langley, he worked with NASA's Commercial Crew program, working with private companies such as Boeing and SpaceX on the development of their crew vehicles. Now, as one of the Alfa Fellows, he has spent almost 10 months in Russia and 5 months of those working as an engineer at the Skoltech Space Center. We spoke to Kenneth about his aspirations, his interest in rocketry and music and his experience with learning Russian.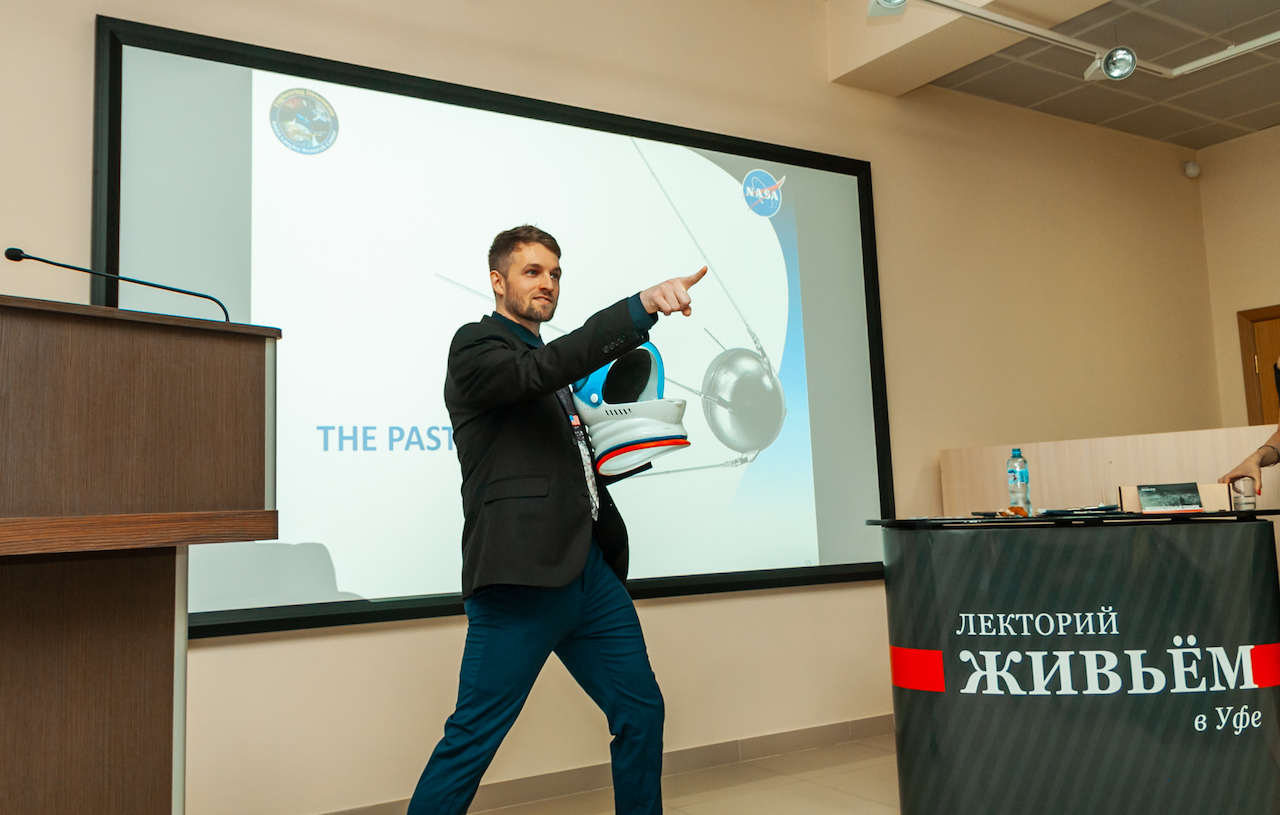 How did you end up at Skoltech?
So I am working at Langley, I just finished my master's degree, trying to figure out how to make my aspirations of becoming an astronaut a reality. For astronaut candidacy, all the applicants are impressive, so you really need something that sets you apart, or something intriguing something that really jumps off the paper. Eventually my friend, Ashley Kowalski, told me about this fellowship where she had the opportunity to come to Russia, learn Russian and work with a small satellite company called SPUTNIX for a year. She told me about the program, I was intrigued, so I went ahead and applied. During the interview process I was asked a couple of questions, normal interview questions, but then there was also a language assessment — and I knew nothing. I mean, I knew the alphabet, thanks Nadia, but other than that I was at a loss. I went in there memorizing one phrase (Здравствуйте, меня зовут Кеннет. Я аэрокосмический инженер), but by the time I sat down I forgot everything. I just remember thinking 'I'm not going to get this.' To my surprise, a few months later I was chosen as an Alfa Fellow. They told me that it wasn't the language they were looking for; it was the passion.
When I arrived here in June I began taking language classes for a couple of months and attending Russian culture lectures at HSE. After those three months we were supposed to start our work placements. I accepted a position at Yandex working with their self-driving cars, but the decision to bring me on board had to go to their lawyers first because I was an American citizen. Three months pass, nothing happens, and I am working at the Museum of Cosmonautics — a place I really wanted to volunteer at since its one of the coolest places in Moscow, but for work, I wanted something that pushed me as an engineer. Then my friend at the Museum, Anastasia Przhevalskaya, introduced me to Andrey Potapov who was working at Skoltech with small satellites, and we set up an interview. I knew about Skolkovo, but I did not know about the university. I actually did my master's thesis working with CubeSats, so it seemed like a very good fit.
How are you finding it so far?
As soon as I got to Skoltech, everyone was asking me to do things — do you want to go to this lecture? Do you want to go grab lunch? And I fell in love with this culture of camaraderie. I recently started talking with the Skoltech rocket team, and it's such coincidence because they are competing in IREC, the exact same competition in which the team that I founded as an undergraduate in the US, competes. I'm now trying to find people around here to help them, it's nice to have the networking connections. The people here at Skoltech and the Museum of Cosmonautics have been so friendly and welcoming. I wish I had enough NASA pins to give to all my friends here, I did not realize everyone was going to be so nice.
What have you had a chance to do here? Any exciting projects or research?
I was dabbling in many different ongoing projects at the Skoltech Space Center. One of them had to deal with stabilization of a spacecraft, more specifically a smallsat or cubesat. I was looking into the validity of a fluidic momentum controller (FMC) to control the attitude of a satellite, what type of satellites this type of controller this would be beneficial for and the type of fluids that would provide the highest benefit. Commonly this type of control has been done with reaction wheels, however an FMC could provide improvements in power, weight and efficiency. One plausible problem arises with the liquid however. Liquid in microgravity has the possibility of leaking, and this would not be good for electronics onboard the satellite.
Another project I was working on was the creation of an architecture used for optimizing analysis and iterative tools to fit design criteria. Such design criteria could be stress based or thermal based, however if there was way to iterate a process of a redesign to fit design criteria, it would save time, not just in the design phase, but in the simulation and analytical testing of the structure. Along with this I was doing my best to put together a guideline and system structure to find components and their analyses. For example, a data recording system is used on many launches. Data and analysis will have already been done on that part and be well-known. Here, max stress envelopes could be found, and the satellites that used that data recorder could be seen all in one place. You know the design constraints of your satellite and now the constraints for each individual part, and once all that is known support structures could be iterated upon to create a working satellite that fits all (hopefully) design constraints.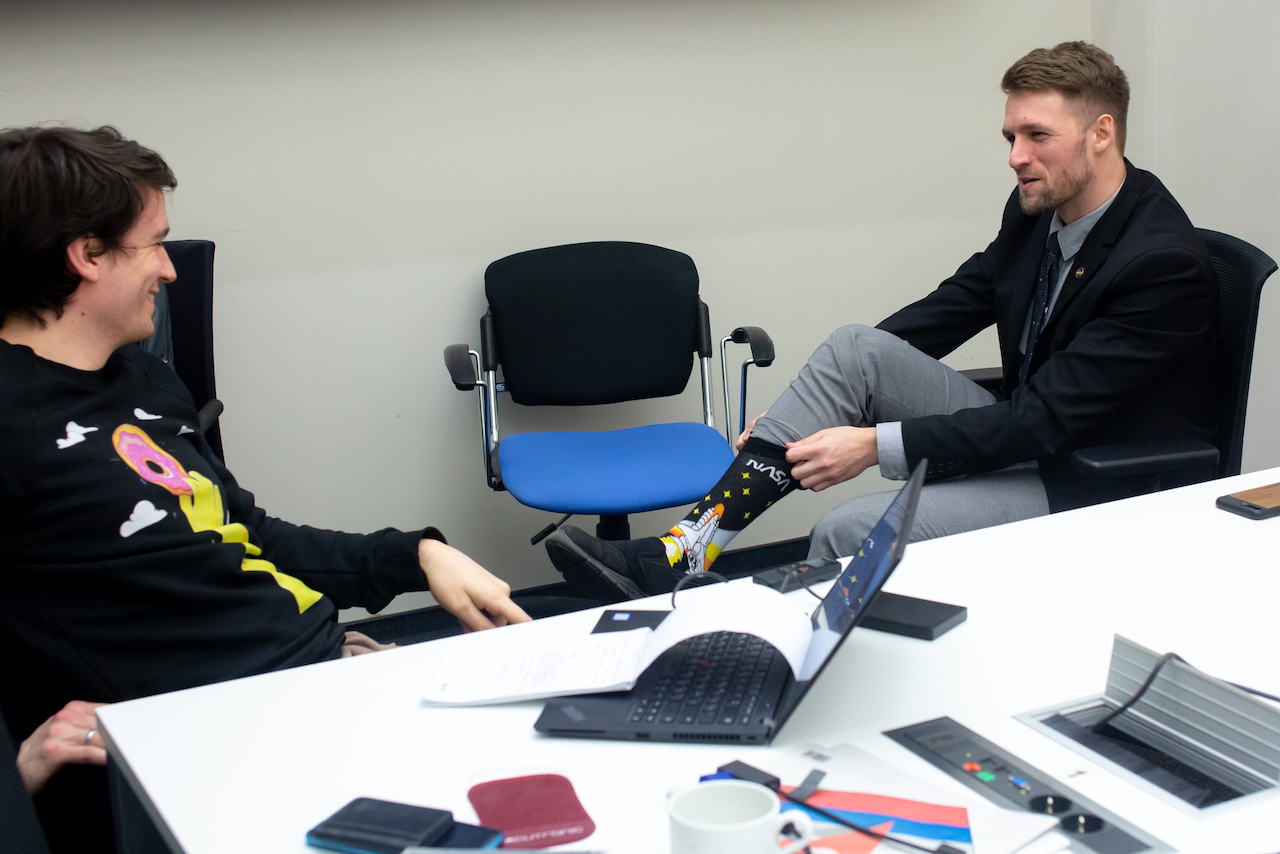 So you want to be an astronaut — doesn't the idea of going to space frighten you at all?
No, it actually excites me. It was not always a goal of mine to become an astronaut. I became inspired when I started volunteering at the Great Lakes Science Center. Before then I went to school to become a biochemist only because I liked science, it was fun, but to be honest, it was just a backup plan to my first calling, rockstar. There's actually a fun picture of me with super long hair! But, as I said, biochemistry was not my passion. I chose it because I liked science, so let me just pick a degree because that's what people do. Within my first year of college, my father lost his job, and by the second year I had dropped out of college just to work full time. My father around this time convinced me to find something I am passionate about. He convinced me to go searching for something, and I found it after volunteering. The awe factor of space and the realization of a drive I had to build thing led me to return to school for aerospace engineering. I don't think I am a natural-born engineer, I just fell in love with it.
So I guess if someone told you back then that 13 years later you'd be in Russia as an aspiring astronaut, you wouldn't believe them, would you?
No, I would not! (laughing) But to be an astronaut, you have to learn Russian, and the opportunity to explore a new country while learning Russian was just too great to pass up! During the Cold War, it was a competition. USSR vs USA. Von Braun vs The Chief Designer (Korolev). It took us so to the moon, but it was unsustainable. I think to progress as far as, say, Elon Musk wants to go, say to colonize Mars, the funding and the type of manpower required isn't going to come from competition anymore, it's going to be cooperation. Even right now, when our governments are not on the best of terms, there's something we can usually agree on and work together on, and it's space. I always say that space could be an avenue to world peace.
What are you particularly excited about as a future astronaut?
Mars is where my head is at, although right now NASA's head is on the Moon. If you say 'let's build a colony on Mars', that'll get the people excited, but the Moon? I think since we have already been there, it is hard to get people excited about it. But I think right now, with how things are progressing in this new cooperative space age, space travel is less of a burden on one country when we go together! The space community wants to gradually build up the technology for going to Mars, and they want build something sustainable and long lasting on the moon those are ideas I can get behind.
I'm also excited about commercial companies roles in the evolution of space travel. If you think of the Cold War as the Golden Age of spaceflight, now is the Platinum Age. Things are getting cheaper, we have reusable rockets, and with the development of small satellites like the ones at Skoltech, it's makes the access to space much easier and it gets me excited! There's so much going on, and everyone can be a part of it!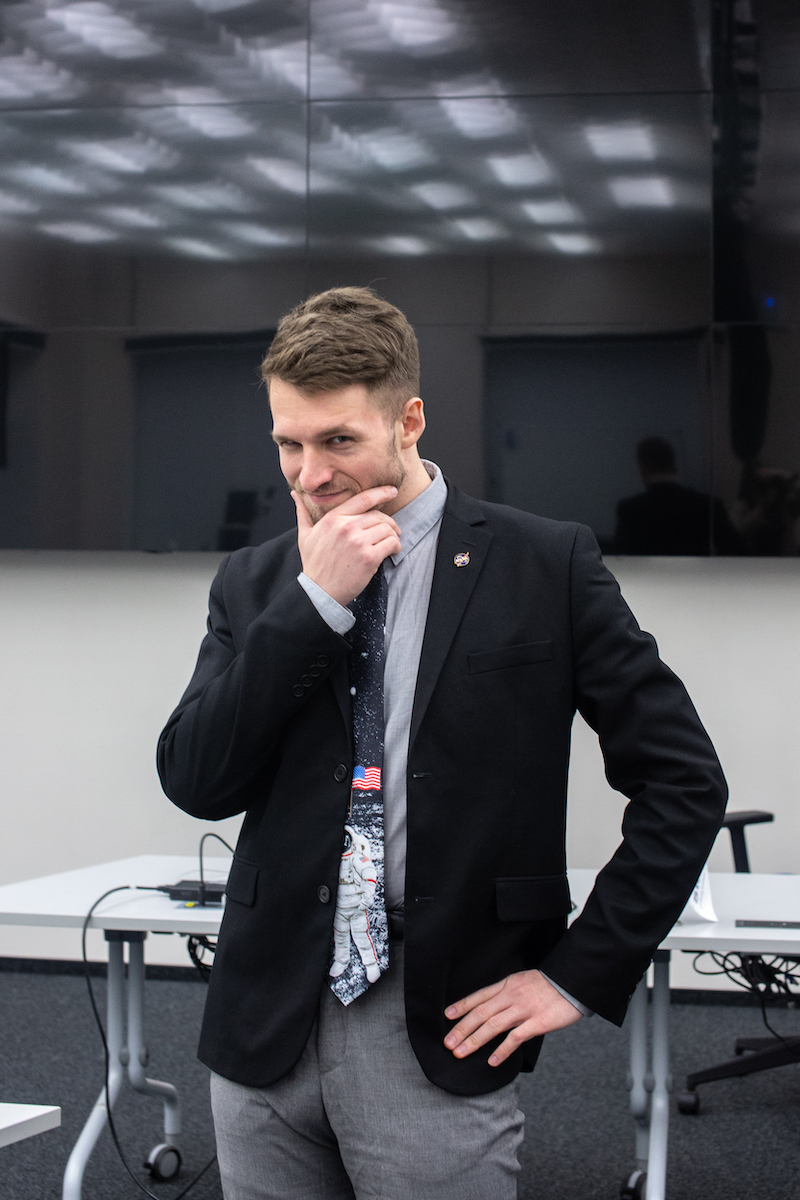 What are you going to do next?
My number one priority is astronaut candidacy.
I finished the first round of applications and hope to hear back soon from NASA about the next steps. I feel I have a good research prowess, I've worked on the new commercial crew vehicles that will be flown while working at NASA and now I have some Russian training underneath my belt along with working within an international team, so I believe I have what we call in America as a 'Puncher's Chance.' It is my dream to be an astronaut, but interviews and the whole process takes about a year. Until then I am hoping to continue my work at NASA, but with COVID-19 many things are up in the air.
Have you managed to learn Russian after all?
My Russian is horrible. (laughing) I understand it. People here will laugh when I start to talk sometimes and then they try to help me through it. Русский язык — это очень трудно, это чистой воды правда! Seriously though, I have progressed so much in terms of my Russian training. It is like night and day. Working and translating at the Museum of Cosmonautics has expanded my vocabulary exponentially, however my talking still has room for improvement. Мой учитель сказал, что моя грамматика очень хорошая, но когда я говорю по-русски, это катастрофа! For my English friends, my teacher said that my grammar is very good, but when I talk in Russian… it is a catastrophe. This was a few months ago to be fair, but the sentiment still makes me laugh.
 Thanks:
I just wanted to thank everyone who has helped me with my transition not only at Skoltech but my transition to life in Moscow. People at Skoltech like Andrey Potapov, Anton Ivanov, Galina Chikunova, Nikolay Mullin, Nikita Veliev, Narek Ananyan, Antonina Gromyko, Anastasiia Ilina and Petr Mukhachev have been nothing short of amazing. Also the people at the Museum of Cosmonautic: Daria Chudnaya, Olga Filimonova, Anastasia Przhevalskaya, Ilya Buravchikov, Maxim Falileev, Denis Prudnik, Alfred Vardazaryan, Olga Nizovtseva, Yuri Solomko, Natalia Artyukhina and so many others like Irina Shreyber and Frank Tecker that would take up another page. I am so grateful for this opportunity and thanks to everyone for making it the best year of my life!
Contact information:
Skoltech Communications
+7 (495) 280 14 81