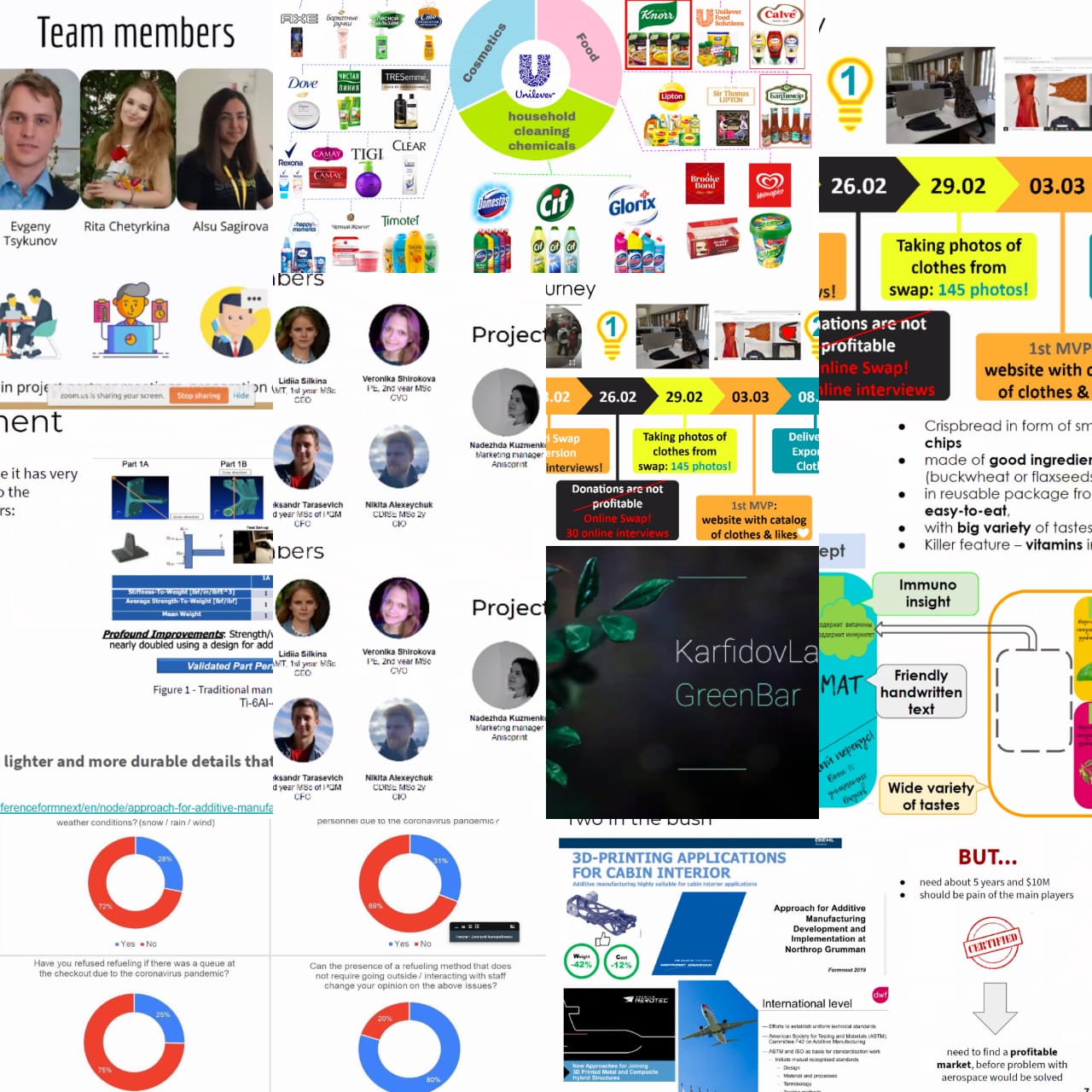 Skoltech students presented solutions to Skoltech's partners' cases at the final class of the online training course, Product Innovation 2020. This year, the students grouped into nine teams worked on a case from one of Skoltech's seven partners: Yandex (zapravki.yandex.ru), Unilever (food products), Karfidov Lab (GreenBar project), Insolar (personal data handling platform), Zaberi. Market (clothes exchange), OneSpell.Store (automated retail), and Anisoprint (composite 3D printer).
A compulsory selection course, Product Innovation teaches students to create new viable technology products and services. Guided by the knowledge gained from the lecture course, the students spent two months shaping their initial business ideas into sought-after "perfect product" concepts. Hands-on experience is what makes the course special: all the student teams used the partner companies' real technologies and products/services as a starting point for their projects.
Assisted by mentors from the partner companies, the student teams conducted market research, identified target user audiences and user requirements, formulated ideas for their new product and service concepts and tested the prototypes on their target audiences. The project results and the most promising concepts were presented at the final class. Following each presentation, the organizers and mentors offered their comments and advice.
Dmitry Vasiliev, a co-founder of Karfidov Lab, a Skoltech alumnus and one of the course partners, says that "the course helped collect a huge amount of important data which will be used for the project development."
Fedor Antonov, the founder of Anisoprint and a course partner for the second time in a row, thanked the teams for their work: "The students obtained very interesting results. We were aware of these markets but did not have enough resources to study them in detail. These data will be a great help in finding a good market niche for product promotion."
Georgy Klushin, the founder of OneSpell.Store and a course organizer and partner:

"This is the third time in as many years that I work with Alexey Nikolaev. Each time, the students address a new client segment and get interesting results. This year, the OneSpell.Store project team was highly motivated: not only did they pick valuable market data, but they also agreed on three pilot launches with potential clients. I already have a project case in mind for Product Innovation 2021 and I eagerly forward to next season."
Another useful feature of the course is that it teaches students to effectively present their projects to partners, clients and even competitors. Interacting with colleagues from Skoltech's other educational programs and offering solutions to real partner projects fits perfectly with the "learning by doing" format, while contributing to fast and effective learning that helps acquire sought-after knowledge, skills, and competencies.
The student feedback highlights the importance of the "the real project cases from business partners" and tasks involving communication with potential users. The students describe the course as a daunting but enlightening experience, enriched by the exchange with real users of future products and services, insightful interviews, prototype tests and communication with the course partners.
Professor Alexey Nikolaev, Product Innovation 2020 organizer and monitor:

"Creating a new product that fully meets the user's expectations, dispels usage stereotypes and helps manufacturers to boost their business is a great challenge for both startups and large corporations. Our course was designed to introduce students to the best proven methods that help create new products by leveraging the marketing, design, engineering, and business modeling approaches. Real product-centered tasks facing real businesses were in the spotlight. All of them were "open-end" cases, which means that neither the organizers nor the course partners knew the right solution. The teams embarked on a long journey, exploring the market, finding errors in the initial assumptions, making multiple adjustments and iterations, getting customer feedback, and, finally, presenting their market-validated product and service concepts. It was a very tough but fascinating quest for our students."
Contact information:
Skoltech Communications
+7 (495) 280 14 81