Industry Day 2020, an annual conference where Skoltech's Master's students make poster presentations and prototype demonstrations to showcase their projects to the industry, has just ended at Skoltech. This year, the event was held online during two days a week apart, October 14 and 21. Online project rooms offered traditional poster sessions featuring all the student projects from last summer's 8-week Industrial Immersion and an online inquiry form for visitors to ask questions about the projects. The year's best student projects were then presented at thematic round tables.
Industry Day 2020 kicked off on October 14 with a plenary session opened by a welcome speech by Skoltech President Alexander Kuleshov. Guest speakers included Johann Füller, Professor at the University of Innsbruck and CEO of HYVE AG Innovation Agency ("Innovation management in times of social distancing and big data"), Konstantin Vernigorov, CEO of SIBUR PolyLab ("The experience of the first year of the SIBUR Polylab Applied R&D Center: difficulties, results, challenges"), Dmitry Katalevsky, Head of Industrial Programs Department at Skoltech ("New formats of interaction between academy and business 2020, Skoltech experience"), and Zeljko Tekic, Associate Professor at the Skoltech Center for Entrepreneurship and Innovation ("HackLab: new interface for Skoltech – industry collaboration"). In conclusion, Ivan Bogdanov, Head of Industrial Liaison Office at Skoltech, spoke about this year's unusual Industrial Immersion experience.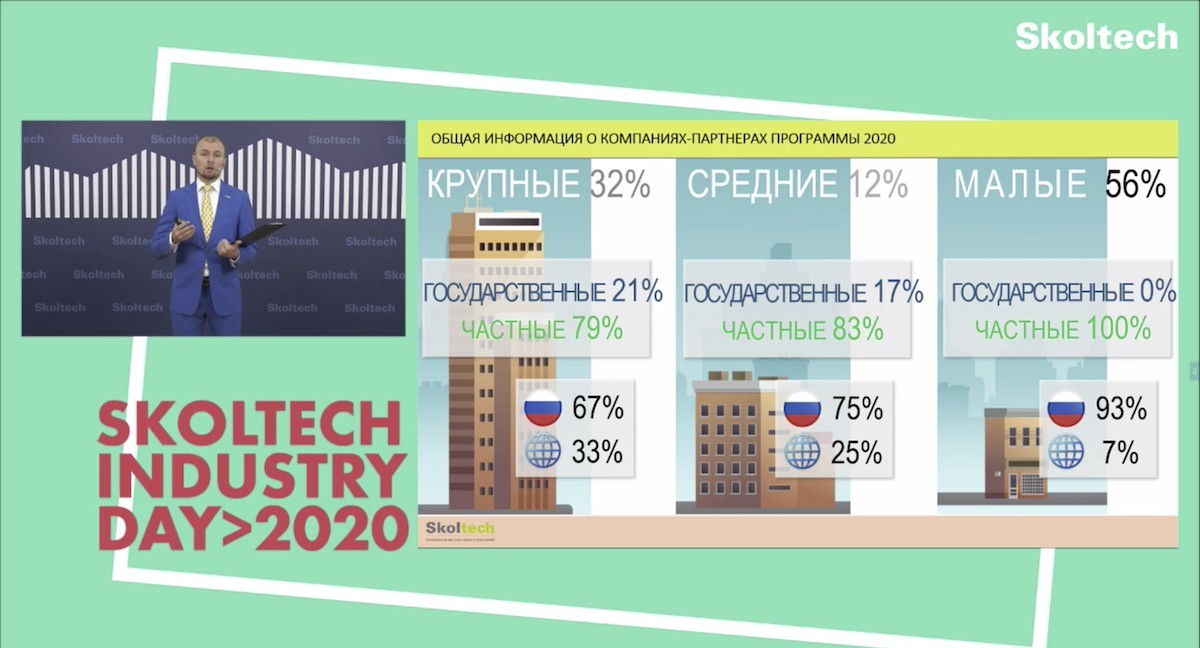 Ivan Bogdanov
Head of Industrial Liaison Office at Skoltech
 "Industry Day is first and foremost a platform for informal networking among faculty, students, and partner companies. Networking is not something you can easily do online, though this year it is the only choice which has its pluses, too: we invited a lot more international guests and the "Industrial Immersion" poster session which usually lasts one day in in-person format remained open on the event website for several weeks. Plenary talks were available online, too. We hope this Industry Day 2020 will open the door to new professional contacts and exciting projects."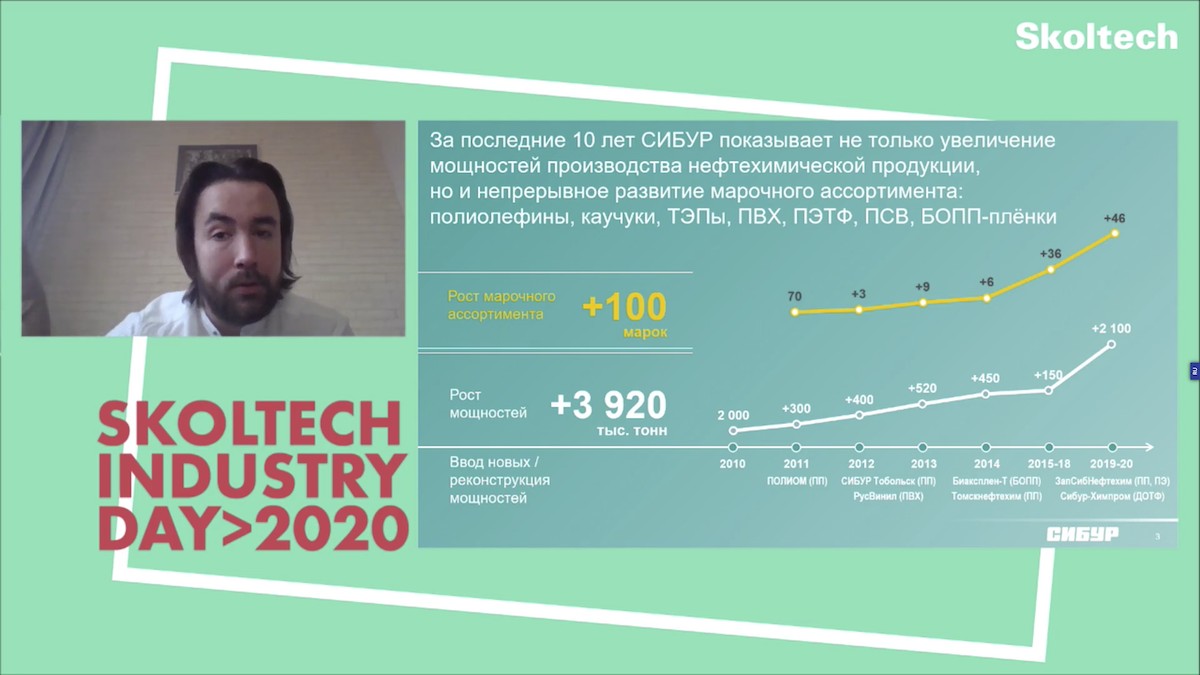 Konstantin Vernigorov
CEO of SIBUR PolyLab
"The new ways of living and working call for new event formats. I find that this year the organization is excellent, and so is the idea to hold Industry Day at Skoltech. Events like Industry Day help industrial business customers to focus on the most challenging topics of immediate and long-term relevance. The event is highly useful for students who have reached the point where they have to make career choices. Learning first-hand about the quintessential industrial research demands and comparing them against their own Master's studies or their team or lab research is a valuable experience that helps graduates to confidently map out their career paths. Also, it is particularly important for budding professionals to be aware that their competencies are sought-after by industry leaders. This awareness, among other things, contributes to creating a cohort of talented researchers in our country."
The opening session was followed by the first series of round tables on Data Science, Energy Systems, Life Sciences, and Materials Science. The second round table series on Photonics Science and Engineering, Space and Engineering Systems, Oil and Gas, and Advanced Manufacturing Technologies took place on October 21. The participants discussed hot-button industry issues and reviewed the best student projects. The speakers included Skoltech faculty and representatives of innovative companies that took on Skoltech students for their Industrial Immersion last summer: Great Wall Motors, LG, SBER, retail chains Lenta, 3D Bioprinting Solutions, International Biotechnology Center Generium, BostonGene, First Genetics, AstraZeneca Pharmaceuticals, RUSAGRO, Total Russia, InEnergy group, BioPrint's World Exchangers, TESIS, CompMechLab, and CyberPhysics.
Contact information:
Skoltech Communications
+7 (495) 280 14 81