Falling Walls Lab Moscow 2020 hosted by Skoltech has just announced its winners:
Anna Golovkina from St. Petersburg State University presenting on "Optimization of production management systems based on AI models" − 1st place,
Mansour Hamada from Penza State Technological University presenting on "Tactile-feedback bionic leg prostheses ensuring proper body weight distribution and natural body motion experience" − 2nd place, and
Artemii Novoselov from the University of Vienna presenting on "Using neural networks for noise suppression in magnetoencephalography (MEG)" − 3rd
1st and 2nd place winners will present their projects at the Berlin Finale in November where they will compete to earn the Falling Walls Young Innovator of the Year title, showcase their innovative projects on a big stage and win a cash prize.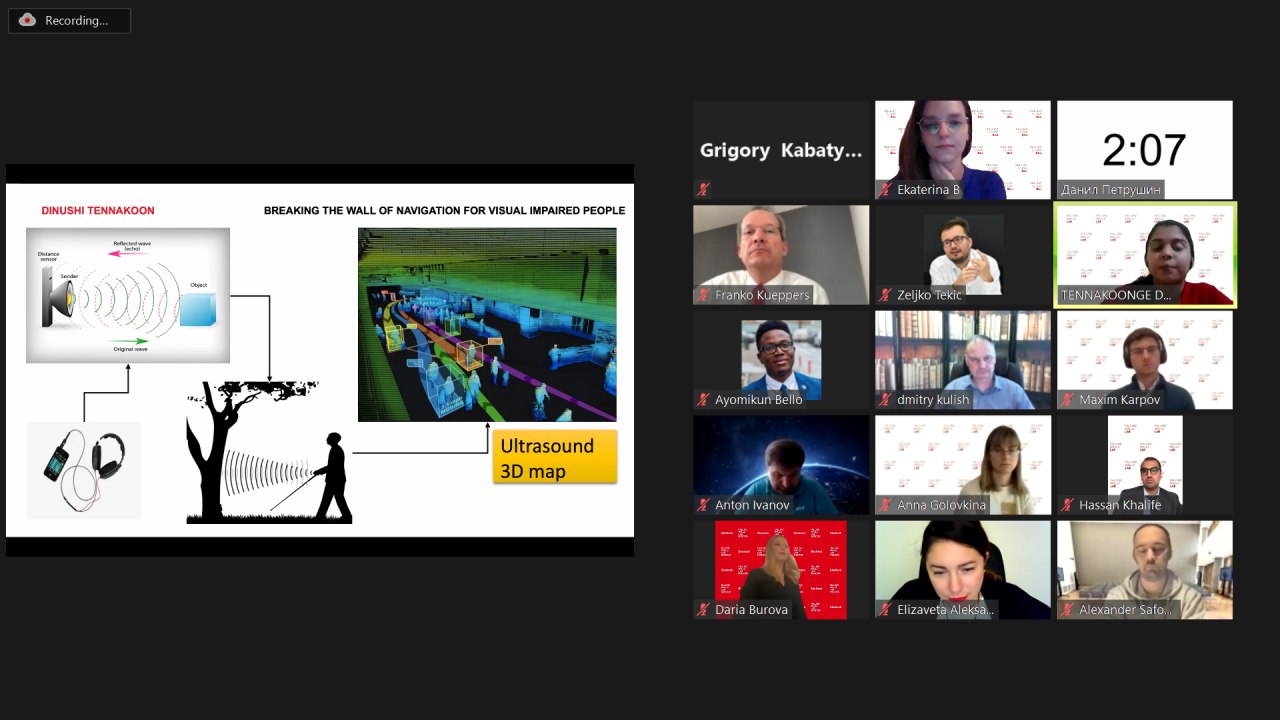 This year, Falling Walls Lab Moscow was held online. Each of the twenty participants had to present their idea to ten jurors in just three minutes, showcasing a breakthrough that creates a positive impact on science and society.
The competitors addressed a plethora of challenges, such as small data in AI, limb prosthetics, ineffective mineral processing, nanoparticles and deoxyribose in DNA machines for cancer treatment, future hybrid machines, space biology research, beer brewing technology and more.
Anna Golovkina offered her thoughts on the event and her project:
"Overall, I am very happy about the way the event was organized and the high quality of the jurors whose questions were right to the point.
I am delighted to have been named winner among other contenders with their broadly varying ideas. Our technology-focused project often faces keen competition from projects with high societal impact and clearly obvious value of the solution. I am proud that my presentation was well understood and positively received by the jury.
I presented a technology that helps build AI models when, for one reason or another, you have a limited amount of data for system training. We focus on time-varying dynamic processes which obey some physical or chemical laws that are unknown a priori. Yet, our knowledge of these processes is sufficient to construct adequate AI models that do not require a large amount of training data. As I answered the jury's questions after the presentation, I felt that I had succeeded in getting my ideas across. Receiving positive feedback from such a high-caliber jury means a lot to me."
The jury comprised top-notch experts in both science and business.
Anton Ivanov, Director of the Skoltech Space Center (SSC): "It was a truly exciting event. I was delighted by the diversity of ideas spanning virtually all fields of knowledge from astronautics to biology and the impressive geography covering Europe and Africa. It's great to see Skoltech embrace such a powerful international platform. We hope that the projects selected for the Finale in Berlin which seem to be the best we have seen thus far will be duly appreciated by the Berlin jury."
Elizaveta Aleksakhina, Admissions and Marketing Director at NES: "It was a pleasure to be a part of Falling Walls Lab Moscow 2020. We had the opportunity to meet talented scientists who contribute to mineral processing and cancer treatment, help people with visual impairment, invent new data technologies, create multi-resistant bacteria and address other challenges. Good luck to all the participants! Surely, you are making our world a better place."
Contact information:
Skoltech Communications
+7 (495) 280 14 81