Skoltech's Timur Ermatov, Dmitry Gorin from the Center for Photonics and Quantum Materials and Director of Nanostructured Glass Technology company Julia Skibina have been granted a patent for a sensor based on microstructured optical fiber that is highly sensitive, reusable and simple to utilize in detecting gases in air, particularly water vapor. The new invention can find its applications in industrial production, refrigeration plants and even in healthcare.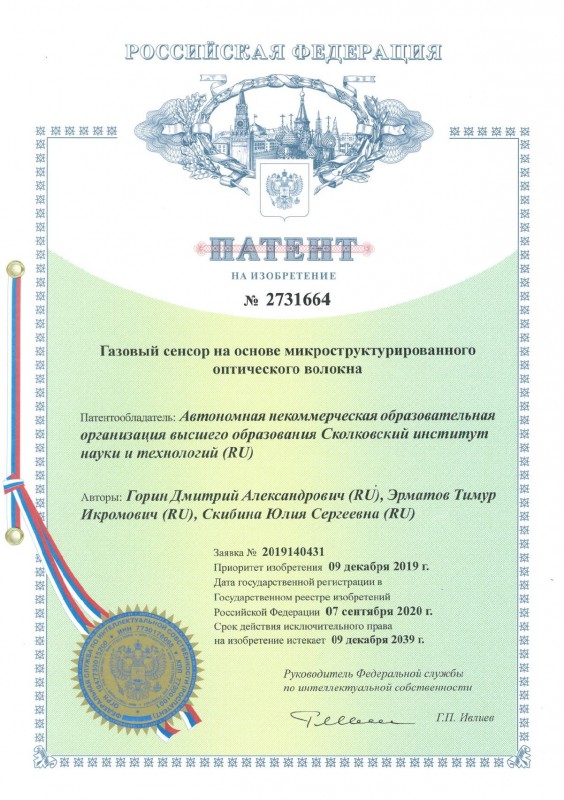 Microstructured optical fiber-based sensors are used in photonics, biotechnology and medicine thanks to their high sensitivity even to small concentrations of an analyte in a sample. Gorin and his colleagues suggested using hollow-core microstructured optical fiber modified with silica particles in a sensor that can detect water vapor content in an air sample going through the fiber. The silica coating technique was described in a Materials paper in 2019. 
"The idea of sensor is based on the capillary condensation phenomenon. It is part of the course named Physics of Colloids and Interfaces that I give for Skoltech's students in the Term 3. Such type of capillaries can be formed by silica particles and wall of hollow-core microstructured optical fiber," professor Gorin comments.
In testing, the new sensor was shown to be effective at accurately detecting humidity in the range from 45 to 95%. The researchers believe that reusable, sensitive and resource-efficient sensors based on this method can outperform existing devices.
Dear partners, if you are interested in any of Skoltech's technologies, our Knowledge Transfer Office will be glad to consult you on licensing and technology transfer opportunities for your business. Here is Skoltech's Portfolio of intellectual property (Rus). For further details, please feel free to contact the .