Skoltech at Tochka Kipeniya and its Leader-ID online platform present: A lecture by Skoltech Professor Dmitry Kulish. 
Startups that saw the light of day back in 1976 did not thrive until 15 years later, driven by the so called 'economic bubble' forming as a result of countless dotcom companies entering the market and older companies going online.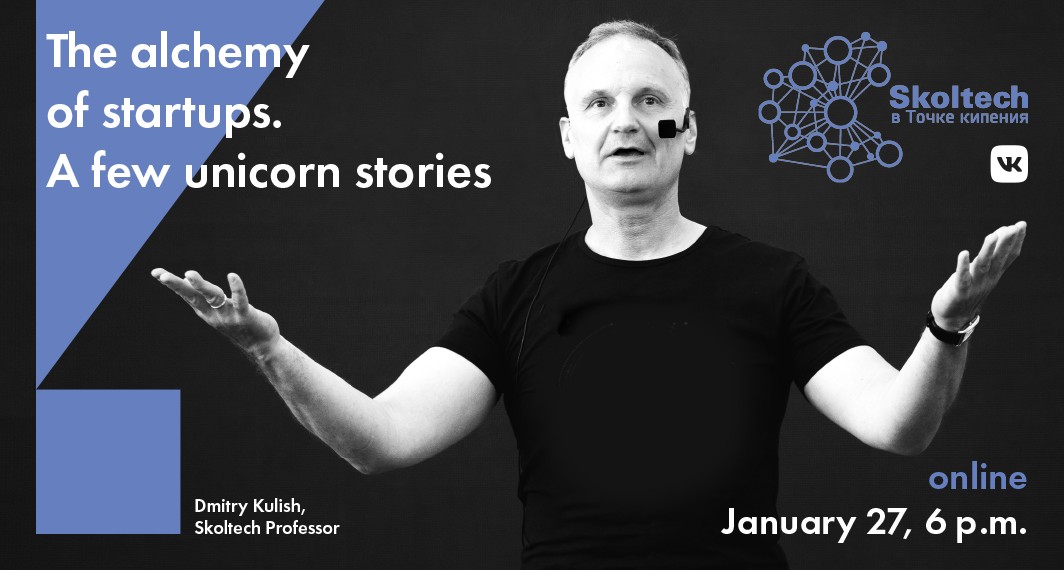 Upwards of a hundred million new startups emerge every year, each striving to quickly become a unicorn worth a billion dollars. Is there a universal recipe for success?
Professor Kulish will walk you through the history of startups, using Skolkovo's first unicorn, "Hepatera", and its Skoltech's cousins as an example and share secrets of success from the best companies. Join the lecture to find out more about how to combine science, technology and business and why innovation is especially profitable in Russia. 
Dmitry Kulish is a Professor of the Practice at the Skoltech Center for Entrepreneurship and Innovation (CEI), Director of Innovation Workshop and the Best Professor 2020 according to the student vote. In the past, he led innovation, product development and manufacturing teams at R-Pharm, Nanolek, and Fresenius Kabi. At Intel Capital, Dmitry made venture investments in IT, Internet, and digital medicine companies.  He is the founder of DrugDevelopment.Ru that engages in angel investments and management consulting in pharmaceuticals and healthcare.
Professor Kulish holds a PhD degree in Biochemistry. He was a Postdoctoral Fellow in Molecular Pharmacology at Harvard University and earned his MBA degree from the Wharton School at the University of Pennsylvania. Dmitry is an author of 11 peer-reviewed publications and 2 patents.
Skoltech at Tochka Kipeniya is a joint science education project of the Skolkovo Institute of Science and Technology (Skoltech) and Tochka Kipeniya Coworking Space, aimed at cultivating well-rounded intelligence in young Russian leaders.