The Independent Studies Period (ISP) is Skoltech's annual program that has taken place every January since 2014.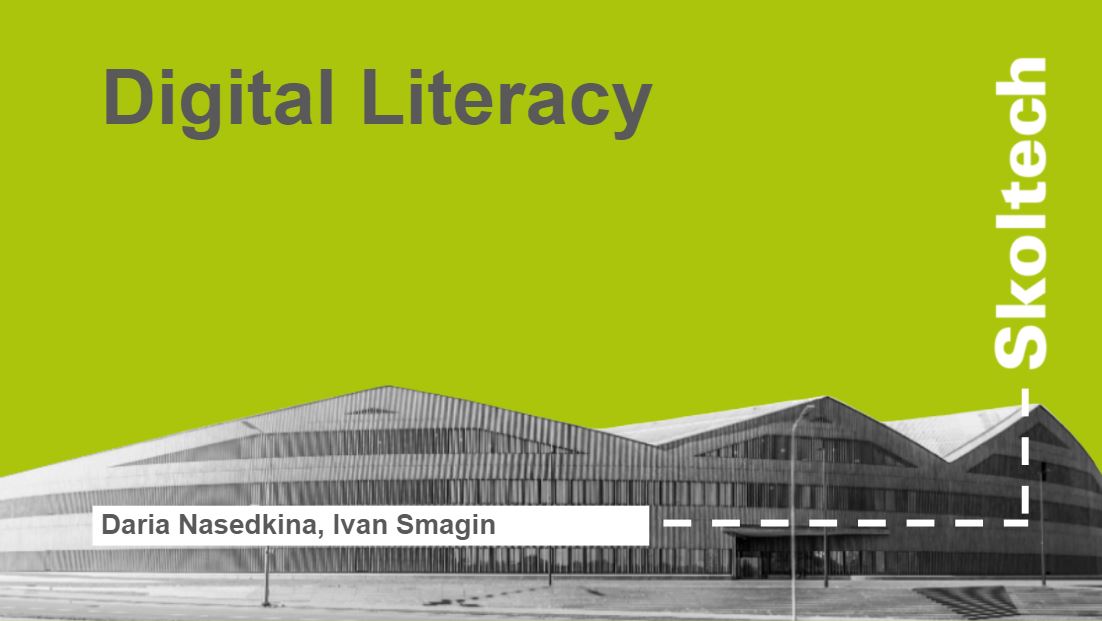 This year, the ISP offered a course of two sessions delivered by Skoltech library specialists, Ivan Smagin and Daria Nasedkina.
The main idea behind the course was to introduce students to a range of scientific resources and instruments which, if incorporated into a research workflow, can significantly improve the students' efficiency.
The course consisted of several modules generally dedicated to the search and evaluation of scientific materials and their sources.
Particular attention was given to comparing the functionality of major bibliographic databases, such as Google Scholar, Scopus, and Web of Science, and introducing other powerful resources with diverse functionality to fit various research needs, including ways to identify predatory publishing and filter fake research. Students learned the journal metrics and applied this knowledge to evaluate the journals' quality and understand the rules and regulations governing the use of licensed content. Also, they had a Mendeley tutorial and discussed bibliographic tools.
"We tried to make the course more practical through a series of exercises that asked students to use the newly acquired information. As we offer very practical advice that can be applied by a researcher from any field, we wanted to connect the course's contents to real research that our students carry out. So, some exercises were designed with that in mind. For instance, we asked students to choose 5 publications for their research paper and explain the rationale for their choice. This required students to perform an analysis of several publishers, journals, and authors to be confident of the quality of the research they plan to cite in their work. We were very pleased with the in-depth analysis that the students performed; no doubt they now feel much more confident with journal analytics and can navigate various databases for information they need," Daria Nasedkina comments.
This was the first time the course was delivered in such a format. 34 students have attended. Previously, Ivan and Daria gave in-person training sessions that were mostly about what resources Skoltech has access to and how to use them, and those sessions offered mostly the basics, as opposed to this more extensive ISP course.
According to the feedback received from the students after the course, all the topics were highly useful for their studies and research.
"You cannot fit everything in an hour-long session, so we provided our students with tutorials on nearly all the resources we discussed in class. We hope that we ignited their interest so that they can now continue to explore the functionality of various research tools on their own," Ivan Smagin says.
Contact information:
Skoltech Communications
+7 (495) 280 14 81