A CDMM research team of PhD students, Kirill Minchenkov and Alexander Vedernikov, led by Professor Alexander Safonov and CDMM Director, Professor Iskander Akhatov, studied the thermoplastic putrusion technology, systematized their findings and published a paper, "Thermoplastic pultrusion: A review" in the Polymers journal.
Pultrusion is one of the most efficient methods for producing composite materials with constant cross-sections. Pultruded profiles are used in construction, aircraft engineering and automotive industries. The technology enables manufacturing both thermoplastic composites (fusible polymers) and thermosetting plastics (non-fusible polymers), the former boasting a wealth of advantages, such as higher impact strength, recyclability, unlimited shelf life of raw materials, and weldability, whereas their high viscosity makes the manufacturing more difficult. Yet, thermoset composites are far more popular: for example, Fiberline (Denmark), one of the largest manufacturers of pultruded profiles, produces a broad range of composite products using thermosets only.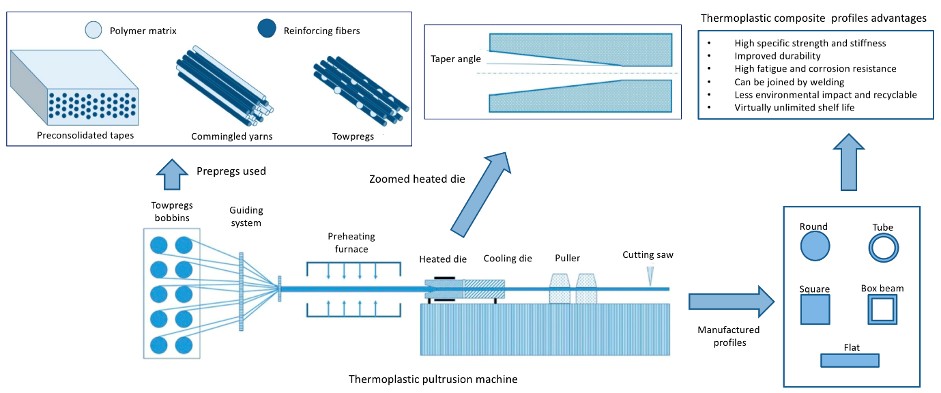 Also, the team has gathered and organized all the information available on raw materials, described the manufacturing process and its parameters, and analyzed the properties of the materials used to manufacture profiles with constant cross-sections.
The research sought to raise interest in thermoplastic pultrusion among scientists, map out a strategy for further development, and answer the question, "Why does thermoplastic pultrusion still trail behind thermosets?"
CDMM professors Alexander Safonov, Ivan Sergeichev, Iskander Akhatov and engineers Sergey Gusev and Maxim Rubtsov used  their extensive expertize to develop a thermoplastic pultrusion process and patent a fiber-reinforced pultruded thermoplastic profile that can be used in construction, aircraft engineering and automotive industries, as well as in various engineering structures.
"Fiber-reinforced pultruded thermoplastic profiles are more appealing to industries than conventional thermosets thanks to higher process productivity and easy recycling," Alexander Safonov, one of the authors, explains.
Contact information:
Skoltech Communications
+7 (495) 280 14 81