On October 14, Dmitry Lakontsev, head of the Skoltech-based NTI Center of Excellence (CoE), spoke at the international conference, OpenRAN for beyond 5G Wireless Networks: Challenges and Visions, hosted by IS-Wireless, a well-known company in the global market of open solutions. As part of the Experimentation Platforms towards beyond 5G Networks panel discussion, Lakontsev shared his center's unique experience in designing and debugging mobile network algorithms and gave useful tips on how to model their operation. His presentation was received with great interest by the participants.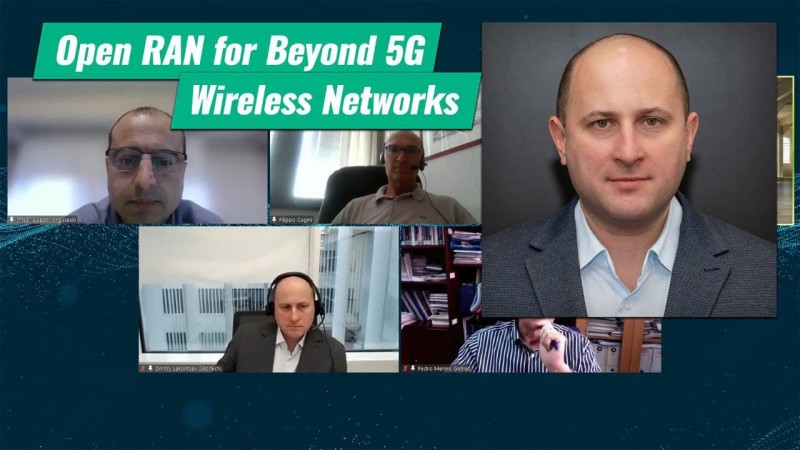 Moving on from 5G to 6G means creating new data processing and encoding algorithms and optimizing the existing ones by constructing and verifying the models of various mobile network processes in experiments. For the modeling to be accurate and efficient, one should use large amounts of raw data and achieve good repeatability of experiments to be able to develop and debug algorithms and protocols and validate scientific hypotheses. These challenges were in the focus of the panel discussion.
Dmitry Lakontsev emphasized that computer-generated abstract models can hardly ensure high-quality modeling. Therefore, it makes sense to partner with major telecom operators that can supply loads of useful data about how networks cope with peak loads and failures. This knowledge will help make the modeling much faster and more accurate. Network optimization does not involve user data, so data security is not an issue.
Having a fully functional base station accessible to mathematicians and algorithm designers is yet another key factor for efficient modeling. High-quality test data helps quickly obtain reliable experimental results that would closely match the behavior of a real operator network.
Lakontsev's presentation was met with approval from the session participants, since it highlighted the real-life challenges that researchers have to address while preparing and conducting a high-quality experiment to test new algorithms. Support from Russian telecom operators and access to a full-featured 5G base station and a 5G pilot network underscore the ample technology potential that Skoltech has in the eyes of mobile technology developers and academics worldwide.
Lakontsev also noted that work is underway at Skoltech to simulate the "rare failure" scenario with occasional but dangerous changes in the network load pattern that may lead to service degradation. Since these occurrences are extremely rare, there is not enough operator data for re-playing this precarious situation. Mathematical modeling that has become a lifeline where operational data are too scarce to enable full-fledged experiments is likely to play an ever increasing role in the design of future networks.
Slawomir Pietrzyk, CEO and Founder of IS-Wireless:
"We are very proud of our R&D team built of experienced scientists who work on telecommunications technologies of tomorrow. We are involved in a number of research projects with partners from Europe and other parts of the world. Thanks to years of hard work and great partnerships, last week's "OpenRAN for Beyond 5G Wireless Networks – challenges and visions" conference was such a success. We had over 700 registrations. We are very happy and grateful that Mr. Dmitry Lakontsev from Skoltech took part in the event and joined the "Experimentation platforms towards beyond 5G" panel discussion as an expert. We believe that there is a great area for cooperation between us."
IS-Wireless
IS-Wireless is a strong advocate of OpenRAN solutions and a recognized supplier of software and hardware for 4G and 5G radio access networks (RAN) and network core. It is the only Polish company to have been involved in European 5G research programs since 2012. IS-Wireless collaborates with leading national and global research centers. Its team includes over 50 world-class experts in RAN and Core solution design, virtualization, and software engineering. IS-Wireless is a member of the O-RAN Alliance and TIP, the international teams working on network standardization.
NTI Center of Excellence in Wireless Technology and Internet of Things (NTI CoE)
The Skoltech-based NTI CoE assists Russian businesses and state corporations in overcoming technology barriers and creating globally competitive products and services in advanced technology areas, such as the Internet of Things, 5G/6G, industrial IoT (IIoT), and industrial data processing.
Contact information:
Skoltech Communications
+7 (495) 280 14 81