On December 13, Skoltech hosted a presentation of the Generation 30 contemporary art exhibition and a cocktail reception for the Supervisory Board. The event marked the formal start of collaboration between Skoltech and contemporary artists and the launch of the Skoltech subject-oriented art contest.
Currently, Skoltech is hosting the first exhibition of modern art featuring millennials' art objects and the links between artists and today's realities. It is the first Moscow show of Generation 30 – an exhibition of works by artists aged about 30 − that took place at the Russian Museum in St. Petersburg in the spring of 2020.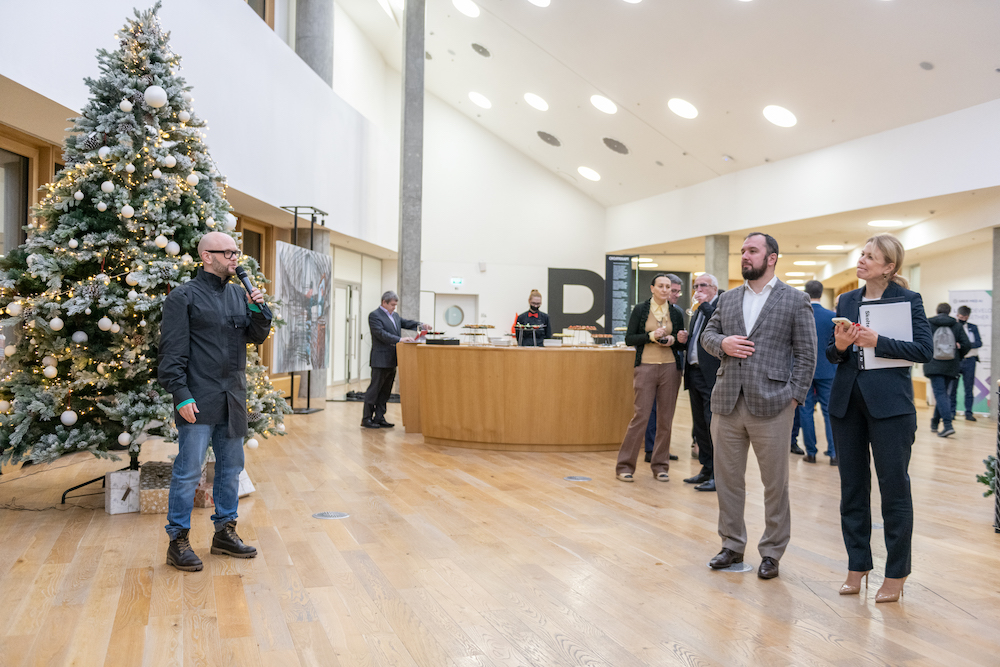 The presentation was set up as an informal tour guided by the project curator Marina Vinogradova of the Russian Museum and the participating artists, Ivan Plyushch, Alexander Dashevsky, Tanya Akhmetgalieva, and Ekaterina Sokolovskaya. The guests discussed the impact of advanced technology on art and the future prospects for contemporary arts.
The exhibition features the works by Tanya Akhmetgalieva, Alexander Dashevsky, Yegor Kraft, Asya Marakulina, Liza Bobkova, Alexander Shishkin-Hokusai, Ekaterina Sokolovskaya, Pyotr Dyakov, Konstantin Benkovich, Semyon Motolyanets, and Ivan Plyushch. Some of the exhibited items will remain in Skoltech's collection.
As the next step in supporting contemporary art, Skoltech will engage invited artists to create works specifically for its premises. Occasioned with this initiative is an art contest for creating a permanent art project at Skoltech. Three winners will be awarded a grant to complete their works by May 2022. Applications will be accepted until March 30, 2022.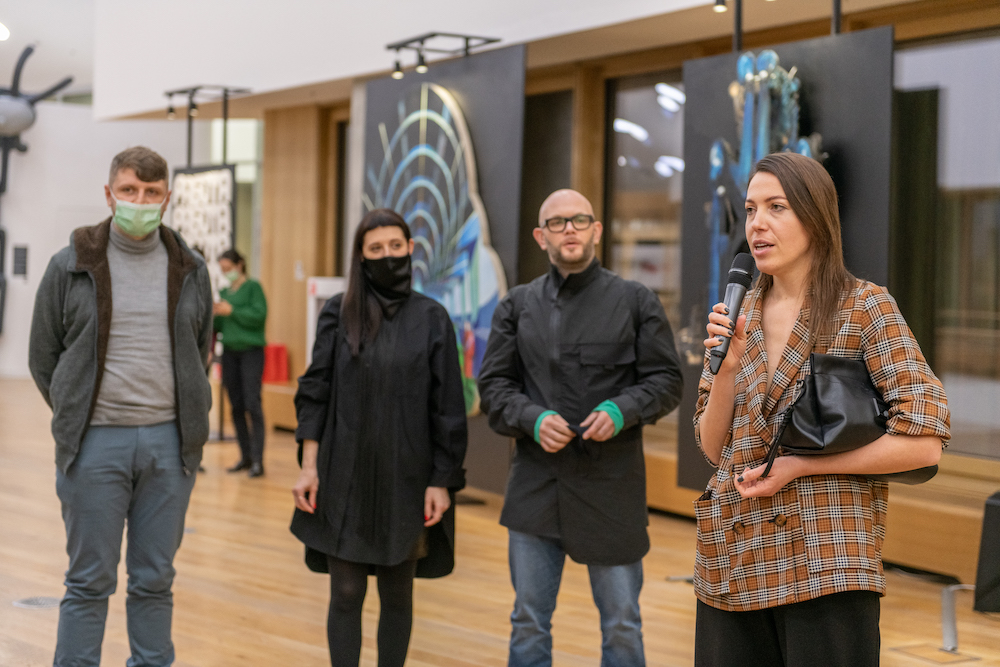 The Skoltech campus is the first Russian project for Herzog & de Meuron, a renowned Swiss architectural firm, designer of London's Tate Contemporary Gallery and winner of the Pritzker Prize (an equivalent of Oscar for architects). A perfect setting for contemporary artwork, the campus offers artists a unique opportunity to have their vision of contemporary art ingrained in the history of modern architecture.
Professional artists, architects and sculptors working on public and street art and monumental painting projects are invited to participate. All the works should focus on art & science and match up with Skoltech's impressive facilities and human flow.
The winners will be selected by an expert council made up of curators, employees of contemporary art museums, and Skoltech trustees. Please check out our website for further updates about the contest.
Contact information:
Skoltech Communications
+7 (495) 280 14 81