On April 21, Skoltech hosted its first ever offline Career Day on campus. All students and graduates were invited to learn how to build a career amid high competition among candidates in the IT, fintech, oil and gas, and other industries.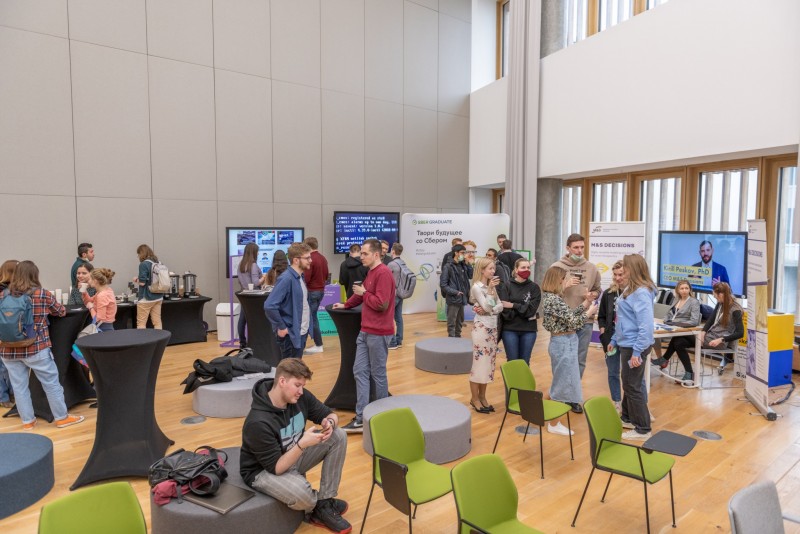 Lada Simacheva, Head of Student Career Center, said the event was a momentous response to job market changes and seeks to expand the reach of Skoltech educational programs.
"Most Skoltech graduates get a job in industries that have high growth potential. Due to current circumstances, it is getting to be a tighter labor market, we advise MSc-2 students to apply to internships, develop their networking skills and build a professional portfolio," Simacheva said during her lecture "Career in 2022: Trends and risks". 
The participants spoke with recruiters from Sber, Samsung, Tinkoff, Aramco Innovations, Generium, MS Decisions, DOM.RF, CDNvideo, Yandex, and a young startup Solaris founded by Skoltech students.
The event's program included workshops on how to write a persuasive CV and pass a job interview. Those attending the event also got resume photos taken by a professional photographer and took part in a discussion on career opportunities held by Sberbank Robotics Laboratory. Participating companies received student CVs and said they enjoyed the meeting.
"We're delighted to be here and talk to everyone attending the Career Day. It's important for us to meet our prospective colleagues in person. We invite them for internships, where they can get acquainted with Yandex and we find out what they are expecting from us – that's how we can become a perfect match for each other," — commented Yulia Goretaya from Yandex.
"We're here today  to spread the word about the Generium and invite Skoltech students and graduates to our summer internships. We're in a constant search for young talents as our company is constantly growing and developing."– said Ksenia Suvorova from Generium.
"We're here to find talents and to communicate with our future interns. We had a lot of interested students who came to us today, we've got a lot of CVs from them, so it  is a great practice to come here to Skoltech for such an event," – said Ksenia Dyadyunova from Samsung.
"Now more than ever, we are striving to make our team stronger and more efficient, so the opportunity to talk directly with talented and strong young professionals in the field of IT and DS is very valuable. Events such as Career Day allow us to announce the career and educational opportunities that Sber provides straight to the heart of our target audience," – concluded Irina Shakhmametova, Executive Director of the Directorate of Academic Partnerships of Sberbank.
"I was happy to connect with employers who are committed to hiring from Skoltech for full-time and internship positions. I've talked to Tinkoff, Sber, Yandex, and Samsung," – said Akuhwa Fater, MSc graduate of Energy Systems program.
"I attended the CV workshop and got useful tips for passing the interviews for the future." – said Elena Pankratova, first year MSc student of the Petroleum Engineering program.
For now, the Skoltech alumni community has exceeded 1300 graduates, spreading across 49 countries, 77% are in Russia. Top Russian companies hiring Skoltech graduates are Sber, Yandex, Huawei, Samsung, BostonGene, Tinkoff, Gazprom Neft, and Accenture. 
Contact information:
Skoltech Communications
+7 (495) 280 14 81