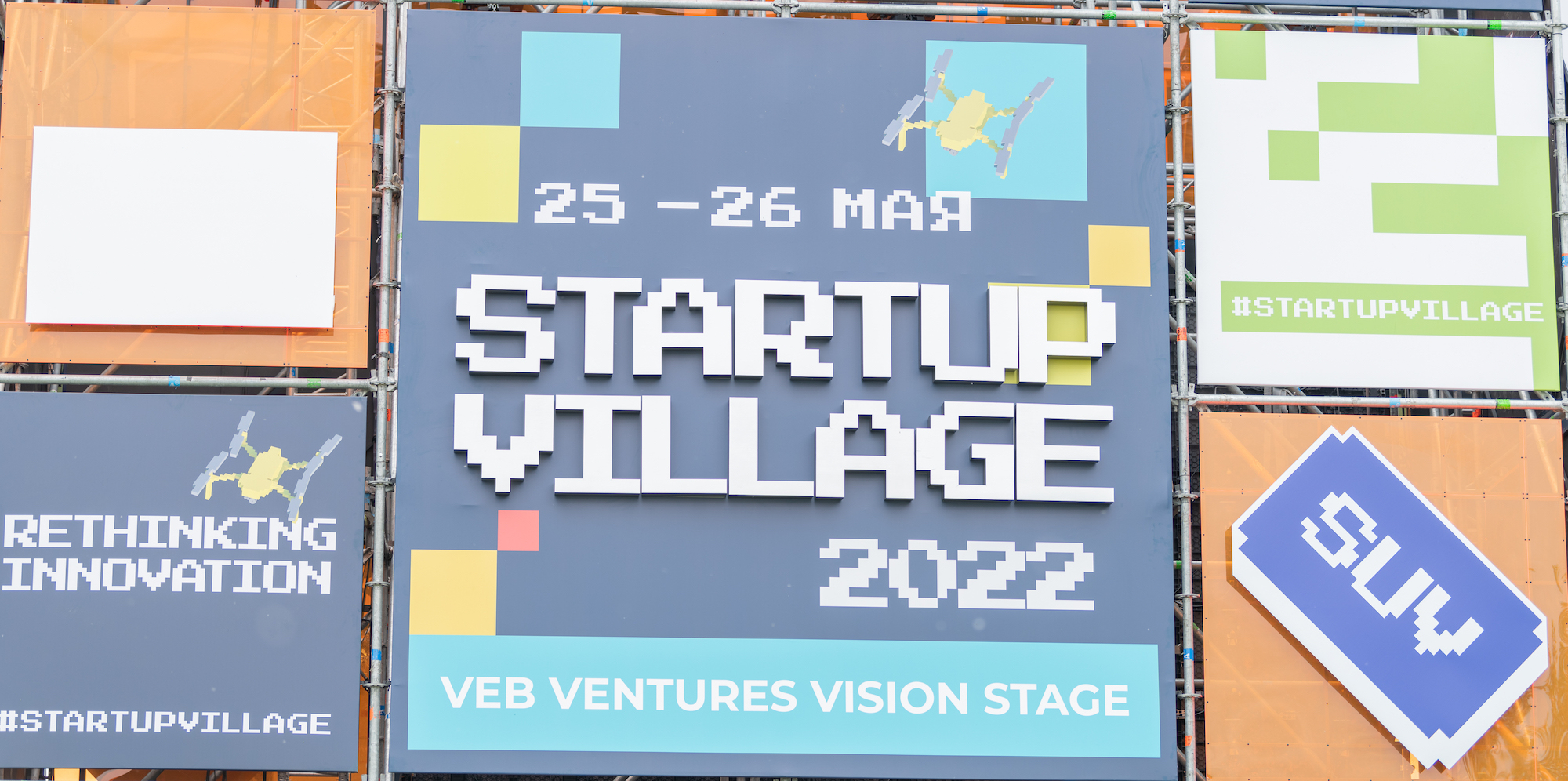 On May 25-26, Skolkovo hosted the 10th Startup Village — the largest startup conference for tech entrepreneurs in Russia and the CIS countries. The Institute's Center for Entrepreneurship and Innovation has prepared a complementary program: panel discussions, speeches, a pitching session that ensured interaction, collaboration, and knowledge exchange on the platform of Startup Village and TMK Group.
"As of today, one-third of the Skoltech budget comes from contracts for joint research and development with our industrial partners. This is a lot: over 300 contracts and one-third of the budget. And our KPI at Skoltech is whether or not we implemented the technology. Not everyone has accepted this motivation system, but after all we have created over 100 startups based on technologies from Skoltech," Viktor Vekselberg said during the "It's alive! From the lab to real life" session.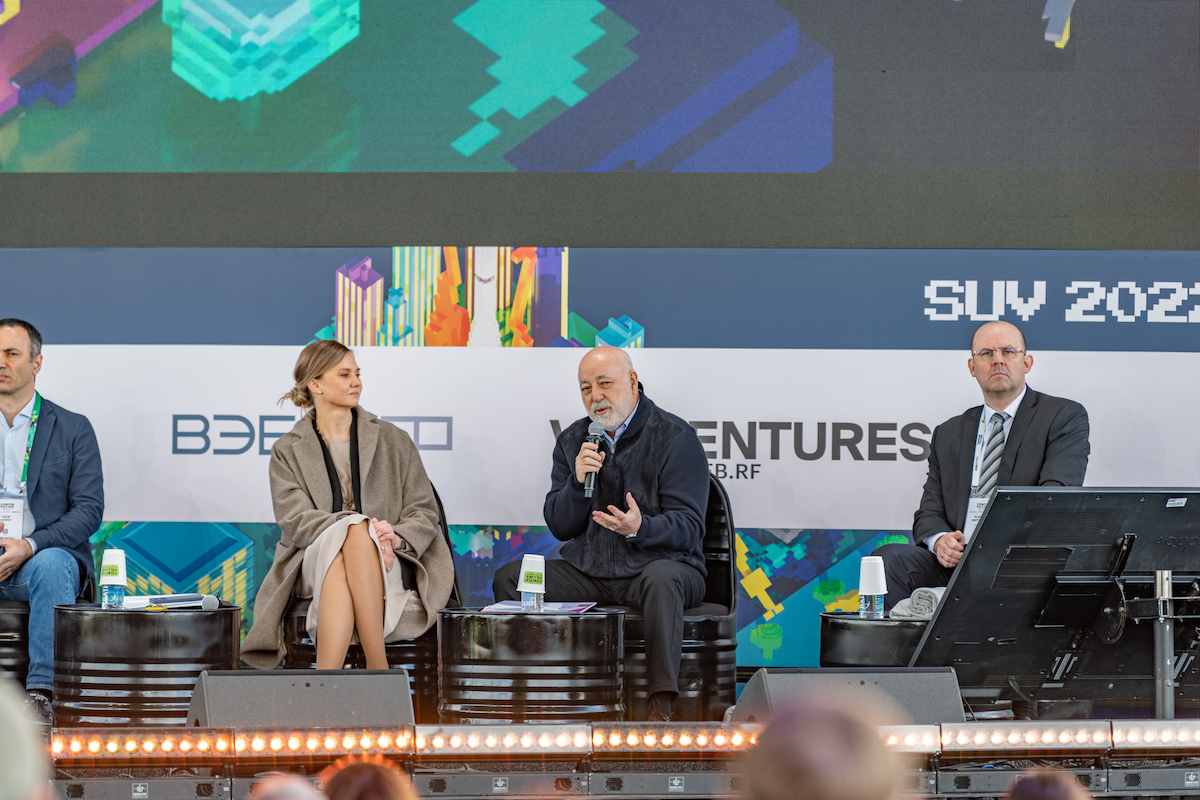 His speech was a fair presentation of Skoltech's contribution to the Startup Village program, showing the potential the Institute holds to respond to the challenges that the Russian technology business is facing today: from import substitution and technological sovereignty to attracting investment in the IT industry and supporting startups. 
Professor of Practice Dmitry Kulish, whose expertise in innovation helps Skoltech students launch their startups, took part in the key event of the first day — the plenary session "Russian Tech. Startup as a Key to Technological Independence." The participants discussed whether new technological businesses will solve the problem of import substitution and whether startups can become the driving force behind a future technological breakthrough.
Professor Kulish appealed to startups: "We have huge potential as a country in terms of innovation, development, and technology research. We still have to learn how to make a product out of it and use it in a chain of future technological development. The Russian market is small, but if you become the best here, the rest of the world will come to you."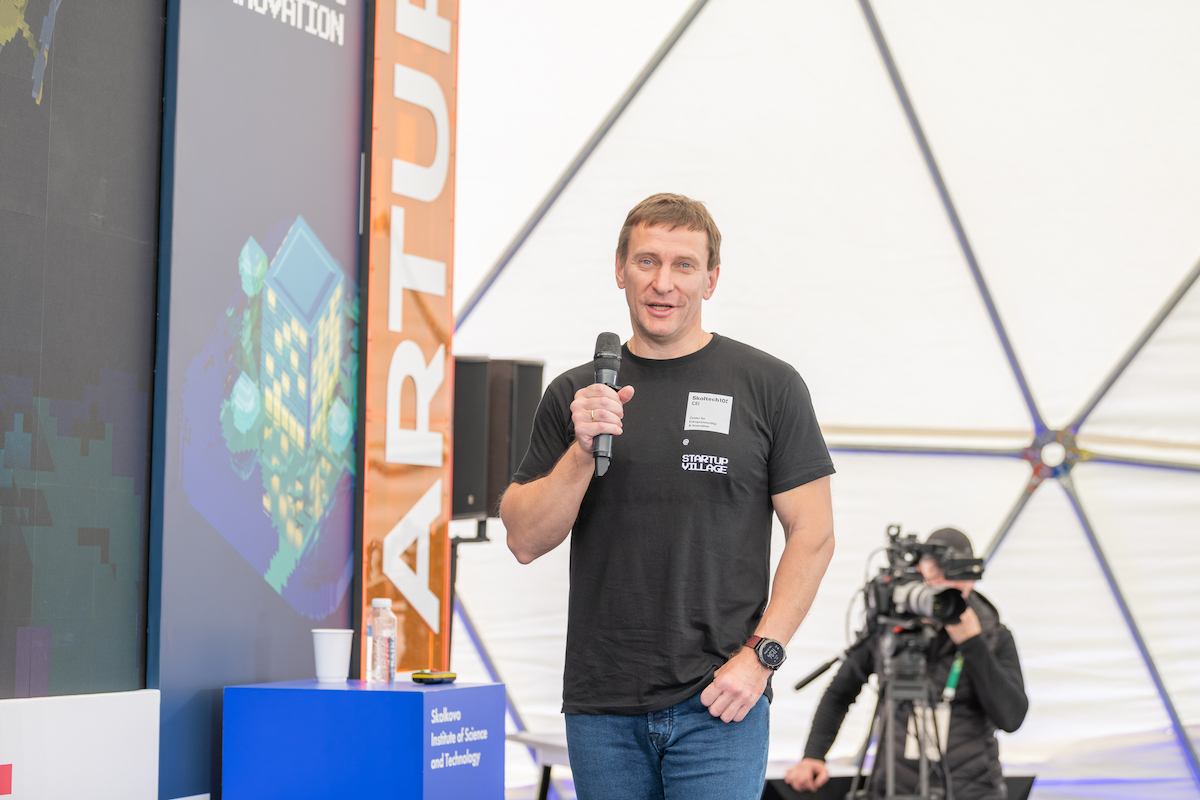 Business Development Director Dmitry Yumashev talked about Skoltech's role in the commercialization of research results and the creation of technology startups at the session "Technological Entrepreneurship. Choice of University and Student" on the Sphere stage.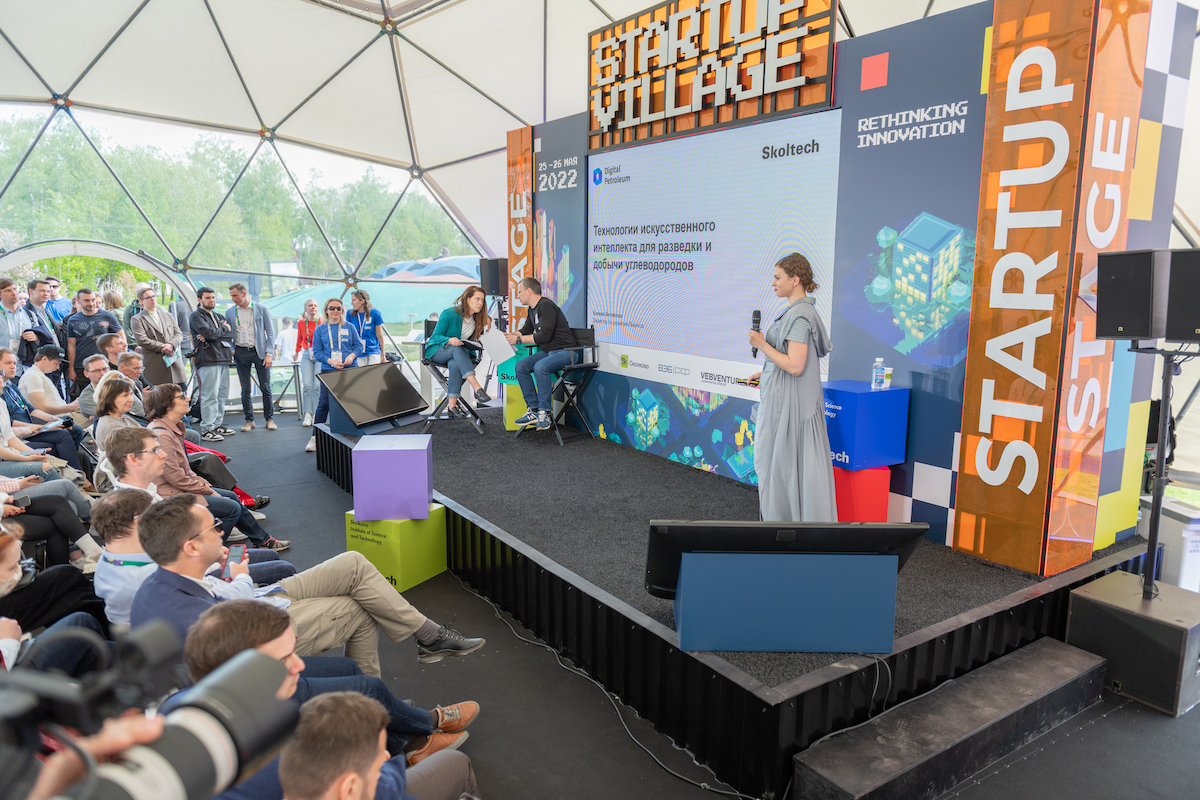 The event linked the theory and practice for entrepreneurs: As many as 24 Skoltech-affiliated teams participated in the pitching session, which lasted an intense four hours in a packed assembly hall, with startups presented by their creators: the Institute's students, alumni, and researchers. The session consisted of three tracks: student projects, student and alumni startups, deeptech startups. It showcased the capabilities of Skoltech projects to the startup community and was warmly welcomed and reviewed by representatives of venture capital funds. 
"It was helpful to get targeted, specific feedback and recommendations on what direction we could move in and what could be redone. I've talked to two venture fund representatives and hope they will be interested in us," comments Rim Gubaev, co-founder of the OilGene startup. 
"I find Startup Village a great opportunity to discover partners. During the conference, I presented the results of Skoltech's Triple Point student program, and it attracted interest from industry representatives. This conference is also a great platform for networking and meeting clients for your startups. Thus, during one-on-one conversations, I've attracted 12 prospective customers for the Solaris project, where I head product management," Triple Point Co-Managing Director and Solaris Chief Product Officer Arina Ivanova shared. 
"We thank TMK Group for hosting seven panel discussions starring Skoltech faculty and staff, where they talked about how projects can provide Russia with technological sovereignty and become a basis for sustainable development in the long term. It is important for us to develop strategic partnerships with TMK and their partners and contribute to solving strategic problems using innovative technologies created by technology entrepreneurs and Skoltech scientists," noted Mikhail Akimov, investment project manager of the Center of Entrepreneurship and Innovation. 
Skoltech professors participated in thematic sessions at the conference and shared their expertise: Professor Laurent Gentzbittel spoke about the Skoltech Center for Agricultural Technologies during the discussion "Biotechnology Without Borders" on the Hyper stage. The Leading Research Center on Quantum Computing, which includes a Skoltech research group led by Professor Jacob Biamonte, was there with the Quantum Cloud Bar — a place that offered cloudy cotton candy, lectures and talks about cloud-based quantum computing, along with hints for industry and business representatives on how they can run programs with quantum applications and systems. Associate Professor Evgeny Burnaev took part in a discussion about the most important trends that determine the trajectory of the Data Science industry.  
Also during the event, Anatoly Semyonov, the minister of innovations, digital development and infocommunication technologies of Russia's Sakha Republic awarded a badge "For Excellence in Innovation: The Republic of Sakha (Yakutia)" to Professor Maxim Kiselev of the Center for Entrepreneurship and Innovation for his valuable contribution to the development of the region.
Check out the video review on the event prepared by the Z-Union startup featuring its co-founder and CEO Robert Vasiliev.

Contact information:
Skoltech Communications
+7 (495) 280 14 81